8 Cool Pop-Culture Courses College Students Actually Get to Take
The days of cramming your way through Physics 101 and Intro to Business are in the past: today's college students, it turns out, study Game of Thrones for college credit. This fall, plenty of progressive schools are offering courses that turn students into literal pop-culture scholars, with syllabi dedicated to Harry Potter, Pokémon Go, Beyoncé, and the zombie apocalypse. Here's what students can expect to learn in those pop-culturally progressive lectures.
University of Idaho
Even academics aren't immune to the phenomenon of Pokémon Go. As part of its physical education program, the University of Idaho has designed a new fall class dedicated to apps and live-action games. You're required to have a smartphone with a data plan to enroll -- which is way more useful than forking over cash for textbooks -- since you'll be hunting for wild Squirtles and Snorlaxes on the quad. The course leads up to the campus' annual Humans vs. Zombies competition, a days-long RPG event
Rutgers University
Kevin Allred became one of the most beloved professors in America when he introduced a class dedicated to Queen Bey in 2010. His class actually grew so popular at Rutgers that it was temporarily taken off the curriculum because it was "detracting from other courses." It's back this fall, this time in the American Studies department rather than its old home in Women's and Gender Studies. The class intensely studies Beyoncé Giselle Knowles-Carter within the context of black feminism, progressive social change, and normative understandings of race and sexuality. That's pretty weighty stuff, but rest assured: you will be watching Lemonade for homework.
Georgetown University
If you've ever lost sleep wondering whether Data is a real "person," this is the class for you. The introductory philosophy course asks students to grapple with topics in metaphysics while bingeing Star Trek. Naturally, time travel is covered, along with free will and reality as we know it.
University of Louisville
Many colleges have jumped on the Game of Thrones bandwagon with George R.R. Martin-themed literature classes, HBO-centric film courses, and entire history classes framed around a Cersei quote. One of the latest offerings comes courtesy of Louisville, where professor Roy Fuller has designed a fall honors seminar examining faith in the Game of Thrones universe. (Think Melisandre's obsession with the Lord of Light, and the Lannisters' sudden interest in the Sparrows.) It may be tempting, but please: resist the urge to show up in a shame-nun costume on day one.
University of California, Irvine
This online physics course sells students on complex scientific topics like aerodynamics and climate change through the lens of comic-book heroes. It promises answers to age-old questions like, "How does Wonder Woman's invisible jet work?" Hopefully, Spider-Man's weird emo phase will be explained in the syllabus, too.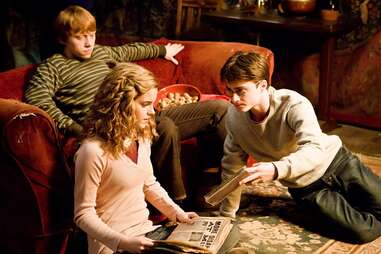 University of Maryland
It may not be an acceptance letter to Hogwarts, but studying Harry Potter at your muggle university is the next best thing. This UMD honors seminar comes at HP from every angle; the books, movies, games, memes, LEGOs, theme park, and fanfiction all get their due. At the end of the course you'll be asked to propose your own adaptation, so study those Tumblrs closely.
University of Utah
J.R.R. Tolkien muscled his way into college literature courses decades ago. But you don't need a dog-eared copy of The Silmarillion to take this University of Utah class, which puts particular emphasis on the "cinematic adaptation of print text and the representational limits and possibilities of each medium." That means you'll be watching Peter Jackson's 2001-2003 movies for credit, as well as reading select Tolkien texts.
Michigan State University
Since 2012, Michigan State has offered an online summer course on zombie attack survival. The class explores how humans behave in times of catastrophe and breaks up students into groups that must work together to "escape death and preserve the future of civilization" in a simulated apocalypse. The 2016 edition is over, but keep an eye on the website for information on 2017 enrollment -- you don't even have to be an MSU student to participate.
Sign up here for our daily Thrillist email, and get your fix of the best in food/drink/fun.
Kristin Hunt is a freelance writer for Thrillist. Her favorite college classes were Hollywood Musicals and Beer & Wine Appreciation. Follow her on Twitter @kristin_hunt.