Welcome to Ask a Cool Teen™, a recurring column in which we explore critically important issues of our day through the eyes of teenagers from around the world. All interviews have been lightly edited for clarity and brevity. For more Ask a Cool Teen™, click here.
Dating is confusing no matter what age you are. But there used to be rules to the romance, man. Wait three days before calling back. Don't overspend on the birthday gift. Only round third base if you're serious. But for Cool Teens™ growing up in a world where Tinder is the norm and awkwardly introducing yourself to your crush's mom when she picks up the family's landline phone is a thing of the past, the courtship game has changed. We asked Thrillist-verified Cool Teens™ from around the country to tell us what it's like to chase love these days.
 
If you like someone, what is the coolest way to tell them?
"Let your Beyblade rip directly in front of them to show them you have power." -- Mea, 18
"Probably just buy them a yacht. Or you could just feel it out for a while and get a sense whether they feel the same way, and tell them in person." -- Jenna, 18
"I don't know if there is a cool way to tell someone you like them." -- John, 18
"You have to gain their trust, start hanging out, and BAM they're hooked mwhaha. (Disclaimer: this method only really works if the guy has some sort of feelings for you as well or else it just leads to a road of loneliness, disappointment, and perpetual friend-zoning.)" -- Sofia, 17
 
What's the best way to break up with someone? What's the worst?
"Text breakups should probably be listed among the top 10 deadly sins. Another thing is, try to steer clear of cliché breakup phrases (i.e., 'it's not you, it's me, yada yada'), we've all heard 'em before." -- Jenna, 18
"The worst way is to just hook up with one of her friends." -- John, 18
"Ghosting is easy but you feel like a scumbag after a while. Over text or any digital medium is shitty too but it's above ghosting for sure." -- Tristan, 18
"The best possible way of breaking up with someone is meeting them in person and telling it to them straight. But gently, not like, 'I can't stand you anymore and you always smell like beef jerky so we're breaking up.' However, don't show up weirdly happy and overly nice, either, like you're secretly a serial killer." -- Sofia, 17
"You could  be honest and take into account her feelings. Or you could take the easy way out and become a complete dick and a slob until she breaks up with you." -- Ewan, 17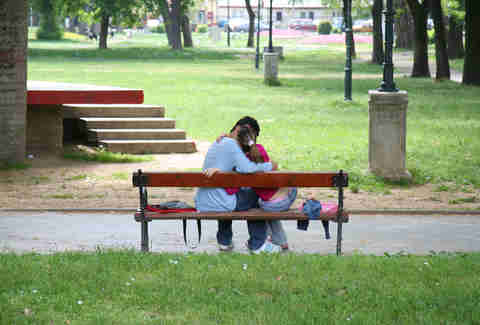 Hooking up, hanging out, dating... what do you call the act of spending time together romantically?
"[G]oing anywhere in public or something that was planned in advance [is] a date." -- Jenna, 18
"All off these terms mean different things. If you really like them... like, really like them and see a future, it's dating. If you think they are cool but worried about what people think, it's hanging out. And if you're using them for sex or whatever it's hooking up." -- Ewan, 17
"If you like each other and hang out a lot, people call that 'talking.' It's kinda dumb and doesn't make a lot of sense." -- Sofia, 17
"If both people know they are hanging out romantically, it's definitely a date. 'Hanging out' is more of a friendly term. 'Hooking up' is when you make out with someone or if you do more." -- Noah, 17
"'Netflix and chill' is essentially two people getting together to bang."
"'Hooking up' to me is a totally different thing [than dating.] It doesn't have the love aspect." -- Drew, 16
"It depends on how 'romantic' it is. I went to a fair with a guy I liked a while ago, and he let me borrow his sweater when it got cold. He put his arm around me... I would call that a date." -- Gabriela, 15
 
If you could go out with any present-day celebrity, who would you choose? Why?
"This has nothing to do with Harry Potter, but the beautiful Emma Watson. There is something very attractive about a woman who stands up for herself and others while having the knowledge to state a case in front of the United Nations to further gender equality. Oh and one more thing: British accents. I could listen to her speak all day." -- Drew, 16
"Probably Aaron Paul, because of the majestic way he curses. 'BITCH!'" -- Jenna, 18
"Taylor Swift, no doubt in my mind, for three reasons: 1) Could give her the pet name 'TayTay.' 2) IT'S TAYLOR FUCKING SWIFT. 3) When you get up you'll definitely get a song written about you." -- Ewan, 17
"It was Jennifer Lawrence for a long time, because she's good-looking and has a great, down-to-earth personality. However, after seeing that crying face in The Hunger Games, I've decided to move on. I have seen bad crying faces in my day, but she's on a whole other level. So now I just go for the next hottest one I see. (ex.: Miranda Kerr)." -- Noah, 17
"I would choose the rapper Aubrey 'Drake' Graham, but only as friends/equals." -- Mea, 18
"I don't think I'll get married, unless I, like, need money."
"Aubrey Plaza. She's funny, kinda weird, and a total dime." -- Tristan, 18
"I would go out with Kim Jongdae, aka 'Chen.' He's a singer from a well-known K-pop band, EXO." -- Gabriela, 15
"Tove Lo. I saw her this summer in concert. She is sexy, her music is awesome, she parties hard, and I bet she would be crazy in bed." -- John, 18
"Evan Peters. I was reading an interview with him and he was saying how he's super awkward and bad at first impressions so he needs a girl who could give him a second chance. I was like 'yo being awkward is my only crowning achievement in life, looks like I'm your girl!'" -- Sofia, 17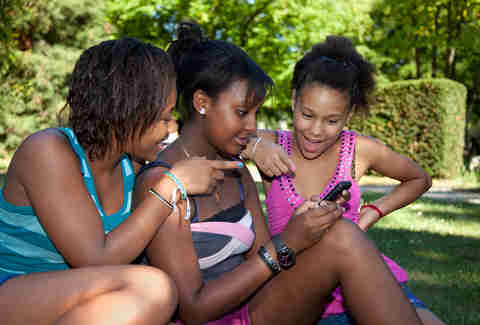 Your crush texts you "hey." What do you text back, and how long do you wait to text it?
"I probably hyperventilate and then I remember I need to act like a dick. So I wait like 20 minutes and reply 'sup.' I'm basically Casanova." -- John, 18
"'New phone who dis,' as soon as I see it. Just a little joke!" -- Mea, 18
"Do the fabled mirror technique, where you just repeat the exact same text back. This way, you don't seem over or under keen. [I would wait] has to be at least 15 minutes. You want to present the illusion that you actually have friends and hobbies and other more important people and things to do. Which is completely untrue." -- Ewan, 17  
 
"I sent my crush a note once, but forgot to include my name. He balled it up & threw it away."
"Girls are always worried about sounding too desperate based off of their reply time, but I feel like if a guy likes you, he wouldn't want you to care about that. Although I can't speak for guys... some of them prefer a chase. Whatever, I reply whenever I feel like it, whether it's immediately or hours later [queen emoji]." -- Jenna, 18
"People have this idea that you have to wait to talk to romantic interests but that's stupid, honestly." -- Tori, 17
"If they are texting you first, I'd just text 'hey' back. Anything more is too much. When it comes to time [...], I try and do my best to not text back right away. But I mean, my CRUSH just texted me... FIRST! I'm texting back like a minute or two after." -- Noah, 17
"I usually wait no longer than an hour. You don't want to seem too desperate, but you also don't want to seem like it's a chore to text them back. If my crush texted me 'hey,' I would probably cry from happiness. But, to play it off like a cool swag dad, I would text back 'Hey! What's up?' Don't text back the second they answer because not gonna lie that's pretty creepy. Also, avoid abbreviations (idk, nvm, wyd, etc.) 'cause we're not trying to go for the seventh grade convo here." -- Sofia, 17
 
What's the deal with online dating? Do teens Tinder?
"A lot of people use Tinder but no one admits it. Basically, [we] attempt to use it to hook up or to find a significant other that doesn't go to your school. Usually it just turns into an awkward conversation and then ends. So, fuck online dating. For now I'll just meet girls the old-fashioned way. If I become old and lonely though, I'm hitting eHarmony up." -- John, 18
"It's definitely a good way to meet new people, and it's not really 'lame' if you meet someone on it, either. I wouldn't use any of them in public though." -- Noah, 17
"I think it implies you're pretty desperate, especially if you're a teen, because [at this age] you can't have had enough dating rejection to resort to it. It's basically for pervert guys who want to get nudes." -- Ewan, 17
"Tinder and Hot or Not are probably the top contenders. I actually know a girl who met up with a guy she met on Tinder, and she started getting feelings and they dated, but it turned out he was seeing, like, three girls at once." -- Jenna, 18
"I think some teens do go on Tinder and apps like that, but I think that's kinda creepy. Anyone can get catfished, so I don't really think online dating is great." -- Gabriela, 15 
 
Explain "Netflix & chill" to us olds
"It's a pretty well-known fact among this generation that if a guy asks you to come over for 'Netflix & chill,' you might watch something for say, 10 minutes before someone tries making a move. Personally, I find the concept bizarre. If it really were what it sounds like (perhaps watching the entire Season 5 of The Office and eating pizza), I'd be down." -- Jenna, 18
"I'd play it off like a cool swag dad, and text back 'Hey.'"
"It started off [like the] type of date where the girl would go to the guy's house and they would watch Netflix together. A lot of the time, this would end with the two engaging in sexual affairs. So, with time,'Netflix and chill' became a term that a guy would use if he wanted to hook up with a girl. Netflix and chill can still be a date, it's just that it has got the reputation of always ending in sexual affairs." -- Noah, 17
"Mostly, guys think it means 'sex,' and most girls actually mean they want to watch Netflix together, hang out, and talk about everything and nothing." -- Gabriela, 15
"'Netflix and chill' is essentially two people getting together to bang, or at least exchange some kind of sexual favors. There's this kinda uneasiness when it comes to straight-up sexting, so instead of being a weirdo and adding a 'lol' or an 'aha' to the end of a flirty text to make it seem less pervy... you ask if the person is down for 'Netflix and chill.' The understanding here that both people know what's up. You're gonna go to someone's house and have sex real casually." -- Tristan, 18

How long should you be dating someone before you call them your "boyfriend/girlfriend"?
"People are out here calling each other 'bae' after, like, one time hanging out. I think you definitely have to have gone on at least a couple of dates that don't just involve chilling at one of the other person's houses." -- Tristan, 18
"I think that both sides of the relationship should agree [on it], but other than that, I'd hope after three or four good dates, they'd conclude that they are boyfriend/girlfriend, etc." -- Drew, 16
"If I become old and lonely, I'm hitting eHarmony up."
"No less then a few weeks, or else it gets kinda creepy. If a guy that I had just been dating for a week asked me to be his girlfriend, I would most likely say, 'Yeah nah, I still barely know you.' But you also don't want to wait too long, 'cause it's like, 'C'mon dude, I'm gettin' grey hair over here.'" -- Sofia, 17
"I've seen some people call another person their 'girlfriend/boyfriend' right after they get asked out only to 'break up' a few days later." -- Gabriela, 15
Have you ever sent someone a handwritten note?
"In like elementary school maybe. I've sent many long-ass texts though, which is practically the same because you're still writing to them." -- Tori, 17
"A couple of years ago that was, like, 'the cool thing.' People from my school would post on Facebook like 'LMS for a letter, comment if u want a long one <333.' But that wasn't why I wrote one. I actually liked the guy." -- Gabriela, 15 
 
"I don't want to end up like a 30-something adult who's given up on dating."
"Yes. I was probably in first grade, sent my crush your classic 'Do u like me? Circle yes or no.' [But] I forgot to put my name on it, so the kid just balled it up and threw it at his buddy." -- Jenna, 18
"Absolutely not. For one, my handwriting is garbage. [Secondly], that's time consuming. I've typed out long messages but no, nothing handwritten." -- Tristan, 18
"The last time I remember writing a handwritten note was in seventh grade. I probably wrote something super creepy like 'I like the way your eyes sparkle when you smile' and signed it 'your secret admirer.' I slipped it in his locker, and to this day I have no idea if he ever found it or not. LOLOL FML." -- Sofia, 17
"I once gave a girl that I had feelings for a 'formal apology' because I'd pissed her off. She didn't like it. In fact she found it immature." -- Noah, 17
 
What age do you think you'll get married? Or, do you think you'll ever get married?
"I think I'm going to get married at age 30. Sometimes, I think I won't live long enough to get married." -- Gabriela, 15
"I think I'm gonna shoot for around 25-27... I want to spend a good chunk of my 20s finishing school and getting on my feet before thinking about settling down. [But] I have no problem going with the flow. You can't really plan when you'll meet your soulmate. (Who am I kidding, there's probably an app for that.)" -- Jenna, 18
"I don't think I will, unless I, like, need money. Or to leave Canada permanently." -- Mea, 18
"Hopefully I'll get married either in my mid- or late 20s. I don't want to end up like the 30-something adult who's given up on dating, only to have their friends constantly tell them to 'get out there more' and to keep setting them up with blind dates that end with you finding out he lives with his mom and wears a toupee." -- Sofia, 17
"I'm pretty confident I'll get married but I don't know when. I'd assume my mid-20s, but would only want to get married to the right person when the time was right. But I [...] caught the garter at a wedding a few weeks ago so it could be in the next year, ya never know..." -- Drew, 16
"If I am ever to be married, I guess it'd probably be late 20s, early 30s? I don't think I'd need marriage but having kids seems like fun, plus I'm already rocking a sweet dad bod." -- Tristan, 18
"I haven't really planned anything out. But I definitely don't want to get married in college or anything." -- John, 18
Sign up here for our daily Thrillist email, and get your fix of the best in food/drink/fun.
Dave Infante is a senior writer for Thrillist, and is neither cool, nor a teen. Follow @dinfontay on Twitter, Instagram, and Facebook.