'Cowboy Bebop' Already Got a Worthy Follow-Up in the Movie 'Knockin' On Heaven's Door'
It's been 20 years since 'Knockin' on Heaven's Door,' essentially a feature-length episode of 'Cowboy Bebop.'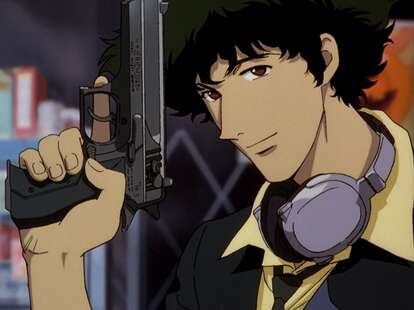 It's been 23 years since the release of Cowboy Bebop, the beloved anime series created by Shinichiro Watanabe, and 20 since its interquel movie Cowboy Bebop: The Movie, or Cowboy Bebop:Knockin' On Heaven's Door, in Japan. Since the show ended, Watanabe and screenwriter Keiko Nobumoto left Cowboy Bebop untouched as a singular story, only revisiting it through shared themes and anachronistic genre mash-ups with Samurai Champloo and the eclectic, experimental pulp sci-fi adventure Space Dandy, both reimagining the scrappy, adversarial found family as seen in Bebop. Those, plus Watanabe's music dramas Kids on the Slope and Carole & Tuesday, are all great for their own reasons, but the Cowboy Bebop movie remains one of the finest works by this particular collective of artists.
As with the series, the film takes place in the year 2071, following the ragtag, frequently flat-broke crew of bounty hunters residing on the spaceship Bebop: former triad enforcer Spike Spiegel, gambler and con-woman Faye Valentine, ex-cop Jet Black, the oddball hacker Radical Edward, and the super-intelligent corgi Ein. Knockin' On Heaven's Door isn't technically a follow-up as it's placed "between" the 22nd and 23rd episodes, maintaining the decisiveness of the show's spectacular and heartbreaking finale. Here, the crew pursue a mysterious new bounty named Vincent Volaju (who's mentioned in the final moments of Netflix's adaptation), a man threatening a bioterrorist attack in a capital Martian city.
The screenplay by Nobumoto decompresses the tone and structure of a Cowboy Bebop episode to feature length—something that was held against it in some criticism at the time, but an approach that couldn't be more perfect in hindsight. The quiet and contemplative moments have even more time to linger and breathe, and the action scenes go bigger too. The result is a thoughtful film that keeps the rhythms of the series while still working to its own beat, deliberately paced and compelling. Even without the benefit of delving into the characters' past as it did over the course of the series, Nobumoto and the animators still clearly embody the nature of the main cast and the nature of their relationships to each other: Jet's reluctant but loving patriarchal role, Spike's carefree attitude stemming from a constant state of existing between life and death, Faye's equal impulsiveness and stolen chances at happiness. Ed's whimsicality isn't so complicated, but as with the others, you get a clear idea of who they are in just a fraction of the time.
Unlike the aggressive canonizing of Netflix's new show, Knockin' On Heaven's Door understood that Spike's past was best evoked as an idea, a reality he has since left behind for the waking dream that is his current life. While both seek to expand on that feeling, the new series overelaborates where the film smartly withholds. Knockin' On Heaven's Door stands as proof that Spike's perception of his state of being in a sort of spiritual death can be grafted onto any number of original stories, as screenwriter Nobumoto wholly invents Vincent—a sort of fatalistic mirror image to Spike—for the purpose of the film.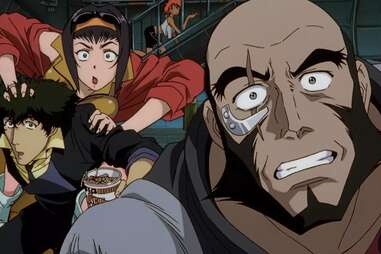 It's that, and moments like the opening action sequence of this film, that make it fairly obvious why Cowboy Bebop might feel more conducive to a live-action remake than other anime. It's surprisingly down-to-earth, animation director (and character designer) Toshihiro Kawamoto placing a particular emphasis on realistic detail and a sort of cinematic flair in the animation, such as sequences emulating handheld cameras or wide-angle lenses. This continues into its beautiful opening credits, directed by Jin-Roh director Hiyoyuki Okiura. It seems like imagery from New York City circa the 1980s, depicting random denizens with very naturalistic, true-to-life movement, before Spike pops up in the middle of the street and reminds us that the real setting of this opening is Mars. Despite taking place on a galactic scale, it's paradoxically intimate, both in its storytelling and understanding of how these people get on with their lives. Even the main cast are examples of people who fell through society's cracks.
One of the most appealing parts of the series, and doubly true for the film, is its collage of references to genre cinema and music in its world-building, and the wealth of anachronistic visuals that comes with that approach. Even the mechanical design of the spaceships is intended as clunky, common pieces of machinery that fit right alongside the cars that coast along Martian freeways. Of course, so much sci-fi, even at its most speculative, is meant to reflect elements or consequences of how we live now, but Cowboy Bebop—Knockin' On Heaven's Door, in particular—is designed in such a way that it feels uncannily inextricable from our present, human society having simply repeated itself elsewhere in the solar system. The skyline of Mars' capital city simply looks like that of a 20th century New York City—one shot that feels particularly eerie, considering the time in which the film was released, pans up what appears to be a Martian recreation of the Twin Towers, observed by Spike from a garbage dump across the river. This continues onto more of a macro scale as well: Spike smokes Marlboros and eats the same old cup noodles; Jet visits drive-in theaters to see old westerns; Faye bets on horse races, and so on (one antagonist sings the praises of 20th century video games). Despite being part of a frequently space-faring series, and even with its talk of nano-machines and other big sci-fi concepts, this film mostly remains on the ground among everyday people, the literally high-flying action of the final act aside. There's something comforting and disquieting about seeing our modern habits projected onto a humanity that has long left Earth behind.
This is part of why Watanabe's inclinations toward multiculturalism (one already somewhat embodied by the backstories of the characters as illustrated in the main series) is particularly interesting. There's a peculiar magic to Cowboy Bebop that feels only attainable through animation. Even in humanity's move from the dustbowl of Earth to a terraformed and colonized Mars, orally preserved Indigenous ideas and philosophies have lasted just as long as the biggest Western institutions, and those considerations exemplify Watanabe's international interests. Even in a world that finds itself bigger thanks to interstellar travel, as esteemed colleague Toussaint Egan
said to me the other day, "some folks may seem like they couldn't be farther from your lived experience, but they live right next to you."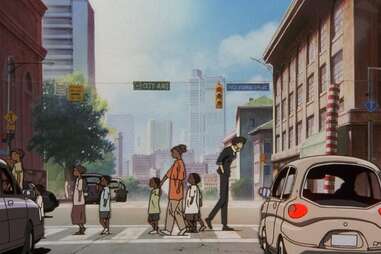 All of this, plus it simply rocks as an action movie. Action animation director Yutaka Nakamura—a name frequently spoken with a religious reverence amongst anime fans for his consistently boundary-pushing work—does the lord's work in his direction of Cowboy Bebop's action animation. The fights are propulsive and exciting, but each hit is communicated with utmost clarity, even as the photography emulates live-action, handheld cinematography. Following the quick and hilariously laidback fight sequence that opens the film, Nakamura slowly builds in intensity at each interval as the fights become closer together, leading to Spike throwing down with the antagonist Vincent in bloody, white-knuckle brawls.
Every action carries a believable weight and reaction, some of which is frequently emphasized through exciting slow-mo, all reminders that these characters are only human, even as Spike dazzles with his fighting ability and high, twirling kicks. The wide-angle compositions make even humble spaces like train carriages feel like dramatic stages to match the later, high-flying action sequences of the final act—a particular highlight being a dogfight between Spike and some military jets set to another raucous jazz number from The Seatbelts ("What Planet Is This?!"), the one time we actually see the surface of Mars as the red planet and not just an extension of Earth, a saxophone solo peaking as the camera follows the arc of Spike's ship toward the stars and back.
This is to say that even with its slow-moving observations of its recreation of the modern world and its characters' introspections about the meaning of their lives, the film defies the idea that a feature-length episode of Cowboy Bebop would be anything less than thrilling. It's funny that so much of Knockin' On Heaven's Door contemplates the boundaries between life and death, because in more ways than one, forgive the hyperbole, watching Knockin' On Heaven's Door does feels like being close to God.