The 25 Scariest 'Real Housewives' Moments of All Time
Halloween only comes once a year, but the Real Housewives scare the bejesus out of us all the time, no matter the season. With all the gross, scary, and unbelievable things that happen across the franchise on a weekly basis, it's sometimes unclear if we're watching a reality show or a horror movie. Here are 25 times when horror masters such as Wes Craven, John Carpenter, or Dario Argento might have actually been directing our favorite shriek monkeys.
25. Sheree and Marlo turn into banshees (Atlanta)
One of my favorite Real Housewives fights of all time: Sheree Whitfield and Marlo Hampton really got into it on a trip to South Africa. However, they went from using their words to speaking in some sort of alien screech language that no one can understand. It gets even scarier if you watch it slowed down (above) -- they sound like demons immediately after they've been exorcised.
24. Joe Gorga's black ooze (New Jersey)
Think about The X-Files or Prometheus, and there is always some mysterious black ooze that is infecting people and doing awful things to them. That happened when Joe Gorga and Joe Giudice got physical at a family retreat. After the dust-up, they were both covered in a weird black film (you can see it on the security guy's bald head in the clip above). Turns out the substance wasn't that mysterious: It was Joe Gorga's spray-on hair.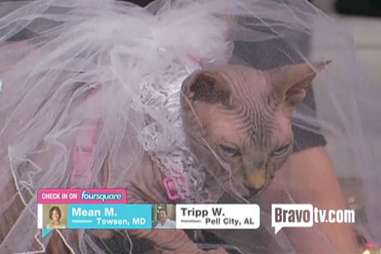 23. Grandma Wrinkles (New Jersey)
Every witch needs a black cat, right? Well, Dina Manzo has something even creepier: a hairless cat. Meet Grandma Wrinkles, who not only looks like 3lbs of uncooked turkey skin, but reportedly also smells. In this photo, she's about to marry sex warlock and fellow Real Housewives pooch Gigolo.
22. Taylor Armstrong vs. cotton candy (Beverly Hills)
Sometimes the scariest things are everyday acts that are just exaggerated. Take Taylor Armstrong attempting to eat cotton candy with her monstrous lips. It should seem quotidian, but there's something about the way she does it that makes it look like a Venus flytrap has just swallowed every insect in the entire world all at once.
21. Kimberly's prom (Beverly Hills)
As a veteran of Escape to Witch Mountain and other creepy classics, Beverly Hills' resident Baby Jane, Kim Richards, should know a thing or two about frightening people. But it's when she's not even trying that she's at her most petrifying. When her daughter Kimberly was going to the prom, Kim was caught in the background making chicken salad with her bare hands and then staring out through the blinds in a way that reads less like "concerned mother" and more "I'm about to cut up your entire family."
20. Tamra's spooky party (Orange County)
This is what the Real Housewives of Orange County look like when they do Halloween. It's way more Elvira and far less Crypt Keeper. Still, they get plenty of points for staying on theme.
19. Ramona cuts Kristen on the lake (New York)
Maybe it's that we never know what is lurking below the surface, or maybe it's just Friday the 13th, but lakes are really fucking scary. Just ask Kristen Taekman. She just splashed Ramona Singer a little bit, and Ramona retaliated by throwing a wine glass at Kristen, slicing her lip open. Don't let that blood get in the water -- who knows what menace it might attract.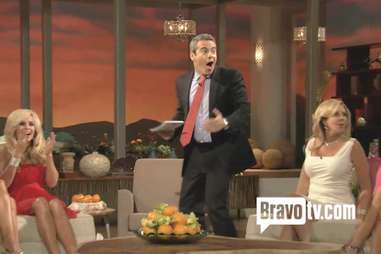 18. Andy's birds (Orange County)
Not even franchise impresario Andy Cohen can escape the horror. It was something right out of Hitchcock when he was attacked by a bird at this reunion special.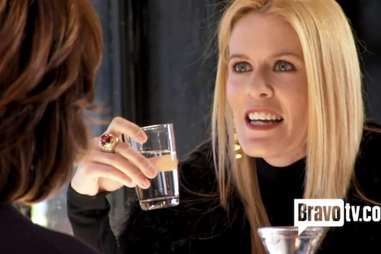 17. Alex McCord's Herman Munster boots (New York)
After a fateful trip to Morocco, Luann de Lesseps accused Alex McCord of wearing "Herman Munster shoes" in one of the most withering insults to Herman Munster ever recorded. Alex felt the need to post a picture of her Louis Vuitton boots to prove that they weren't as monstrous as they were made out to sound.
16. The mermaid (Beverly Hills)
What the hell was wrong with that mermaid of doom at Mohamed Hadid's party?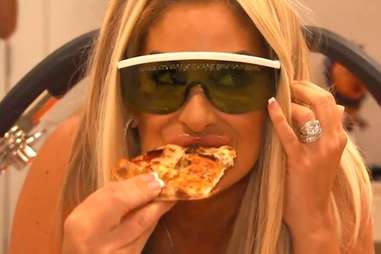 15. Pizza laser (Atlanta)
You know that scene in Barbarella where they strap her in the Excessive Machine and it tries to orgasm her to death? That is what I think of when I think of Kim Zolciak getting some weird laser machine in her house to shoot off all of her fat. Oh, and she was eating pizza while it went to work.
14. Vicki Gunvalson's scream (Orange County)
Every horror movie needs its scream queen, and the OG of the OC can put all of Freddy Krueger's victims to shame. Whether she's shouting about a family van, unloading at a Bunco party (I still don't know what that is), or letting everyone in the universe know she has never had multiple partners in her life, Vicki can curdle the blood like no other.
13. Ramona Singer catwalking (New York)
Want to know what a human being looks like when possessed by a demon? Let everyone's favorite New York Fashion Week model demonstrate for you.
12. Halle Berry from B*A*P*S (Atlanta)
Let us get one thing clear: Porsha Stewart did not want to be Halle Berry from B*A*P*S. When Kenya Moore assigned costumes for her "Black Icons" party, she wanted her mortal enemy Porsha to dress as Halle Berry playing a hood rat. Instead, Porsha dressed as Halle Berry playing Dorothy Dandridge. (Isn't that just dressing at Dorothy Dandridge?) This is a party foul that went horribly awry (skip to 21:09).
11. David and Shannon's funerals (Orange County)
After David Beador cheated on his wife, Shannon, he would do absolutely anything to get their marriage back on track -- including faking their own funerals, complete with mock headstones. Man, this is some seriously morbid shit.
10. Mama Elsa's black magic (Miami)
It was strange enough when Marysol Patton's mother Elsa talked about seeing spirits and being a psychic. It was even worse when Marysol visited another seer on the Miami mystic circuit who said that a middle-aged blonde woman had done black magic on Elsa. Someone sacrifice a live chicken, stat!
9. Ramona's eerie prediction (New York)
The RHONY Season 4 trip to Morocco was a thing of nightmares. Not only was there the Herman Munster shoes (No. 17) and a camel attack, but Ramona Singer also talked to a fortune teller who told her that her husband, Mario, was cheating on her. It didn't seem that upsetting at the time, but fast-forward five years and Ramona catches Mario cheating in their Hamptons home. That is some scary prophesy-coming-true action.
8. Leeches! (Orange County)
Heather Dubrow will try anything to look like the youngest Real Housewife. When she was bleeding through her dress at an event, she revealed to the women that she had leeches applied to her gut as a beauty treatment. Not only was that disgusting, but when she showed them the wound, it looked more like the mark of Satan than anything else.
7. The curse of Carlton (Beverly Hills)
One-season wonder Carlton Gebbia always told everyone that she was Wiccan, but she tried to play herself off as a good witch. After fellow Housewife Joyce Giraud pissed her off, Carlton cast a spell on her that apparently made Joyce's husband Michael violently ill. Just for that, they should have kept the Wicked Witch of the West Coast around for another year.
6. The creepiest house (Miami, Atlanta)
There is something about a creepy house full of weird dolls, dusty taxidermy, and strange insignias lorded over by a maniacal German who will snap on his guests as soon as he invites them for a glass of wine. Miami real estate mogul Thomas Kramer has a house that seems straight out of an episode of Scooby-Doo. It was featured not only on Real Housewives of Miami (where he threw Mama Elsa out for not being a lady), but also on Real Housewives of Atlanta (above), when he hosted Kim Zolciak and NeNe Leakes. It's shocking everyone made it out alive.
5. Dorinda's red balloon (New York)
One of the eeriest psychic readings was when a tea reader in Queens told Dorinda Medley that her late husband wanted to know about a balloon, and Dorinda told the story of how, a few days after her husband's death, a red balloon that was on the ground floated up and into her bedroom, and she was convinced it was the spirit of her husband. This is the kind of ghost story that makes you want to cry.
4. Murder at the Posche fashion show (New Jersey)
Remember the scene in The Shining where Shelley Duvall is running away from crazed maniac Jack Nicholson as he tries to kill her with an ax? The same thing happened to Danielle Staub when Teresa Giudice was on the rampage at the Posche fashion show. She wasn't trying to kill her though, just snatch a big chunk out of her weave.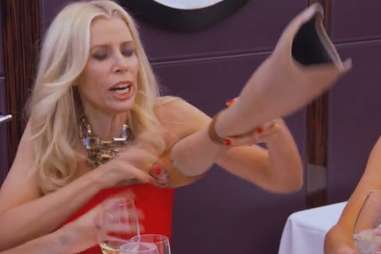 3. Aviva's leg (New York)
It was creepy enough when Aviva Drescher went to the barn where her leg was amputated in a childhood accident, but it was even scarier when her disembodied prosthesis was sitting in the middle of the floor at Le Cirque after she threw it at the other Housewives. At least there wasn't any blood.
2. Scary Island (New York)
Watching Kelly Bensimon completely unravel in front of her castmates is one of the most unsettling things that has ever been broadcast on television. They don't call it Scary Island for nothing!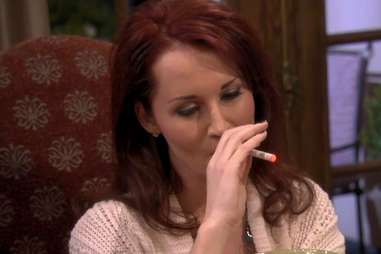 1. The medium gets large (Beverly Hills)
Mixing psychics and the Real Housewives is sort of like drinking beer and liquor on the same night: It's always messy, and someone is going to start crying. That is exactly what happened when Camille Grammer invited Allison DuBois, the woman who inspired the TV show Medium, to dinner and she got into a tussle with Kyle Richards, telling her that she knew exactly when Kyle would die and hoping that the other women would murder each other. This was truly the dinner party from hell, and it was ruled over by one flame-haired, vaping demon.
Sign up here for our daily Thrillist email, and get your fix of the best in food/drink/fun.
Brian Moylan is a freelance writer and
Real Housewives
anthropologist who lives in New York.