Here's What's Up with That Mysterious Cameo at The End of 'Crazy Rich Asians'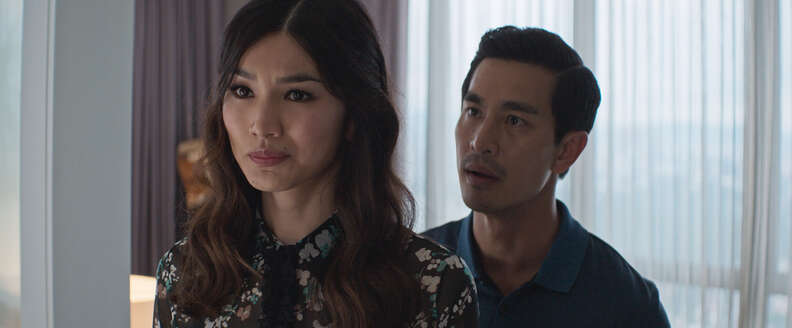 Warner Bros.
Warner Bros.
Typically, mid-credits tags are the stuff of superhero movies, not romantic comedies. But Crazy Rich Asians isn't your average rom com. It's just one part of author Kevin Kwan's sprawling trilogy of novels, meaning this first movie only scratches the surface when it comes to these characters. This is all to say: It's worth sticking around once the credits have started rolling, especially if you're a fan of the books on which the groundbreaking blockbuster is based. If you haven't read the books, you may be in need of a little bit more information to understand why it matters.
The film ends with a lavish -- what else? -- engagement party for the central couple, Nick Young (Henry Golding) and Rachel Chu (Constance Wu). During that party, Nick's impossibly gorgeous and stylish cousin Astrid (Gemma Chan) locks eyes with a random man. Who is this handsome mystery dude? Why does it seem like they already have crackling chemistry? And is this happy ending meant to last? Read on.
So, who is that guy at the end?
That, my friends, is Charlie Wu, played by Harry Shum, Jr. You may recognize Shum from Glee and thus may be perplexed as to why a notable star is in such a tiny role. That's because Charlie is a big deal in the books and his role is only set to grow. Charlie -- fabulously wealthy himself -- is Astrid's true love. In fact, they were engaged to be married when they were young, but her family disapproved because he was from, as Kwan writes, "shameless new money." Charlie and Astrid had a big fight in which she threw a Wendy's Frosty at him, after which she broke things off and married Michael Teo, who has an impressive military pedigree. In the novel, Astrid and Charlie reunite at Colin and Araminta's wedding celebrations, and Astrid goes to stay with him after learning of Michael's affair. (Charlie, by the way, has married a woman named Isabel. So, at the moment, he's taken.)
Speaking of Michael's affair...
While it's pretty cut and dry in the movie, on the page there's more to it than meets the eye. With help from Charlie, Astrid follows Michael and discovers he's not actually having an affair at all. He's been pretending to have an affair to get out of his marriage, frustrated by how he's been perceived as marrying her for money and how her family treats his as second class citizens.
Why did they push this story arc to the side?
It seems like the creative team is saving a lot of Astrid drama for the what is likely an inevitable sequel. At a press conferences earlier this month in Los Angeles, producer Nina Jacobson revealed that they did film more material between Astrid and Charlie.
"We had originally shot more of them together, but what we found when we first started to show the movie to audiences was that, just in terms of screen time, the dissolution of her marriage and then the introduction of this wonderful new guy actually both got short shrift when you rushed it," Jacobson explained. "You felt like you weren't getting the strength that it took her to walk away from her marriage, but also the hope that you might feel about a new person. And that it wasn't just a rebound."
So they decided: "We'll just tease [it] a little bit at the end and hope that audiences ask for more movies so we can continue to tell the story." Director Jon M. Chu explained it was also a matter of making sure that Rachel and Astrid's storylines stood independent of the men in their lives. "This is not about getting the guy, ultimately, for both Rachel and Astrid," he said. "It's about self worth."
What about Nick and Rachel's amazing proposal? That's from the book, right?
Nick's dramatic proposal to Rachel on a busy aircraft during boarding is the stuff of rom-com legend. It's a grand, last-ditch gesture that's perfectly cinematic. Figures, since it was invented for the movie. Readers don't actually hear about how Nick popped the question until the second book in the trilogy, China Rich Girlfriend. Rachel describes the event -- which takes place in Paris and features a street musician performing Talking Heads -- to her family members.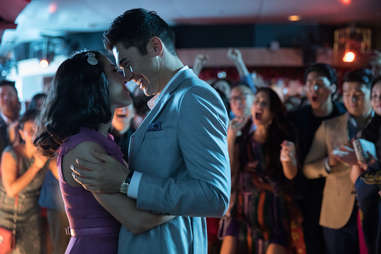 While we're on the subject of family members...
The dynamics at play are slightly altered in the movie. For one, Nick and his mother, Eleanor (Michelle Yeoh), are not speaking when the text comes to a close. She certainly doesn't give him the heirloom ring to use, and definitely does not throw an engagement party for her son. But even though they have ostensibly reconciled for the purpose of the film's grand finale (scored to a Mandarin-language cover of Coldplay's "Yellow," by the way), don't think there isn't a chill hanging in the air.
This probably isn't the last you've heard about the mysterious circumstances surrounding Rachel's dad, either. The bombshell revelations play out slightly differently in the novel -- for one, Eleanor tells Rachel her dad is in prison. Rachel is about to go visit him when her mother, Kerry (Tan Kheng Hua), arrives and explains that man isn't actually her dad. Rachel's real father is a large part of China Rich Girlfriend. Stay tuned.
A sequel's coming, right?
Well, nothing's officially been announced, but it sure seems that way. "There's real hope there," producer John Penotti said at the event. "But it's really important that people do show up." So the bigger a hit Crazy Rich Asians is, the more likely we are to see Astrid's complicated romance.
Sign up here for our daily Thrillist email and subscribe here for our YouTube channel to get your fix of the best in food/drink/fun.