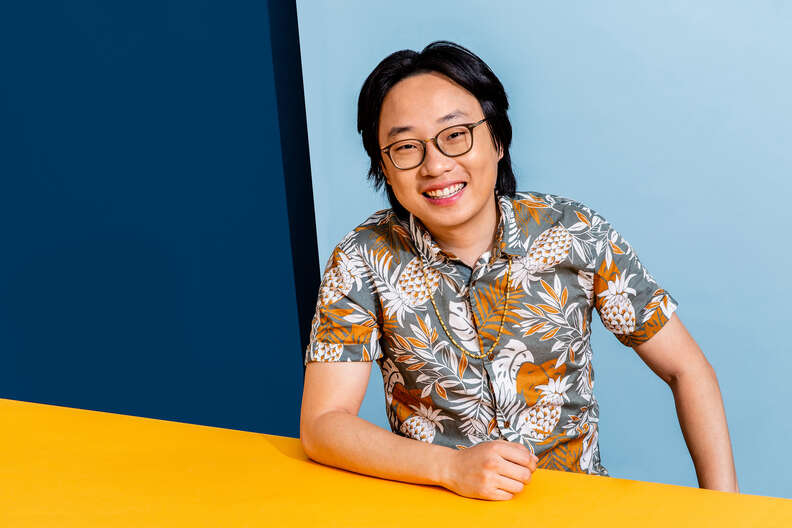 Cole Saladino/Thrillist
Cole Saladino/Thrillist
Jimmy O. Yang Goes From Jian-Yang to The Craziest Party Animal in 'Crazy Rich Asians'
The glamorous lifestyle of the characters in Crazy Rich Asians has seeped into the fashion of Jimmy O. Yang, the comedian best known as the taciturn, chain-smoking Jian-Yang on Silicon Valley. As we sit in a conference room in Thrillist's New York offices, he shows me the 1968 Rolex around his wrist. It's an item he acquired after becoming friendly with author Kevin Kwan, who wrote the novel about the upper (upper upper) echelon of Singaporean society the critically-acclaimed rom-com is based on.
"It's so beautiful to me now and I'm able to appreciate it," Yang says about his wrist accoutrement. "I'm very thankful to have known Kevin to have shown me this better world. But at the same time I wish I had never seen and just be okay with wearing sweatpants from H&M."
In the movie, Yang plays Bernard Tai, a bombastic playboy who frequently has his shirt open. (According to the book, he is known for his "brave sartorial statements.") Bernard throws the most ridiculous bachelor party anyone could possibly imagine for Colin Khoo (Chris Pang). The movie's hero, Nick Young (Henry Golding), has brought his girlfriend, Rachel Chu (Constance Wu), to his home country for the first time for Colin's nuptials, but the central couple is separated for the gender-based pre-festivities. Bernard's plans involve taking a helicopter to a cargo ship marooned on the open sea and filled with loud party music and legions of models in bikinis.
Bernard is quite a change from the role Yang is best known for on the techy hit HBO comedy. Over the years, Jian-Yang has morphed from the incubator's comic relief to a full-fledged antihero. Meanwhile, Yang's profile has risen. This year he published How to American: An Immigrant's Guide to Disappointing Your Parents, a memoir about coming to America at age 13 from Hong Kong and entry into comedy.
After a photoshoot in our studio -- where he was eager to play with some props -- Yang settled in for a conversation about how Crazy Rich Asians with its historic cast is set to open so many doors.
Thrillist: How did you first hear about the movie for 'Crazy Rich Asians'?
Jimmy O. Yang: My publicist actually, Sam. She is a half-Indian, half-Danish-American woman. Very interesting woman. She told me about the book. She was like, "They are making a movie out of it, you should get your managers, your agents to look into it." I called them and they were like, "Yeah, we've been tracking this. We're going to try to get you in for an audition." I asked them, "Look, I understand how important this movie is. And the fact that, basically, they are getting all the best Asian people in this movie. Usually, I understand I am the character guy, I'm the funny guy: Let me try to read for the lead role."
You tried to read for Nick?
Yang: That's what I told my managers. And then they are like, "I don't know how to tell you this, but they are actually looking for a good looking guy."
That's mean.
Yang: I get it. It's fine. So then I actually read for Colin Khoo, which is an equally good-looking man, but I think Chris had gotten that role already. They just wanted me to read something. Then eventually it landed on Bernard Tai, which I was very happy about because it's just a fun crazy role and I get to do so much with it.
He throws the most insane bachelor party known to man. What was filming that like?
Yang: We spent two full days on that cargo ship. I always give our guy Nelson Coates a shout out -- our set designer. He built this cargo ship party on a parking lot and everything was functional. You can walk up the containers. There's a helipad that's functional. There are so many deleted scenes because it got almost a little too R-rated. You want to keep the main storyline to be this Rachel-Nick love story. Bernard could have had his own story, I guess. It was just so fun. It was hot as hell. We shot day to night. A lot of crazy stuff we did and a lot of improvising. Sadly a lot of it was cut out from that scene.
In your book, you talk a little bit about the class system in Hong Kong, and how its snobby residents looked down on your family from Shanghai. How did you view the social strata at play in this movie from your own perspective?
Yang: Kevin wrote about a lot of that in the book, and even about Hong Kong, especially in the second book. I found that extremely relatable. I think one of the funniest lines in the second book is Bernard getting cut off by his father and he's only getting $10 million a year. That was just hilarious to me. But I think as an actor, you've got to make all of that playable. And for me it's just playing this uninhibited guy, when it comes to the money, the opulence, the partying -- it's as if it's a kid with no discipline. That's how I approached this character. I think part of us we all kind of want to be that, but we have to live by the rules of society and we don't have $10 million a year, so we can't just go crazy.
You can't throw a giant party on a cargo ship.
Yang: This guy just lives his life as if it's in a lawless place, which is fun.
His shirt is open. What was the costuming like?
Yang: Oh my God, the costume fitting. Every character always starts with the costume fitting and it really kind of molds around that. We tried on all this crazy Versace stuff and all that. And then the shoes have a Versace logo on it and has a Versace chain. We just thought it would be so funny if the shirt was just completely open. I talked to Kevin; in the book he's not necessarily supposed to be fat. But in the script he's supposed to be a big guy who sat on Nick when he got beat up in school. I'm not fat, but I kind of do have this beer gut because I don't really work out. So I thought it would be really funny. He looks like he's lived a hedonistic life. Shirt open. Not fat, but he's got a gut. He enjoys himself.
What was the dynamic like between the cast members?
Yang: I think it was an instant connection. The bachelor party scene was the first scene I shot. It was me, Remy [Hii], Ronny [Chieng], Chris, and Henry. Just boys hanging out. It was my first time meeting these dudes. None of us had egos. Henry didn't have an ego like, "I'm the leading man." And everybody was so respectful of each other's work and of each other in general, knowing this movie is much bigger than us individually. We want to do well as actors, but mainly we want to service the story and do good and hang out. We felt like we were friends from day one. There wasn't too much worry about finishing the job. I'm sure [director] Jon [M. Chu] was stressing out, but for me doing my job was filling the screen with this character's huge personality and being this party animal. Kind of not worrying about my job is doing my job.
Was the bachelor party shot in Singapore?
Yang: That was shot in Malaysia and the rest of the stuff was shot in Singapore.
Had you been before?
Yang: I went to both Singapore and Malaysia when I was 10 years old, because I grew up in Hong Kong, which was funny because the layover stops were in Hong Kong. It was quite the journey. It was 16 hours, and between shooting in Malaysia and Singapore I had to actually come back to LA and shoot something else. Literally when I landed after that crazy bachelor party, which strained me, I gave it everything, and then I come back and I shoot an episode of Drunk History where I play Genghis Khan. That was like the day after. And then after that, I had to go shoot this other movie before going back to Singapore.
I guess it's fine to be a little jet lagged for Drunk History since you are speaking the words of drunk people.
Yang: That's true. When I got back to Singapore, it energized me really. Physically, I might be tired with all the traveling, the work, the night shoots, but having everybody around, the extrovert in me really was energized. The last two weeks we shot the big scenes, the wedding party dance and all of that. All of us were there. We would each get called one by one to do our coverage, but we would be hanging out in Remy's room, like 12 of us playing video games, like really bonding. None of it really felt like work. It was very special even just in a friendship type of sense. I was just listening to the soundtrack, which is out on iTunes and Spotify.
The soundtrack is awesome.
Yang: It's awesome. It brought back childhood memories because they have songs like "Material Girl," but the Cantonese version, which I grew up listening to in Hong Kong. For me it really struck a chord. But now, because I've seen the movie three times, when I listen to those tracks I know which scenes are which and I know what we were doing in those scenes. It really brings back that memory of just us as friends hanging out.
In your book you talk a lot about your dad's reactions to your acting achievements. What was his reaction to this one?
Yang: We made the full page of the Chinese newspaper two days ago so he has completely, fully come around. And it's awesome. [My parents] actually came in the last week of shooting. That was fun, to be able to share that joy and experience with them. The thing about Asian culture is it doesn't matter where you are from -- because there are Asians from every part of the world in this movie -- but they are all so respectful of my parents. Ronny was calling my dad "uncle" and taking him around. That's just a respect for elders that we all have. He really, thoroughly enjoyed it. He still remembers everyone. I took him to premiere and he was really happy to see Fiona [Xie] and Sonoya [Mizuno] and Ronny, Henry, and everyone. I'm glad to bring my real family into this.
[Jimmy shows me a photo of the newspaper clipping. I notice that it's on an Instagram account for @toffeestarpug.]
Is that an Instagram for your parents' pug?
Yang: Yeah, that's Toffee Star Pug. My dad runs her account. She's a very cute pug puppy. We were supposed to split time raising her but she just became too much of a handful and I travel too much and my parents love her so much.
Okay, back to Crazy Rich Asians: it's a landmark moment, but it's also representing a rarified world. How do you view that world?
Yang: Culturally, I think we all intellectualize and understand what's going on: It's the first studio movie in 25 years with a full Asian cast. We get that and we know that's important. But there's obviously a nervousness and a pressure that comes with that. It's like, this movie better be good to be able to carry that tagline. When we first saw the movie, we just knew there was something special. I cried. A lot of people told me they cried. Even when we first saw the blooper reel at the wrap party, I knew there was something special there. It's not just an Asian story, it's a story about secret societies. It's like The Great Gatsby. It's universal. And it's also taking you into a new cinematic world like Westeros or Middle Earth. Something that's so interesting and new and fresh and colorful. It doesn't matter what ethnicity you are. You want to see what's going on in the secret society, and it's extremely interesting. And that's why I think it's, so far, universally praised and loved.
Have you started at all on season six of Silicon Valley?
Yang: I think it might be a slightly longer hiatus because Alec [Berg] is running Barry. Mike [Judge] is running Tales from the Tour Bus. But I'm very excited to get back. We got picked up for another season. Who knows where it's going to go? I think at first there was some conversations about, oh, it's only going to be six seasons, we don't want to get stale. But the thing is the tech industry is so new and there are so many new stories coming up every day. Even the whole Facebook thing last year. That could be a whole season in itself. So I think the storyline could stay fresh and we have such great consultants that work with us that actually are from the tech world. We can probably keep it going, and I hope we keep it going for a while.
Last season, you were sort of isolated a little from the main crew.
Yang: He went on a little rogue mission.
What was it like filming in the Silicon Valley version of China?
Yang: That was cool. I actually did a lot of research to see what the temperature is in China. It's very up-and-coming, especially in the hardware manufacturing world. It's just great to kind of see Jian-Yang be able to do his own thing and have his own arc. The whole plot about old China-new China with Matt Ross and Ma Tzi was so great. Jian-Yang became more or less a villain, especially in the beginning of the season, to the Pied Piper boys. I think there was some negative reactions to that. Because those boys are so loved. They are like, "Oh, why is Jian-Yang doing this? I hate him." Not in a bad way, but it's like in a way we wanted you to hate him. But then he really came around. But when Jian, such a seemingly docile guy, really stands up and screws up other people like Erlich and Matt Ross' character, Gavin Belson, who is so flamboyant and so big, it's like David vs. Goliath and he takes them down. There's such a satisfaction to it. And it was great working with Matt this year. I hope maybe next season I get to do more Jian-Yang-Gavin Belson scenes. Or even like Jian and Russ Hanneman. That would be fun.

I've seen on Instagram you've been doing this project The Opening Act with a number of other famous comedians. What has that been like?
Yang: Heroes, that I finally get to work with. That's one of the coolest things about being an actor. I don't really care about being famous or anything like that, but meeting people that you respect and you grew up watching and now they know who you are, that's very cool to me. One of the first people was Ken Jeong, huge fan of his, one of the first Asian stand-ups I've seen. Really was a huge influence, and being able to work with him in [Crazy Rich Asians]. He happened to be a big fan of Silicon Valley. It was so great. We are pretty close friends now, which is awesome. Ken's actually in The Opening Act which is awesome. It's my first leading role. It was really daunting physically, in a way, because we had to work 19 days, 12 hours a day, and I was in every single scene. The whole movie takes place in a weekend where this new open mic comic gets his first real gig as an opener.
Were there any flashback to your own early days of stand-up?
Yang: Oh my God, yes. We had to actually shoot in front of a live audience at the Brea Improv. Some sets my character did well. Some sets he bombed. And those sets were very hard. Because nobody wants to bomb, nobody wants to look bad. And as a comedian you develop so many safety mechanisms. If a joke doesn't work you can say something about it that would be funny or you can go to a different bit. But I literally have to ignore all those instincts and just bomb and sit in that silence that's so uncomfortable that we all have experienced as comedians. I had to look at my old notes, my old stand-up jokes from when I first started and I was like, oh my God, these jokes are fucking horrible. You looked at your own personal jokes. I did some bits eight years ago when I first started stand-up comedy. It still kind of works on a level, but it's just kind of generic things that I don't want to do anymore. It made me kind of appreciate how much I've grown as a comedian.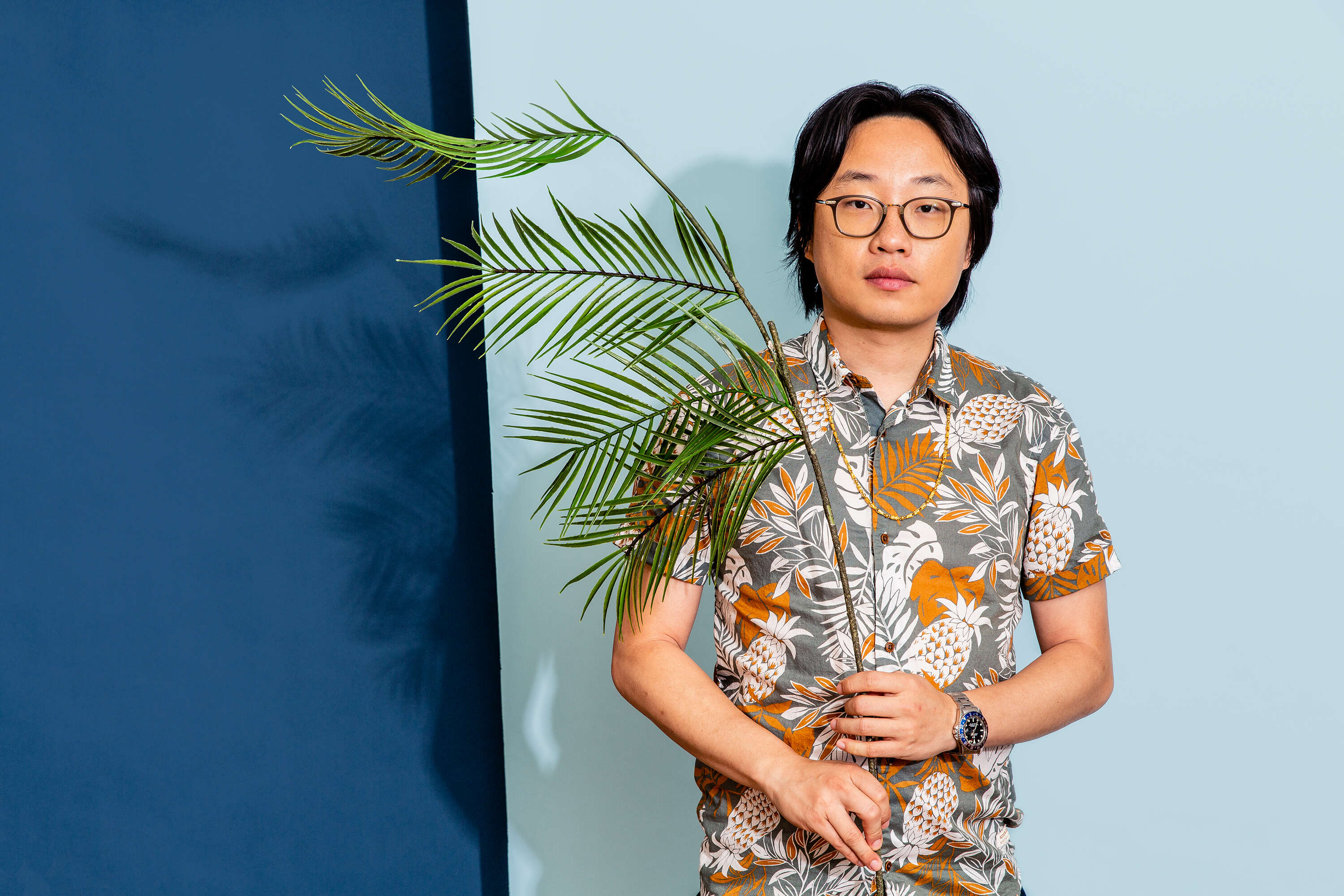 What was the best part about spending time in Singapore and Malaysia?
Yang: Oh my God, the food, the people. Everybody was so on the same page about food. Everybody loved Asian food and we all just gorged ourselves. I was jokingly saying this, but I might be serious: I want to start an Instagram that's just Gemma Chan, [who plays Astrid], eating. Wouldn't that be amazing? Because she's gorgeous and skinny, doesn't gain weight. For my birthday like a dozen people went to an all-you-can-eat shabu hot pot place and Gemma was the last woman standing. She kept eating and kept eating and kept eating when we are all done. I was like, man, there's something so cool about this girl because of that. And every time we go out -- when we were in Dallas, she was in a Valentino gown eating Texas barbecue off a paper plate. That's amazing. That needs to have her own Instagram.
It seems like you developed a really close relationship with Kevin.
Yang: Kevin is the best. Kevin is like my Gandalf into the high-end lifestyle. The stuff he wrote about in the book, Valentino, whatever styles, I have no idea when I read it. I still shop at H&M and Zara. I live in West Hollywood now. He showed me all these places on Melrose Place that I didn't even know existed. All these high end furniture stores. You have to ring a bell on the side to get in. Now I have a much more appreciation of these things. He just actually helped me pick out this paint color in my bedroom. Now because I know I have to spend a lot more money for things to look like the way I want, maybe a way that Kevin would approve.
You did a dramatic role in Patriot's Day, you've done a bunch of different comedies, The Opening Act is your first leading role. What are your dreams and the goals now?
Yang: Doing Opening Act made me a be a little more honest with myself because the schedule is so daunting. Nobody ever talks about how hard an actor works. We all just see, "Oh, Mark Wahlberg, he made the most money last year, or like The Rock." But these people work so hard, it's insane. They wake up at like 5 a.m., start working out and working. Nobody ever talks about that. But doing Opening Act -- even shooting in Malaysia and Singapore -- as fun as it was, it was hard work. So it's like, what kind of roles do I really like to play? I think the Bernard Tai roles, the really character-y, fun crazy roles. When at some point I can show my reel and it's Patriot's Day, Jian-Yang, and Bernard Tai: That's very fun to me to be able to show that range and be somebody I'm not, in a way. You get to kind of mentally escape for a while, which is very fun. But of course the challenging, the heartfelt roles. We all have dreams of winning an Oscar one day. And doing projects that are meaningful. Like this one, like Crazy Rich Asians. Hopefully down the line getting into producing, directing, writing. Me and Ken, we're actually working on something together.
Oh really? Can you say anything about that? Did you and Ken dream this up on the Crazy Rich Asians set?
Yang: When I saw the cast and crew premiere, I was like, "Me, Ken, and Awkwafina have to do something together." So we kind of got together, brainstormed a little. I can't talk too much about it. Nothing is signed or anything, but we talk a lot and we have some ideas brewing. I think mainly the great part of [Crazy Rich Asians] is it's our camaraderie, but also it hopefully opens up doors for people to be more open to see Asian faces, Asian leads. And letting us tell our stories. We have so many stories we want to tell. Like my book, for example! I want to turn it into a TV show and a movie. There has been some great interest, and I have to imagine it's because this movie has helped a lot. Because this movie has gotten all this hype people are looking for more authentic storytelling.
Sign up here for our daily Thrillist email and subscribe here for our YouTube channel to get your fix of the best in food/drink/fun.