7 Creative Rebels You Need to Know Right Now
According to Winston Churchill, who, like a curiously high number of world leaders, dabbled in watercolors (as well as Tweet-able quotations), "Art without innovation is a corpse." So we decided to check in on its general condition, and round up seven individuals who are pushing contemporary music, publishing, and the visual arts to infinity and... beyond. How's art and culture looking? Alive and kicking.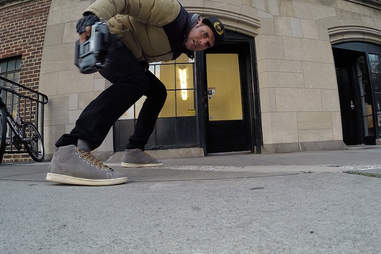 Courtesy of Randy Scott Slavin
Randy Scott Slavin
Taking "How did they do that?" to the next level
Randy Scott Slavin, founder of the NYC Drone Film Festival, has long been a a prolific director and surrealist (of the stomach-churning variety) photographer. But his most definitive genre-shifting moment came when he realized the potential of this new technology for artistic expression, and a radical new viewpoint, quite literally, on filmmaking.
"I love watching skateboard videos, and I went to see this skateboard film [called Pretty Sweet] that used drones, and it just blew me away," he says. "It looked amazing, and I felt inspired; I immediately went out and bought a drone."
As a longtime member of the NYC arts community, Slavin was especially well positioned to spread the word, and launch the inaugural NYC Drone Film Festival this year. Its 25, sometimes vertigo-inducing, drone-shot films were so well received that the organization is currently accepting submissions for next year. But Slavin's not done yet -- he won't rest until New York City is the Cannes or Sundance for drone film, and a greater variety of voices join the conversation -- and say something drone-y.

"What's exciting about it to me is that there's no limitations, really," he says. "I think it's a very human thing, I don't think you can distinguish me from anyone else, really; everyone likes stories."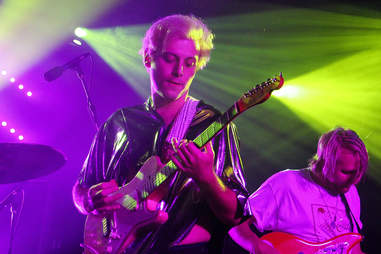 Courtesy of Raw Paw
Will Kauber
Making the zine relevant again
Print's not dead. It broke out of its crypt like a technicolor zombie when Will Kauber dropped the first issue of RawPaw in Austin, Texas. Not only does the lavish, 100-page zine serve as an outlet of expression for local musicians, actors, and writers, but it's also a foundation for that community to carve out a space for itself, in every sense.

"We're not trying to be a collection of the absolute best illustrators or writers or anything like that," says Kauber. "Our mission is more about creating a community."

Kauber and his cohorts, who include Jen Rachid, Clementine Kruczynski, and Chris Dock Davis, could have done that with a few sheets of black-and-white photocopied paper. But instead, they went big, with an elaborate full-color behemoth.

"I think print is almost just the proving ground for people to work and grow and feel encouraged enough to feel [that they] can be artists or writers," adds Kauber.

Behind the zine, the RawPaw collective acts as an informal agency, matching artists with businesses that need their services -- you know, actually doing something about the belief that artists should be paid for their work. Next on the agenda is a physical home base, which would include a space for artists to produce things themselves, and take control of their work and compensation.

"It's not DIY," says Kauber of the movement that has grown in part out of his efforts, "It's DIT -- do it together."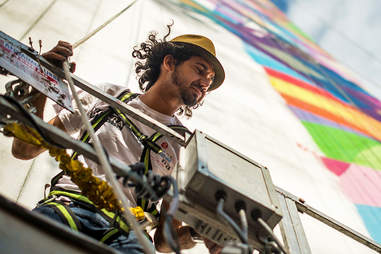 Yasuyashi Chiba/AFP/Getty Images
Eduardo Kobra
Transforming streetscapes, one harlequin at a time
There are city streets, suburban streets, and multicolored neon dreamscape streets. Brazilian-born street artist Eduardo Kobra is the guy you want to talk to about the latter -- specifically photorealistic murals, drawn with as if viewed through a kaleidoscopic lens.

Sure, Kobra's work is visually striking, but these are more than pretty, often gigantic, pictures on the side of the road; they are a celebration of location. His work is framed within the context of the city in which the piece will live -- be it Tokyo, Dubai, or San Paolo -- and reflects the artist's obsession with the architecture and photography of the '20s and '30s.

"The idea of the murals is to recreate a city that no longer exists," explains Kobra in an interview with Art Miami TV. "People who didn't live in that time can see it and those who did live back then can have a moment of memory or nostalgia."

Considering all the calamities that could befall a piece of street art -- weathering, demolition, rival tagging, a buff -- there's something poignant and feels-inducing about Kobra's focus on time and nostalgia. Catch him while you can.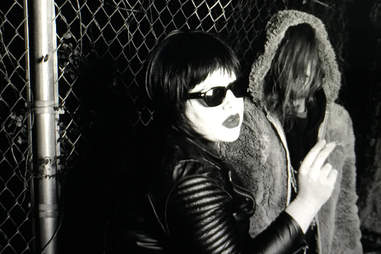 Courtesy of Thunderbitch
Thunderbitch
Making the anonymous side project really, really anonymous
Anyone who's into Alabama Shakes knows that front woman Brittany Howard doesn't play the conventional media game. And anyone who has been to a music festival in the last three years knows that she brings some aggressive "I do what I want vibes" to the stage, even refusing to play "Hold On," the band's most popular song, at any live show.
It's clear this woman gives no effs, but she just took it a step further with her latest solo endeavor, aptly named Thunderbitch. Their dirty dive bar sound adds another rock 'n' roll dimension to the already flooring sound of the Shakes. But it's not just the music that has Howard's complete disregard for industry norms all over it.
Was there any announcement whatsoever when the album dropped? No, not a peep. Is she doing press or interviews? No. Are the band members' real names on the website? No. Are they gonna tour? "Maybe someday…?" (their words, not ours). But hey, if the music's killer, who's to stop her from blowing off the hype machine?
We wouldn't dare.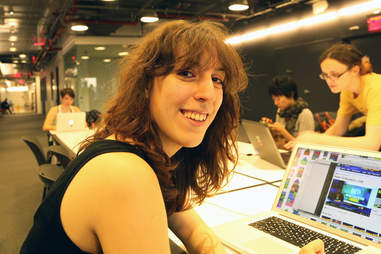 <a href="https://www.flickr.com/photos/phoenixperry/10011507605" rel="nofollow" target="_blank">Phoenix Perry/Flickr</a>
Jane Friedhoff
Putting the riot grrrl in gaming
NYC-based creative technologist, indie game designer, and web developer Jane Friedhoff enjoys breaking shit. Her latest game, Slam City Oracles, invites you to dance "so hard with your best friend that you tear down a city," and "smash the patriarchy" along the way to an appropriately raucous soundtrack.

It's billed as "riot grrrl meets Katamari Damacy," which also applies to Friedhoff herself. At the heart of her work is a focus on making games accessible to everyone, particularly the women who, as creators and players, often find themselves on the edge of the gaming community. To that end, she co-founded (with Catt Small, Nina Freeman, and Phoenix Perry) The Code Liberation Foundation, which brings women into the gaming fold with free coding classes, game nights, and online slides & courses. She's also behind Facets, alongside Caroline Sinders, Mohini Dutta, and Phoenix Perry, an "un-conference" that aims to create an inclusive discussion space for art, tech, and games.

"It tells women that games are a place for them, that code is a place for them," she says. "Games really enable you to do things that most other media don't. You get the excuse to behave in ridiculous ways or you get the excuse to kind of play with the boundaries you brush up against in everyday life, but in a safe, constrained area."

As for what's next, you'll have to keep smashing the A button to keep up.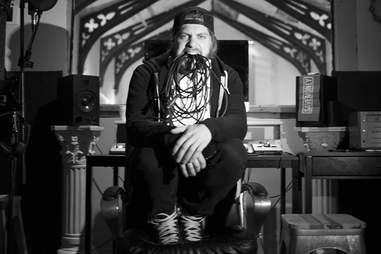 Kristin Adamcyzk
Garret Koehler
Bringing Detroit back one note at a time
A community organizer walks into an abandoned church in Detroit... No, this is not the beginning of a joke, it's the home base of Assemble Sound, Garret Koehler's project to bring together Detroit's musicians, and consequently rejuvenate the scene creatively and economically. After a valiant attempt to bring the X Games to Detroit, Koehler decided to take the momentum he had helped generate and refocus it.

His vision? The formerly dilapidated church, which Assemble Sound is gradually renovating (the steeple and heating system are up next), is growing into a space that will act not only as a recording studio, but also as a temporary residence for touring musicians and others in the industry.

Rather than transform Detroit's music scene into Brooklyn 2.0, Koehler wants to foster the full potential of the city's unique character, and for him that starts at home, rehabilitating architectural spaces and collaborating with neighbors to buy lawnmowers. On the collective's blog, everything new and musical coming out of Detroit is highlighted, from new tracks and music videos to emerging artists. It's a space for local talent to connect, and for the outside world to rediscover Detroit. It's sounding good.
<a href="https://www.facebook.com/photo.php?fbid=10152761289648086" rel="nofollow" target="_blank">Mike Rebholz via FlakPhoto/Facebook</a>
Andy Adams
Partnering with visual artists to promote their work online
There are lots of angles (ha) to FlakPhoto, Andy Adams' online platform to shrink the globe for photographers and maybe, someday, unite them all.
Adams launched the site from his home in Madison, Wisconsin in 2006 to address the offline need for a place where photographers could share, promote, and discuss their work, and forge the necessary connections with industry professionals to turn talent into recognition and financial reward.
Since then, FlakPhoto has evolved into the preeminent, multi-platform, community hub for 21st-century digital photography, with a daily blog of featured photographers, a 13K-member-strong discussion group, an international pool of contributors, and an ever-growing social media presence.

Adams' goal, however, remains the same as it ever was. "I've curated museum exhibitions and organized print shows, promote photography book culture and champion the image-makers I believe in," he says. "I love photography and the internet and have been experimenting with the intersection of those media for nearly a decade. My goal is to connect with every photographer in the world (impossible, but what the hell) and to bring attention to the works that inspire me."