'Crip Camp' Is the Inspiring New Netflix Documentary You Should Watch This Weekend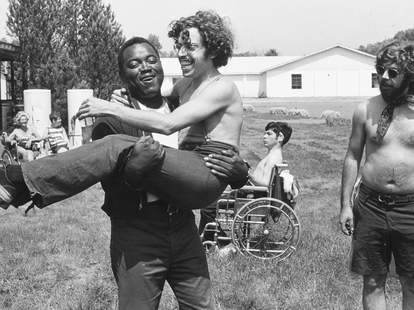 Chances are you have not heard of Camp Jened, a camp for disabled people that operated in upstate New York between the 1950s and 1970s. But the now-streaming Netflix documentary Crip Camp: A Disability Revolution, directed by Jim LeBrecht and Nicole Newnham, invites you into this hippie-run utopia which spawned a generation of activists. It's a warm, funny lesson about a fight for rights that's been underrepresented for years.
Initially, Crip Camp -- which debuted to acclaim at this year's Sundance Film Festival -- seems like its going to play out like memoir of its co-director LeBrecht, who attended the camp in 1971. As a teen suffering from spina bifida, he describes feeling like an outcast among his peers during the school year. But at Jened he was a cool kid. Through incredible archival footage, the documentary shows how campers were given the freedom they so often lacked in the outside world. There's smoking, sex, partying, debates, and a sense of pure community. The counter cultural spirit that most people associate with the nearby Woodstock, infuses the action, and the material captured by the People's Video Theater is profound, of course, but it's also raucous.
The narrative then swerves to life outside of this ostensible paradise, tracking how campers from LeBrecht's generation went on to fight for disability rights. The film is produced by the Obamas' Higher Ground, also behind this year's Oscar-winning documentary American Factory, and it soon becomes a broader picture of the movement that ultimately led to the adoption of the American with Disabilities Act.
During the latter half of the film, the focus shifts onto the likes of Judy Heumann, a fearless fighter who we first meet at Jened leading a contentious discussion about what to make for dinner. Years later, the authoritative stance she had as a counselor is now being used to stage the 1977 occupation of the San Francisco Federal Building known as the 504 Sit-In in an effort to get a response to proposed legislation.
 
Once again, viewers are confronted with moving and (often enraging) stories that are too infrequently told, but it's hard not to wish that the filmmakers hadn't left Jened behind. By the conclusion you're left galvanized, but with also a ton of remaining questions about the camp, its origins, and the people who frequented it. But otherwise Crip Camp feels like a landmark depiction of history that has gotten largely brushed to the side.
Need help finding something to watch? Sign up here for our weekly Streamail newsletter to get streaming recommendations delivered straight to your inbox.