How the 'Cruel Intentions' Coke Cross Became an Iconic Symbol of '90s Teen Rebellion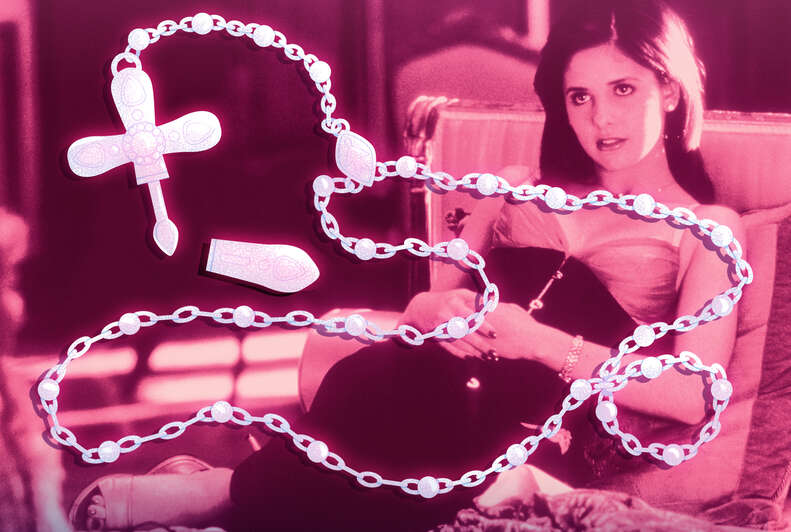 Illustration by Jason Hoffman
In 1999's now-teen-classic Cruel Intentions, Kathryn Merteuil, played to biting perfection by Sarah Michelle Gellar, isn't the "Marcia fucking Brady of the Upper East Side" she proclaims to be. One of the first signs of her unending deception is the bump of coke she takes after entertaining Selma Blair's innocent Cecile, the girl whose life she's intent on ruining. Once Cecile's been shuffled out of Kathryn's stately apartment, she unscrews the top of a cross dangling from a pearled rosary and brings it to her nose. This surreptitious way of concealing the illicit substance ultimately will be her downfall, but at this point in the movie, it's just a sign that she's not as welcoming as she claims to be.
Twenty years after its release, Cruel Intentions is still a generational touchstone with a host of moments labeled iconic. There's that famous kiss between Gellar and Blair, the drop of saliva connecting their lips. There's the shot of Ryan Phillippe's butt near the pool. There's "Bitter Sweet Symphony" playing over the dramatic finale, where Kathryn's cocaine problem is broadcast to the whole school. And then there's the cross, which has had an afterlife all its own, inspiring numerous copycats, many of which are sold on Etsy. If Lana Del Rey wasn't thinking of Kathryn when she started shilling a pendant with a little spoon as merch, the connection was made for her.
The prop was designed by Lynda Reiss, who, in the course of her career, has been responsible for the rose petals in American Beauty, the beer can men in True Detective, and the bicycles in Stranger Things. She had no idea Kathryn's rosary would stick around in the cultural imagination. "It's funny what people go crazy about. It makes me laugh all the time," Reiss says over the phone. "It's very cool to be the person who designed something that is the thing that people still talk about 20 years later." The enduring love for Kathryn's cross speaks to how deeply nostalgic the item is, especially as a Gen X touchstone, evoking what is perhaps the greatest year for teen movies ever.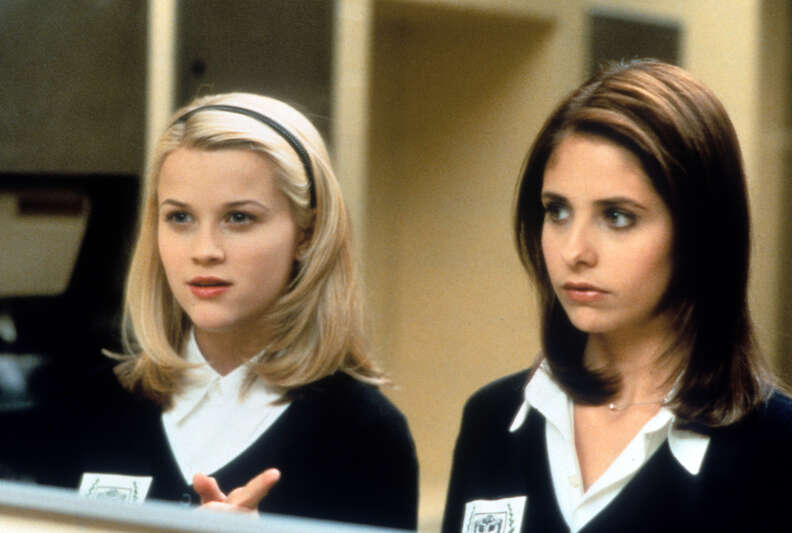 When Cruel Intentions hit theaters March 5, 1999, audiences had already had their fair share of teens. There was the swan-to-butterfly narrative of She's All That and the nasty, murderous mean girls of Jawbreaker. By the end of the year, the adolescent canon would also swell to feature 10 Things I Hate About You and American Pie.
Written and directed by Roger Kumble, Cruel Intentions was an ingenious reimagining of a classic: What if you took the 18th Century sex games of Les Liaisons dangereuses and transported them to the world of privileged private school kids on the Upper East Side? Kathryn bets her brother-by-marriage, Sebastian Valmont (Ryan Phillippe), to bed the virginal new headmaster's daughter, Annette Hargrove (Reese Witherspoon). The stakes? If Sebastian fails in his seduction efforts, Kathryn gets his car. If Sebastian succeeds, he gets to sleep with Kathryn, the forbidden fruit he's been lusting after. By the end, Sebastian is dead and Kathryn's evil machinations are exposed, along with her drug habit hidden as religious devotion.
The cast was comprised of hot young things on the verge of major breakthroughs. Later that year, Reese Witherspoon, who had just come off Pleasantville, would be seen as the indelible Tracy Flick from Election. Just after the release of Cruel Intentions, she married co-star Ryan Phillippe, birthing an early 2000s "it" couple. In two years, she and Selma Blair would collaborate on another hit: Legally Blonde. Sarah Michelle Gellar's profile would only continue to rise as Buffy the Vampire Slayer fandom grew stronger. But Cruel Intentions was still a relatively small production, according to costume designer Denise Wingate. "Because it was a little under the radar and the cast were all young, the studio just kind of left everyone alone and we just really worked together, which doesn't really happen as much anymore," Wingate explains.
Wingate, who also costumed She's All That, came up with an overall concept for Kathryn and her brother's aesthetic, mashing up the high fashion of the '90s with accents that might fit the original Merteuil and Valmont. "I made bustiers with corsets, but then put it under a Dolce and Gabbana suit at the beginning," she says. While jewelry can sometimes fall under the purview of a costume designer, the rosary was left up to Reiss. It's one of the most ostentatious accessories in Kathryn's wardrobe. For the most part, Wingate kept the rest of her jewelry simple: diamond studs, a subtle but sparkly little choker. All part of her "control freak" vibe.
One of two "hero" props in the movie -- the other being Sebastian's leather-bound sex journal detailing his escapades -- the rosary posed some early logistical challenges. Reiss understood she was never going to be able to go out and buy something that functioned the way it was supposed to in the script. By necessity of the plot, it had to be discreet enough that it wouldn't be obvious to characters not in the know that Kathryn was snorting away, but it also had to realistically be able to hold some powder. "It wasn't like the Mary Poppins bag of coke crucifixes," Reiss says. As an added challenge, Gellar is petite, so it had to hang naturally on her frame, not look "cartoony."
Like Wingate, Reiss also looked to wink to the story's origin, so she started by researching rosaries and 17th and 18th Century poison vials. "I found a lot of things had this sort of slight ball swelling at the bottom," Reiss remembers. "That became the receptacle for whatever the substance was that was inside said piece of jewelry. Then I had found some crucifixes and crosses that had the rounded ends. So I was like, 'OK, well, that's not such a stretch. We could take that concept.'" As a bit of a misdirect, she added a cabochon stone at the bottom of the cross so the eye would be distracted from the fact that it was rounded. For the rosary chain, she chose wild pearls that matched the color palette of Wingate's costumes and production designer Jon Gary Steele's sets. (Think: Kathryn's blue bedroom.) "They have that pearlescent thing where one way it looks gray, the other way it looks blue," Reiss says. "Then there's a purple sheen to it. It gave a lot of light to the piece." In other words: It looks different to different eyes, not unlike Kathryn's shifting personalities. "There's a lot of visual subtext all the way through that film," Reiss says.
Though the wealthy Kathryn would have certainly opted for platinum, the film didn't have that large a budget. The two props used were silver. When the final product first came back from the silversmith, Reiss worried it looked too big -- even though the reality was it wouldn't actually be able to hold much of any substance. "I grew up in the '80s," Reiss says. "I know how much space some of that stuff takes up. I looked at Roger and I'm like, 'Dude, that's just one bump in there.' You know? She'd go off to the restroom and bring out the baggie and fill it up. We were just like, 'Okay, we know what reality is. We'll make that elastic for our story.'"
Reiss thinks the two rosaries that were made went to Kumble and Gellar as souvenirs after the shoot was over. But she knows the necklace's likeness is in high demand. "Once every six months I get somebody reaching out, 'My girlfriend's favorite movie is this. Do you sell those?' And I'm like, 'No, but you can probably find them,'" she says. And indeed you can. All you have to do is head to Etsy. Reiss has seen some of the offerings and isn't wholly impressed. "Not many of them get it right," she says. "There's a couple on Etsy that have pretty much nailed it, but even those don't all have the pearls. There's a lot of them that just have crosses with stones in that are squared off on the end and say, 'Just like the one used in Cruel Intentions.' No, it's not."
For what it's worth, it's hard to get a good look at Reiss's design in the film. The camera flits by it as it dangles in Gellar's hand. Sellers, meanwhile, have seen a business opportunity in fandom and nostalgia. One, Kerry Gridley, saw the film when it came out. "I thought I was shocking and awesome," she remembers, describing herself as more of an Annette than a Kathryn. She was already making jewelry when she needed a Kathryn-style cross for a Halloween costume. Her husband encouraged her to produce her own, and she started selling three designs in 2008. While Gridley is based out of Hawaii, she uses silversmiths in Bali to make the rosaries based off her drawings. Currently, they range in price from $60 to $100. Her busiest times are Christmas, Valentine's Day, and, naturally, Halloween.
Gridley says she was never particularly intrigued by the drug aspect of the cross. "I thought it was just a unique and beautiful piece of jewelry," she says. "It's hiding in plain sight. For myself, I don't do that stuff. I don't put things in there." She explains she tells people to put truffle salt in it, and keeps a prayer card in her own. Still, she says some people will ask, "How much does it hold?" in a way that raises eyebrows. Another seller -- who asked not to be named because of his other business interests that "clash" with a coke cross store -- said he gets some euphemistic questions from buyers. "They'll say, 'how much Sweet and Low does it hold,' or something like that," he says. He also finds people wanting to use it as an urn. (He adds that he can't sell through PayPal, Amazon, or eBay, but he's unsure whether that has to do with it being drug paraphernalia or copyright infringement. He suspects it's largely the former. Each of those platforms prevent the sale of drug paraphernalia related to the use of controlled substances.)
And then there are the superfans. Gridley recalls one man out of Australia who wanted a rosary for a sculpture he was making in Cruel Intentions' honor. It was for his home.
Even Gridley acknowledges that the reason the rosary has had such pop culture longevity has something to do with Kathryn's bad behavior. "It's taboo," she says. "People like to be a little naughty. My first reaction to it when I saw it in the movie was, 'Oh my God.' I think people are still getting that reaction when they have a cross and they show their friends they're getting that reaction."
Indeed, Cruel Intentions remains shocking. TV shows like Gossip Girl have popped up in its wake, stealing its mean-girl Upper East Side aesthetic, but even that has a hard time rivaling the frankness of Kumble's script. Kathryn is still one of the best bitches in teen cinema history, though there's now a certain righteousness to her anger. Of all the teen-focused entertainment that came out in 1999, it felt the most dangerous; in comparison, the sexcapades of American Pie seemed more wholesome. The coke-filled cross was the most tangible representation of Cruel Intentions' seedy qualities. Twenty years later, we might be a little more jaded, but we still want to feel the rush of one more hit.
Sign up here for our daily Thrillist email and subscribe here for our YouTube channel to get your fix of the best in food/drink/fun.