Dad Shows Are Mom Jeans You Can Watch on TV
<strong>Ray Donovan |&nbsp;</strong>Showtime
<strong>Ray Donovan |&nbsp;</strong>Showtime
Amazon recently debuted the second season of Bosch, and Vanity Fair's James Wolcott was quick to extol it. "Bosch Season 2 is long but lean, a neo-classical procedural that maintains a close shave," he raved. "Everything about it is old school with a modern shine." He also pointed out that Bosch, played by Titus Welliver, is a "lone gray wolf whose taste in jazz and refusal to play nice mark him as a man out of time, a proud throwback."
Reading Wolcott's review, a familiar alarm bell went off in my head, as it may have done in yours, that said: now this is a show my dad would like. You've probably heard about dad bods, dad rock, and mom jeans. Thanks to Bosch and other shows like it, we find ourselves in the glorious heyday of the "dad show." But what is this elusive genre? Let's take a look:
Dad shows aren't necessarily targeted at dads
Let's get one thing clear right off the bat: dad shows are not necessarily shows aimed at dads, i.e., shows clearly targeted at middle-aged men, i.e., fishing shows. That's too easy. Nor does the term imply that dad shows are the only shows dads watch. My dad loved The O.C.! But does that make it a dad show? Of course not! (Although Sandy Cohen is the quintessential TV dad.)
So, a dad show is not merely something watched by dads; it's something that has some sort of crucial dad-ness about it. It's trying and failing to be hip, and has a degree of tubby complacency that mimics dad caring as little about the pop culture he ingests as he does about the eats that fuels his dad bod. Which is not to say that dad shows are bad shows. They're usually pretty good! But they're also predictable in a lot of key ways.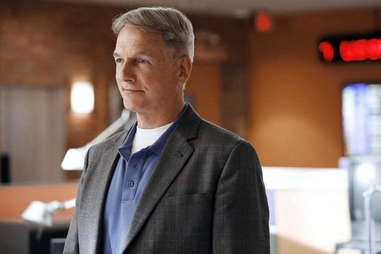 Dad shows are middlebrow
Traditionally, dad shows air on a major network and feature a male lead. We're talking CSI, Blue Bloods, NCIS -- a lot of cop shows. Generally, these shows are name brands starring name brands, and available on network or basic cable, and heavily advertised on billboards and the sides of buses, and they're long-running, because there's nothing dads appreciate more than continuity and the comfort of routine.
If you've ever thought to yourself, Wait, NCIS is in its 13th season? Who even watches NCIS?! The answer is, probably, dads.
... or they're masquerading as highbrow shows
It's an exciting time to be a dad! Nowadays, dads have added Showtime subscriptions and Netflix passwords and DVRs to their toolboxes, allowing access to another tier of dad shows above the standard network cop fare.
These shows have all the trappings of prestige TV (broody antihero lead, psychological nuance, some light sex stuff) without actually being great. They look like great shows, only something is slightly... off. They're slick enough to trick dad into thinking he is watching something cutting edge, but they're generally flawed or derivative of better shows. Ray Donovan is this. Bloodline is this. Low Winter Sun was peak this.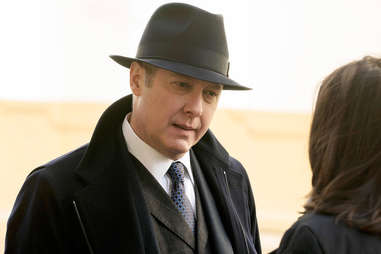 Dad shows are easy to find
Dads do not watch television on their computers. That is sacrilege. Go wash your mouth out with soap! Dads watch TV on their TVs, just as God intended.
These TVs are generally souped up with all the finest add-ons that dad's cable provider can offer. A modern dad likely has a smart TV and a well-curated streaming queue that nobody else is allowed to touch, maybe even a Blu-ray player with Wi-Fi connectivity and a password that he can't remember. But these capabilities only go so far. Sure, if a show is available within the limited world of dad's entertainment console, it might well grow to become a dad show. But if watching a show requires dad to take initiative -- using the Internet, say, or utilizing a streaming service not easily accessible using the TV remote -- forget it. Your dad will never see that show.
Dad shows feature actors dads recognize
If the show features Liev Schreiber, Paul Giamatti, Mark Harmon, James Spader, Tom Selleck, or any other recognizable, handsomely aging, slightly-past-his-prime actor of dad age with innate gravitas, it is definitely a dad show. These characters often have insane names, like Hap Collins, or Leroy Jethro Gibbs.
Dad shows are about real men with real-man problems
While there are some shows with female protagonists that come close to dad show territory, anything too preoccupied with female concerns is not a dad show. In general, dad shows center around a male protagonist dealing with typical dad issues, such as not connecting with his kids, lack of fulfillment at work, middle-aged financial burdens, stunted emotional growth, and marital issues as seen from the male perspective. Their character descriptions often sound like this: "Widowed only a year, Longmire is a man in psychic repair that buries his pain behind a brave face and dry wit."
"There has to be an ultra-masculine, kind of quiet main character," offers my Thrillist colleague Kevin Alexander. "Preferably one who doesn't talk a lot, but when he talks, says meaningful things, and knows how to handle himself in a fight, and likely owns a pretty weathered leather jacket. All dads want to be able to pull off the leather-jacket thing, but they know they can't."
Dad shows aren't interested in capturing the zeitgeist
As a rule, dad shows forgo current TV trends, up-to-the-moment pop-culture references, forward-thinking takes on identity politics, and formal innovation, instead favoring more traditional modes of storytelling. If critics deem a show "zeitgeisty" or "progressive," it's definitely not a dad show.
In fact, shows that occur in the distant past are often dad shows. Boardwalk Empire was very much a dad show. Peaky Blinders is a dad show. Last year's Wolf Hall miniseries was probably too prestigious to be a dad show, but it's a close call. The History Channel is an entire dad channel. What's more, shows that weren't dad shows when they initially aired but are now passé -- and are easily accessible via reruns or DVD boxed sets -- can turn into dad shows retroactively. Welcome to the club, The Sopranos!
Dad shows aren't too complicated
This is crucial: dad shows have to be easy enough for dad to digest, as he can't be expected to scour Reddit for complex fan theories or keep tabs on a vast extended canon of Marvel characters. (There are no superhero dad shows.)
This explains why Games of Thrones is not a dad show. Seriously, ask your dad if he can name two Game of Thrones characters. I asked my dad, who has watched every episode of the show, and the only ones he could remember were "Tyrion and Stark." This is particularly baffling, given most dads' knowledge of history. My dad knows the name of every key player in the Wars of the Roses and can quote The Aeneid from memory, yet he can't figure out who was killed at the Red Wedding.
That's why dad shows employ subtle, helpful tricks, like naming a show after its main character.
Ray Donovan is the ultimate dad show
This is an indisputable fact. Ray Donovan is the alpha and omega of dad shows.
Dad shows 2016
Billions
The Blacklist
Bloodline
Bosch
Blue Bloods
Chicago PD and Chicago Fire (but not Chicago Med)
Criminal Minds
Hap and Leonard
Longmire
Mad Dogs
Marco Polo
NCIS (all variations)
Outsiders
Peaky Blinders
Ray Donovan
TURN: Washington's Spies
Vinyl
Sign up here for our daily Thrillist email, and get your fix of the best in food/drink/fun.
Anna Silman is a staff writer at Thrillist Entertainment who loves dad shows. Find her on Twitter: @annaesilman.