Netflix's 'Dad Stop Embarrassing Me!' Puts Jamie Foxx Back in His Sitcom Element
The new series is a welcome return to an era of Black television with a hilarious cast.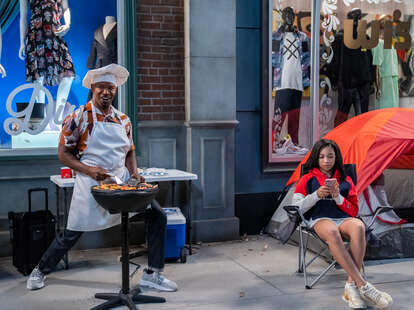 Last summer, during the height of quarantine, Netflix did all of us a favor by bringing back some of the best Black sitcoms to ever hit TV, from Moesha and The Parkers to Girlfriends and One on One. To be able to revisit such beloved 30-minute shows helmed by Black actors and actresses was cathartic following the Black Lives Matter protests that were taking place across the country, but their newfound presence on Netflix also brought attention to the dearth of Black sitcoms since the '90s and early aughts.
Of course, there's black-ish, but beyond ABC's long-running show (and its spinoffs), there's simply not a considerable selection of Black sitcoms to choose from. Last spring, Netflix threw its hat in the ring with #blackAF, the mockumentary sitcom created by Kenya Barris, and now, the streaming service has given viewers a more traditional take on the genre with Dad Stop Embarrassing Me!
Executive produced by Jamie Foxx, his daughter Corinne Foxx, The Jamie Foxx Show creator Bentley Kyle Evans, and director Ken Whittingham, Dad Stop Embarrassing Me! is a multi-cam sitcom inspired by Jamie and Corinne's father-daughter relationship. Jamie Foxx assumes the role of Brian Dixon, and teenage actress Kyla-Drew plays his daughter, Sasha. The rest of the show's cast is filled with familiar faces, including David Alan Grier (In Living Color), Porscha Coleman (The Parkers), Jonathan Kite (2 Broke Girls), Valente Rodriguez (George Lopez), and Heather Hemmens (If Loving You Is Wrong).
Dad Stop Embarrassing Me!'s main attraction is undoubtedly Jamie Foxx's return to television after 25 years, and the magnetic multi-hyphenate gives it all he's got. It really is a treat to see the Soul and Project Power star revisiting his roots, and ongoing gags like his new assortment of In Living Color-esque side characters as well as his signature expressions prove that Foxx is definitely still in his element in a sitcom format.
What's surprising, however, is that his comedic antics are bolstered, if not rivaled, by the hilarious performances of those around him, most notably Grier, Coleman, and Kite. Really, props are in order for the entire cast. Their ability to mesh so seamlessly is what makes episodes like "#ThrillaOnTheGrilla" and "#RichDadWokeDad"—and the show in general—so compelling. The cast's chemistry, combined with the show's at-home setting, gives the series that family vibe that sitcoms are typically known to channel. And although it's coated in a nostalgic and retro sheen, Dad Stop Embarrassing Me! still feels current.
Netflix's newest Black sitcom tackles a variety of pressing issues and explores prevailing elements of pop culture—from the stigma surrounding therapy and mental health in the Black community and police brutality to trying to buy Yeezys and unwillingly going viral on social media—and it does so in creative and meaningful ways.
Sure, Dad Stop Embarrassing Me! can be borderline cheesy at times, but that can ultimately be chalked up to it being a true-to-form sitcom. Still, showrunner Bentley Kyle Evans isn't afraid to make tweaks to the genre's formula in order to give the show its own flair. From non-linear storytelling to narrative arcs that stretch across multiple episodes, the show does the leg work to ensure that it doesn't become trapped within the mundane confines of formulaic half-hour episodes that are destined to culminate with predictable, feel-good resolutions. Add in a welcomed bit of swearing, and it's a completely different type of sitcom.
Dad Stop Embarrassing Me! is so noticeably different from its contemporaries that it takes an episode or two to fully appreciate its charm. Over the course of eight sweet episodes, Netflix's new sitcom brings back an era of Black television that almost appeared to have been abandoned, and it does so in such an endearing, honest, and amusing way.