Netflix's Cheesy Mystery 'Dangerous Lies' Saves Its Big Twists for the End
Somebody kills off Elliott Gould's character in this movie. But whodunnit?!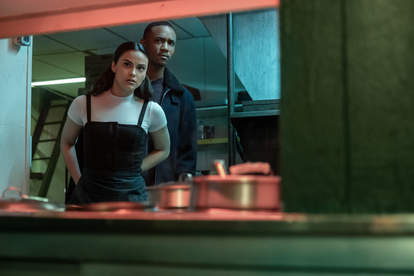 The first thing you'll notice about Dangerous Lies, the ridiculous new thriller on Netflix starring Riverdale's Camila Mendes, is the obviousness of the title. Often, the title of a mystery movie or a thriller has some reference to a specific aspect of the plot, a character, or a detail related to the central crime in the film. For example, Rian Johnson's whodunnit Knives Out involves a chair made of knives and a throat-slitting. If you're going the simple route, it helps to do what Fatal Attraction did and pick two words with a little bit of tension to them. At least in the context of movies, aren't most lies inherently dangerous? Honestly, Safe Lies would have been more intriguing.
After the boring title, here's the second thing you'll notice about Dangerous Lies: It features screen legend Elliott Gould. In the movie, he plays an eccentric, aging rich guy named Leonard, who hires Mendes' Katie as a caregiver through a medical service. Eventually, Leonard also hires her husband, Adam (played by Jessie T. Usher from Survivor's Remorse), who recently dropped out of graduate school and is looking for a job. Gould, the star of the Robert Altman classics M*A*S*H and The Long Goodbye, is the type of mischievous, wry actor who always adds value to a project, even in a small role. When he shows up in one of the Ocean's movies or an episode of Friends, it's a blast.
As we know from the movie trailer, Leonard dies early on in Dangerous Lies and wills his expensive house to Katie. She soon discovers a trunk filled with roughly $100,000 in cash in the attic, and the film's primary mystery begins. Who would kill Elliott Gould? Seriously, what type of monster would murder the gentle old man who starred in California Split? Have they not seen this great viral photo of him and Grover from Sesame Street? Giving Gould so little screen time is the gravest crime Dangerous Lies commits.
Eric Milner/Netflix
With Leonard dead, the movie at least can start laying out more red herrings and introducing new suspects. Besides the cartoonishly evil real estate agent Mickey Hayden (Cam Gigandet), who wants to buy Leonard's house for a wealthy client, there's also a former gardener who mysteriously disappeared years ago without a trace and a poetry-reciting lawyer (Jamie Chung) who arrives at a suspiciously opportune moment holding a copy of Leonard's will. There's also shady business involving a diner robbery featured in the beginning of the movie and some intrigue around a woman Katie finds old pictures of, who may or may not be Leonard's dead wife. So many threads to untangle.
But, obviously, Adam is the prime suspect. In movies like this -- where an innocent woman finds herself caught in a web of murder, money, and deception -- the husband is often responsible, and Dangerous Lies leans into that really, really hard. Even before they found the cash and got the new house, Katie and Adam were having marital trouble, mostly centered around his evasiveness and poor communication skills. I know this because early on in the movie, Katie says, "We're in serious trouble." Once they get the money, Adam pushes Katie to make more extravagant purchases and to commit tax fraud. He's not a great financial advisor and he definitely needs to learn to loop his wife in on some of his big life decisions before he makes them -- but is he a killer?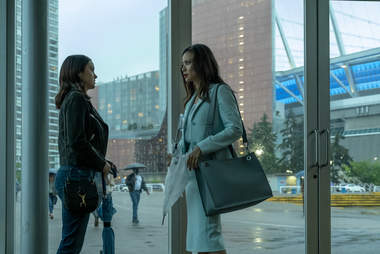 Eric Milner/Netflix
In its final 20 minutes, Dangerous Lies answers that question: Adam did not kill Leonard. Through an increasingly silly and bizarre series of events involving a bag of diamonds, a body in the attic, and Katie's boss falling down the stairs after breaking into the house, it's revealed that Mickey, the evil-seeming real estate agent, was behind the scheme all along. He's not even a real real estate agent! He was a conniving diamond thief posing as a real estate agent in order to… it's probably not best to think about the specifics of his con too hard. Mickey and Adam shoot each other, and, if you've never watched a movie like this before, you might think it's about to end. Or you're just hoping it will. 
But, of course, there's another twist: the attorney was also in on the scheme and wants to find the diamonds. She demands Katie tell her where the diamonds are, but Katie says she doesn't know where Adam hid them. (Apparently, she wasn't paying attention when he whispered "in the garden" right before he croaked.) It doesn't matter too much because the lawyer quickly gets shot by Detective Chesler (Sasha Alexander), and, judging from the "four months later" coda, Katie is free live in the house despite only having been given it in a fake will written by a lawyer trying to find stolen diamonds that her client stashed away. Anyway, she's pregnant now, and seems to be doing well even though her husband was murdered in front of her. The last shot shows us the diamonds, glittering in the soil beneath a tree and waiting to be discovered.
By flipping your expectations on the "evil husband" trope, Dangerous Lies is at least better than the similarly goofy Secret Obsession, the previous attempt by Netflix to encroach on Lifetime's corner. On the whole, the movie has a visual slickness, courtesy of director Michael Scott, that makes it look better than some of the shoddier mysteries in the "woman in peril" genre, and the script throws out enough bizarre details to keep you guessing about how the pieces will click together. The fact that some of the pieces simply don't click together shouldn't be too surprising. After all, you're watching a movie called Dangerous Lies. At least the movie lives up to the blandness of its title. 
Need help finding something to watch? Sign up here for our weekly Streamail newsletter to get streaming recommendations delivered straight to your inbox.