Daniel Craig Reportedly Turns Down $98 Million to Play James Bond Again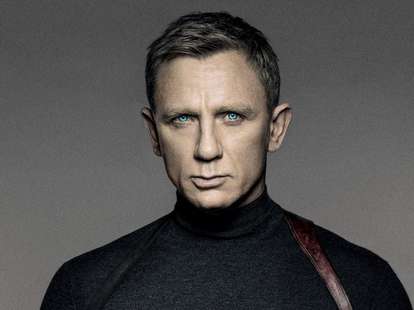 "James Bond will return" reads the final title card of every James Bond movie. The caveat: it may not be the same 007 we know and love.
According to The Daily Mail, Daniel Craig, the man currently filling Bond's bespoke suits, will not return for the inevitable follow-ups to Spectre, last year's underwhelming blockbuster and the character's 24th big-screen adventure. Sources tell the British tabloid -- which touts a spotty track record, so the report's drenched in grains of salt -- that knee problems and general exhaustion are the reasons behind Craig's departure. "He felt it was a journey with an ending."
The studio already postponed filming on the next installment due to Craig's obligations in the upcoming TV adaptation of Jonathan Franzen's Purity. Whatever the case, these unnamed insiders say Craig told his bosses, "I'm done," and that was that. That meant turning down a reported £68 million paycheck, or around $98 million USD.
The Daily Mail's scoop fans a fire that's been raging since months before the release of Spectre. On the press tour for the film, antsy tabloids and franchise power players alike wondered openly about Daniel Craig's future in the superspy role. When asked by The Guardian weeks before Spectre's release if he could imagine returning for a sequel, Craig replied, "Now? I'd rather … slash my wrists," He ended his remarks with a slightly more restrained, "I'm over it at the moment. We're done. All I want to do is move on."
Craig was likely referring to the idea of jumping into a new blockbuster immediately after months of shooting and press detail, but alas, his comments broke the Bond-adoring internet. The star recoiled to a blurrier position on the future. "Who will take over Bond?" became a hot topic for British bookies. Fans' speculation set fire to the internet. There were cries for Idris Elba, Michael Fassbender, and Tom Hiddleston to take over the role (or Gugu Mbatha-Raw, if you're me and desired some radical change in your Bond movies). Everyone had opinions, including Barbara Broccoli and Michael Wilson, the longtime producers of the 007 series, who remained optimistic that their leading man would solider on.
The new report validates Craig's early remarks. Exhaustion, combined with lackluster Spectre reviews, could keep him out of the game for Bond 25. At age 48, he would be on the younger side of ex-007s; Pierce Brosnan was 49 in Die Another Day, Roger Moore was 58 in A View to a Kill, and Timothy Dalton was politely asked to retire at 45, after License to Kill. Though, as the Bond movie stunts grow bigger and bigger, who can blame a 48-year-old for stepping away for some acting that doesn't require outrunning explosions while firing a massive machine gun? This is why they invented theater.
There is currently no title, release window, or announced game plan for the next James Bond movie. But it's coming. Spectre promised: "James Bond will return." So the question is: which actor should do the returning?
Sign up here for our daily Thrillist email, and get your fix of the best in food/drink/fun.
Matt Patches is Thrillist's Entertainment Editor. He previously wrote for Grantland, Esquire.com, Vulture, The Hollywood Reporter, and The Guardian. He fears the banks. Find him on Twitter @misterpatches.