The Wildest Things Daniel Day-Lewis Has Done to Prepare for Roles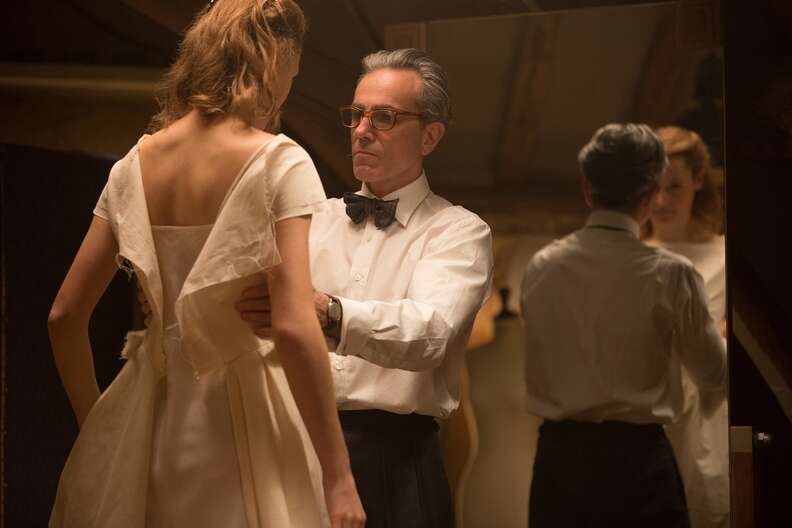 Phantom Thread

| Focus Features
Phantom Thread

| Focus Features
In Paul Thomas Anderson's beguiling new drama Phantom Thread, which expands nationwide on January 19 after debuting in New York and LA last year, Daniel Day-Lewis plays an exacting dressmaker who needs every garment to be perfect. As a performer, he approaches his roles with the same level of scrutiny, often acquiring new skills and putting his body through hell in pursuit of artistic growth. It sounds stressful, but the man gets results: He's the only actor to ever win three Best Actor Oscars, and he's likely to pick up another nomination this year.
But all that hard work comes at a cost: The 60-year-old Englishman has announced that Phantom Thread will be his last role, and he'll be retiring from performing. If you've ever read anything substantial about Daniel Day-Lewis, this proclamation shouldn't come as a surprise -- in a 1992 New Yorker profile, the writer Hanif Kureishi said of him, "He was always talking about wanting to give up acting and wanting to make his fucking furniture." -- but it appears this time the claim might stick. If he actually manages to walk away, the stories (and myths) about his acting techniques and meticulous preparation will only grow.
And there are so many stories! In a season filled with actors showing off their method bona fides -- James Franco reportedly directed The Disaster Artist "in character" as Tommy Wiseau -- Day-Lewis is still in a class of his own. If he's really hanging up his top hat to build rocking chairs in Ireland, it will be a great loss to the "write about actors like they are unhinged daredevils" industrial complex. To celebrate Day-Lewis' unwavering commitment to his craft, I typed this entire list about his acting prowess on a 19th-century typewriter in a secluded shack without heat or running water. Was it necessary? Judge for yourself, below.
He learned to speak Czech for The Unbearable Lightness of Being
Daniel Day-Lewis always does his homework. The story that he learned to speak Czech to play the philandering brain surgeon Tomas in The Unbearable Lightness of Being, an adaptation of Milan Kundera's 1984 novel, has become an essential part of his lore. But in a 2008 interview with The Guardian, he complicated that legend by saying he thought making the movie was a mistake. "The idea of speaking English with a Czech accent without actually speaking Czech meant it wasn't coming from anywhere," he said, diminishing his own Czech skills. "I knew that that kernel of truth that I need to have somewhere in a role would be missing."
Don't be so hard on yourself, Daniel Day-Lewis! Your peers valued your level of commitment. "I think he went through a lot of torment with that character," the film's director Philip Kaufman later toldThe New York Times. "He was trying to become Czech." When literally becoming Czech is your goal, you're setting yourself up for disappointment.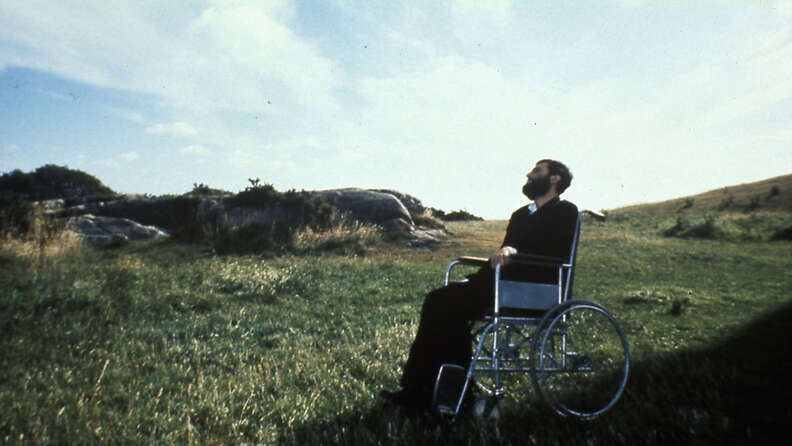 He spent almost the entire shoot of My Left Foot in a wheelchair
In the recent Netflix documentary Jim and Andy, we see footage of Jim Carrey playing avant-garde comedian Andy Kaufman during a period when he had cancer and was pushed around in a wheelchair. It's only for part of the film's shooting schedule, covering the end of Kaufman's life, but it's meant to show the extent of Carrey's commitment to the role. You know Carrey is serious because he inconveniences the people around him for his craft.
Obviously, Daniel Day-Lewis already had him beat: When filming the acclaimed My Left Foot, where he played Irish writer and painter Christy Brown, the actor would reportedly insist on "visiting restaurants in a wheelchair" and "had to be lifted across the lighting cables each day to reach the set." This act of Method-prowess earned him his first Oscar nomination and his first win, beating out Tom Cruise in his own wheelchair-bound performance as veteran and activist Ron Kovic in Born on the Fourth of July.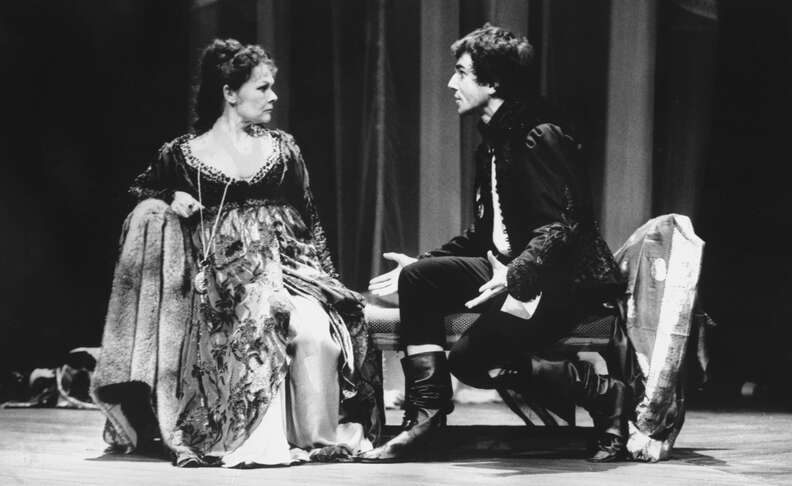 He may (or may not) have seen his father's ghost during a production of Hamlet
One of the most beloved tales in DDL-dom is the story that during a 1989 production of Hamlet at the National Theatre in London, he saw his father's ghost. He then left the stage, ended his run on the production, and never returned to theater again. "I had the strange sensation I was talking to my father," he told The New Yorker about the incident back in 1992. "What he said to me on that night seemed particularly hard to bear."
This anecdote has taken on a mythic quality over the decades, but the actor recently walked it back a bit, telling Time in 2012 that it was more of a metaphoric ghost than an actual celestial being. "I don't remember seeing any ghosts of my father on that dreadful night!" he told the interviewer, disappointing everyone who secretly hoped Daniel Day-Lewis had a secret connection to the spirit world.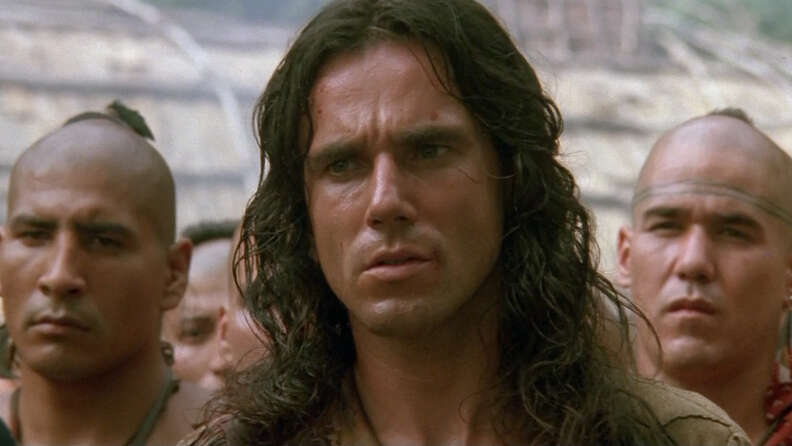 He built a canoe for Last of the Mohicans
If you know anything about Michael Mann's historical epic Last of the Mohicans, you know that Daniel Day-Lewis does a lot of running in it as Hawkeye. The nonstop running was noticeable enough that the actor's fitness regimen was parodied on The Ben Stiller Show in the Mohican Master 2000 sketch, which is, honestly, still really, really funny. Watch it.
Anyway, as noted in a 1992 New York Timesprofile of the actor, he prepared for the role by "learning to track and skin animals," "fight with tomahawks," and "fire and reload a 12-pound flintlock on the run." He also carried that gun with him wherever he went, even hauling it along to a Christmas dinner. Most impressively? He would "build canoes," which makes sense because of his carpentry background, but also suggests he could make a killing as a canoe salesman post-retirement. Admit it, you'd buy a canoe made by Daniel Day-Lewis if you could.
He spent two nights in jail for In the Name of the Father
For his role as wrongly convicted Irishman Gerry Conlon in Jim Sheridan's drama In the Name of the Father, Daniel Day-Lewis reportedly spent "two days and nights in a prison cell without food or water." In the IMDB trivia section version of this anecdote, the film's crew members "threw water and verbal abuse at him," which was hopefully also part of his research, because otherwise that sounds like a miserable shoot.
"Then, at the end of those three nights, they had three teams of two real special branch policemen who interrogated me for nine hours without stopping," he told an American film program in the '90s. Did all that abuse get him an Oscar? Nope -- only a nomination, which was his second of five. That year, Tom Hanks picked up the award for his excellent and physically demanding (but less prison-centric work) in Philadelphia.
He didn't bathe while making The Crucible
This one is repeated in almost every article about Day-Lewis, but it's difficult to find any quotes where the actor himself comments on it. (Also, you'd think that if the guy actually smelled awful his co-stars would complain about it while doing press for the movie.) It does seem that, according to The Guardian, he "stayed on a Massachusetts island in the film set's replica village -- without electricity or running water -- planted fields with 17th-century tools, and built his character's house." Without running water, he certainly wasn't taking any showers -- but did he actually refrain from washing himself, as the anecdotes imply? A congressional committee must be assembled to find the truth.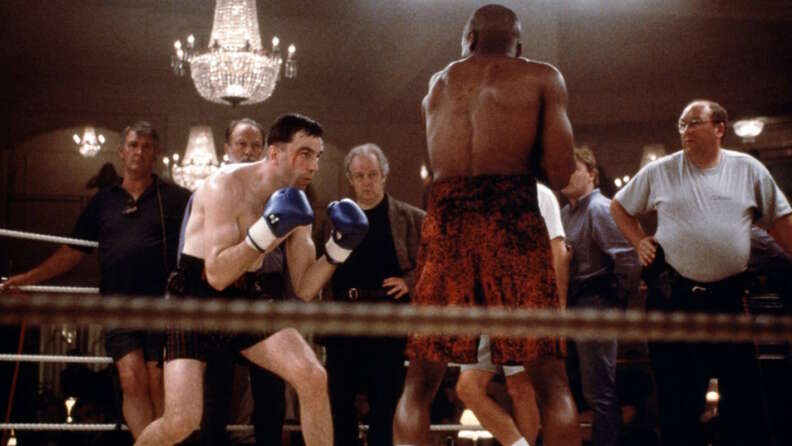 He learned to box to play The Boxer
This one is pretty self-explanatory. Early profiles of DDL often mention his love of long-distance running -- The New Yorker notes that he "runs a couple of miles every morning" -- so it only makes sense that when taking on the role of boxer Danny Flynn he would start training as a boxer. But how long did he actually train for? According to this New York Timesarticle from 1998, it was for "nearly three years," which is longer than actual fighters prepare for matches.
He listened to way too much Eminem while making Gangs of New York
There's a story that Daniel Day-Lewis caught pneumonia while filming Gangs of New York because he refused to wear a modern coat in the cold, which is pretty intense, but his music choices might be more out there. To get in the twisted headspace of the murderous Bill the Butcher, the actor told Rolling Stone that he would listen to Eminem every morning around 5 in the morning, particularly the song "The Way I Am" off the Marshall Masters LP.
"I'm always on the lookout for music that might be helpful to a role," he said at the time. "It bypasses the intellect in a particular way. With this film, I realized I was listening to Eminem more than usual."
Apparently, a love of hip-hop runs in the family: His son Gabe Day has made some rap videos, which were given a pretty brutal assessment by the internet.
He lived in a shack without his family for The Ballad of Jack and Rose
2005's The Ballad of Jack and Rose is one of the smaller, lesser known Daniel Day-Lewis movies, arriving between the more epic Gangs of New York and There Will Be Blood, but that doesn't mean he wasn't still committed as hell to his performance. Though the movie was written and directed by his wife Rebecca Miller, the actor lived in a shack, away from his family, for the majority of the shoot. "That seemed to work out well," he told Charlie Rose, "It was just really to retain a sense of isolation, which is always so hard to find on a movie set." Apparently, that's what you do when listening to Eminem doesn't get you in the zone anymore.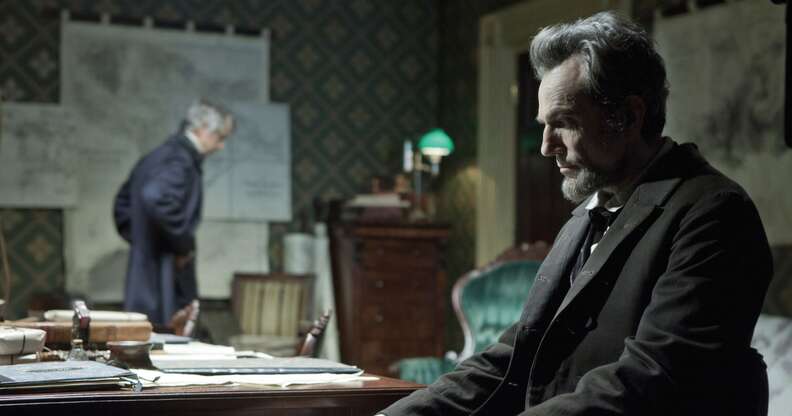 He texted Sally Field in character while making Lincoln
After 2007's There Will Be Blood, which won him his second Oscar and made him a milkshake-draining icon to a new generation of filmgoers, Daniel Day-Lewis probably could have done anything. That he teamed up with Steven Spielberg to play Abraham Lincoln isn't shocking -- he's always had a thing for playing historical characters -- but it was a little weird that he texted his co-star Sally Field, who played Mary Todd Lincoln, in character. You know, as Abe Lincoln, a guy who never texted in his life.
"He'd sign it, 'Yours, A.," Field told Time. "I would text back as Mary, criticizing him for the waste of his time when he might have been pursuing something more productive." Honestly, you'd think that if Daniel Day-Lewis was really staying in character, he'd throw the phone across the room in terror whenever he got a message and be like, "Curse you, devil machine!" It appears that even DDL has mellowed a bit in his old age.
Sign up here for our daily Thrillist email and subscribe here for our YouTube channel to get your fix of the best in food/drink/fun.