Daniel Day-Lewis Is Our Greatest, Living, Now-Retired Actor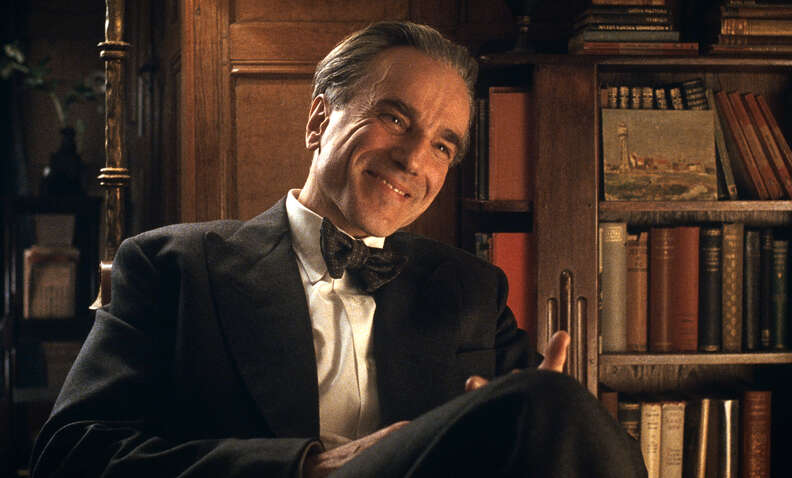 On Sunday, Gary Oldman will likely win his first Oscar for playing a cranky, wrinkly Winston Churchill in Darkest Hour. At the moment that happens, somewhere in the audience three-time Best Actor winner Daniel Day-Lewis will politely clap his way through his last Academy Award ceremony. It's easy to imagine him grinning in his tuxedo, wearing the earring he's often sporting in photos, and exchanging glances with his Phantom Thread director Paul Thomas Anderson, who will probably also lose on Oscar night. Maybe Day-Lewis will sigh and think to himself, "I'm finished."
He's been there before. Having won the Best Actor Oscar in 1990 for My Left Foot, 2008 for There Will Be Blood, and 2013 for Lincoln, Day-Lewis is a veteran of the award show circuit. In addition to his unprecedented three Best Actor wins, he was also nominated and lost the same award in 1994 for In the Name of the Father and 2003 for Gangs of New York. Like many of his greatest parts, losing at the Oscars is a role Day-Lewis has carefully prepared for. The man does his research.
But Sunday will be his performance: After the ceremony, Daniel Day-Lewis will become our finest living retired actor. Yes, on June 20, 2017, the fastidious actor officially announced that he was done with acting forever. (So, technically, he's probably already retired, but going to the Oscars qualifies as work, right?) Retirement for a performer, particularly one as famous and celebrated as Daniel Day-Lewis, is different than retirement for an athlete. When an NBA player retires, it often occurs at the end of a career when the physical and mental gifts that once made that individual a transcendent presence on the court begin to fade. In most cases, they're washed. If you've seen Phantom Thread, you know Daniel Day-Lewis is far from washed.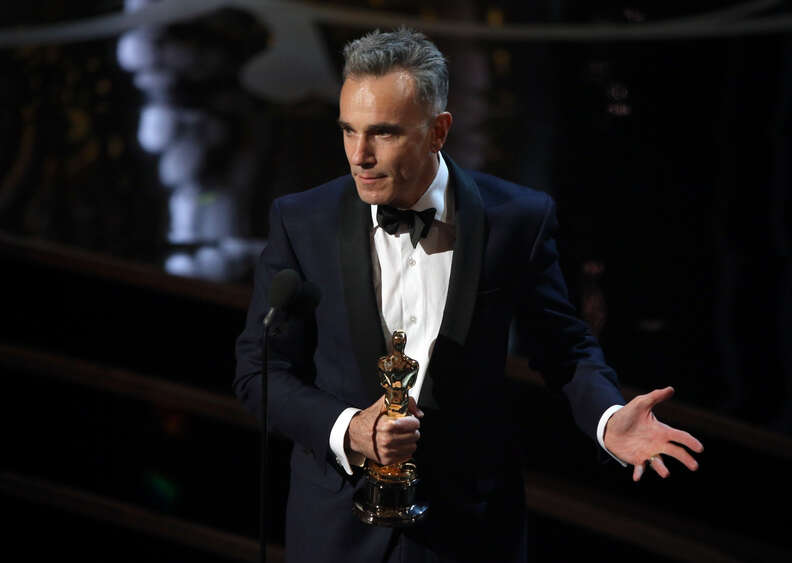 So why is Daniel Day-Lewis leaving at the top of his game? At only 60 years old, he's younger than many of his fellow thespians who are often brought up in the "greatest living actor" conversation. Robert De Niro (74), Al Pacino (77), Denzel Washington (63), and Tom Hanks (61) are all older, and continue to star in films. Part of the surprise of his retirement announcement was that Day-Lewis was never a particularly prolific performer in the first place. He would often take multi-year breaks between films to recharge his creative batteries. His career was a case study of scarcity breeding desire. It's not like anyone expected him to follow up Phantom Thread with a sequel or a part in a Marvel movie.
After the brief, terse retirement announcement from his spokeswoman, which described his career departure as a "private decision," Day-Lewis sat for a profile with W Magazine where he spoke at greater length on the subject. "I did want to draw a line," he told W. "I didn't want to get sucked back into another project. All my life, I've mouthed off about how I should stop acting, and I don't know why it was different this time, but the impulse to quit took root in me, and that became a compulsion. It was something I had to do."
After Sunday, he will join the surprisingly short list of actually retired actors. While there are many aging performers in Hollywood, there aren't many who are explicitly retired. There are two semi-recent precedents of male Hollywood stars turning away from the spotlight while still capable of headlining a film: Gene Hackman hasn't acted in a feature since Welcome to Mooseport in 2004, and Sean Connery walked away from movies after League of Extraordinary Gentlemen in 2003. Both were in their 70s -- and, barring some voice-over work, they've stuck to their guns. Hackman has written some novels. Connery presumably lives in a castle, where he turns down cameos in Indiana Jones and James Bond movies.
Staying retired requires a certain amount of diligence. Other "retired" actors like Jack Nicholson and Joe Pesci are reportedly readying returns to the big screen. (Nicholson will next be seen in a remake of the hit German comedy Toni Erdmann; Pesci is set to appear in Martin Scorsese's Netflix gangster film, The Irishman.) You can only play so many rounds of golf. In the case of Day-Lewis, the question is this: How many pieces of furniture can one man whittle?
Acting isn't like most professions -- it's a craft where the process of aging makes it possible to plumb even greater emotional depths -- but Daniel Day-Lewis isn't like other actors. There's a John Mulaney joke from 2009 about how Donald Trump is not just a rich man, but more like what "a hobo imagines a rich man to be." It's easy to think of Daniel Day-Lewis in similar terms: His well-documented penchant for research and preparation, his knack for choosing roles that were physically and psychologically draining, and his tendency to encourage his own mythos made him what a child might imagine an actor to be. If Daniel Day-Lewis were a character, you would cast Daniel Day-Lewis to play him.
The movies themselves back up that image of an actor obsessed with the tension between the hardened exterior and soulful interior life. The woodsy glamour of Last of the Mohicans, the studied propriety of Age of Innocence, and the rugged desperation of The Crucible all show off this tendency. Even his take on Abraham Lincoln, a historical figure practically weighed down with pre-conceptions, was both oddly funny and deeply melancholy, complicating the public perception of the man. The collaborative nature of his relationships with directors like Jim Sheridan, Martin Scorsese, and Paul Thomas Anderson only adds to the mystique. Retiring early provides another layer of mystery.
For other performers, retiring far too early in a career is often interpreted as an act of either cowardice or arrogance. Why walk away from true greatness? You really don't think you can make anything else worthwhile? It's a point of view that's reflective of the underlying entitlement driving most fan-artist relationships: We always want more, more, more. For decades, Day-Lewis was virtually peerless because he provided more enigmas, more accents, more emotions, and more hairstyles than his contemporaries. (And top hats! Always with the top hats, man!)
By retiring early, he'll close off his career with a neatly executed backstitch. There will be no loose ends: No abandoned mystery projects with high-profile directors, no tossed-off cameos in prestige TV dramas, and no voice work in a Transformers movie. For other actors, it would be too tidy of an ending. For a performer as self-consciously meticulous as Daniel Day-Lewis, it's a perfect fit.
Sign up here for our daily Thrillist email and subscribe here for our YouTube channel to get your fix of the best in food/drink/fun.