My Happiest Freaking Moments Ever: Daniel Radcliffe Edition
Getty / Oren Aks/Thrillist
Forgive Daniel Radcliffe, but his job kicks ass and he doesn't care who knows it. "Being on a film set is fucking joyous," he tells Thrillist. "We're in an industry where we really can have a lot of fun if people just don't get in the fucking way of that."
Since rising to fame in the Harry Potter franchise, the 26-year-old actor has jumped at the chance to experiment, be it in prestigious biopics (Kill Your Darlings), rom-coms (What If), blockbusters (the currently in-theaters Now You See Me 2), sight gags in Judd Apatow movies (Trainwreck), and animated Netflix series (BoJack Horseman). His most recent movie, Swiss Army Man, casts him as a farting corpse dragged through the jungle with actor Paul Dano. It's about love.
Fun is a priority for Radcliffe, on and off set, so we had to ask: what are his happiest memories? He was gung-ho to answer, and we took notes -- because if we could bottle up a fraction of his enthusiasm, we'd be set for life.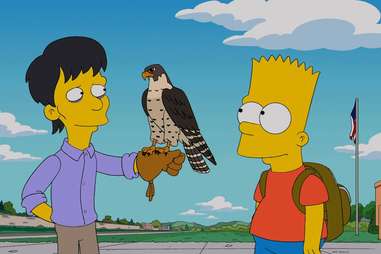 That time he and his parents finally enjoyed something together
"I remember some of my happiest childhood memories was just watching The Simpsons, actually, that was one of the best things. I remember rushing home, it was on at 6 o'clock on BBC 2, and it was a date on my calendar every day and I just loved it, that was pretty good. Toy Story held that place for a little bit as well. It was the first time that I was enjoying something that my parents were also enjoying. That was a really important moment for a kid."
That time he landed Harry Potter
"I was in the bath. I guess talking to my mum about something, I don't know what, and then my dad came in. I remember hearing the phone ring, and I remember it being picked up, and then three minutes later my dad just came up the stairs and he was like, 'They're going to tell you officially tomorrow, but we've just got the call sounding us out, it's happening,' and I freaked out."
That time an acting legend taught him a Beatles song
"Gary Oldman taught me the bass line to 'Come Together,' one day. I was learning bass at the time and he plays bass. I went in one morning -- I was 14 -- and just looked up to him so much. He had his bass in there and was teaching me the thing. That was amazing."
That time he fled fame for the middle of nowhere
"I remember the first time I went away with a girlfriend. I was 14 and going out with this girl that lives in Wales. I went to visit her for five days. Five days! And nobody expected to see me in Anglesey, so even if they did recognize me, they were like, 'That's not him.' My girlfriend now, we have a similar thing. She's from Flint, in Michigan, and the first time I visited there with her everyone was just like, 'No, that's not him, he wouldn't be in Flint.'
"I do love escaping and finding different sort of places, [but] I never had the travel bug. I never wanted to go backpacking like the way some kids from England do around Europe or Australia, it never held any appeal to me, but, and I can get away and have holidays now, I still want to do, I've always wanted to do, a road trip across America, the classic sort of things."
That time he impressed Al Pacino with his dancing
"It was the one moment of doing 'Brotherhood of Man,' which was kind of the 11 o'clock number of [How to Succeed in Business on Broadway]. Doing that for the first time in front of an audience was just joy. I was fighting back tears at the end. I was like, you've been doing it for six weeks in a rehearsal room being like, I'm going to fuck this up, I'm going to screw this up, it's going to be horrible, I can't dance, why am I doing this, this is a huge mistake.
"I did it at the Tonys... and [there] you're unveiled like a prize on a game show, an LED wall in front of you just flies out. We were the first number of the night, and I remember looking and Bobby Cannavale, Mark Rylance, and Al Pacino were the first three people I saw in the front row, and I was like, OK, I'm about to dance and sing for you guys, I hope you enjoy it. My singing was not the best that night, I still watch that performance back and I'm like, eech, OK, but the dancing was great."
The two times he had the perfect meal
"There was a curry in Australia, a duck curry, that came in three separate bowls. There was duck and this amazing coconut rice, and on top of it was poached egg that had been deep-fried, so you just split it open and it just beautifully melted into everything else.
"And I was filming a movie last year in Virginia, and there was this restaurant called, yeah, I'll give them a shoutout, there was this restaurant called Buckhead's [Chophouse] and they have this blue cheese steak with walnuts on top and it was just... wild."
That time he had a religious moment at a music festival
"I saw the Arctic Monkeys at the Reading Festival in 2006. It was in that time between when their album actually came out, but after everyone had illegally downloaded their album, and so they were booked in the smallest tent at the festival, because they weren't officially a bigger name, but everyone was going in there to see them. I was in a tent meant for like 5,000 people and there were 20,000 people in there listening to their first album. I won't forget that."
Sign up here for our daily Thrillist email, and get your fix of the best in food/drink/fun.
Matt Patches is Thrillist's Entertainment editor. He previously wrote for Grantland, Esquire.com, Vulture,
The Hollywood Reporter
, and
The Guardian
. Find him on Twitter: @misterpatches.