'Dare Me' Is an Absolutely Insane TV Thriller About Cheerleaders and Murder
The USA show is now on Netflix, and definitely worth a binge.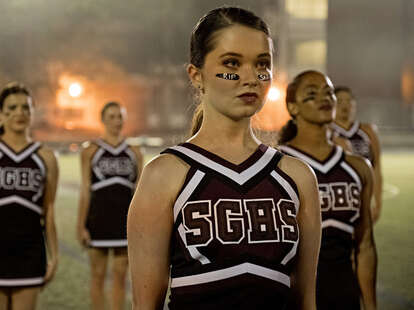 'Dare Me'

| USA Network
'Dare Me'

| USA Network
When Netflix dropped the sports docuseriesCheer, people who maybe hadn't given cheerleading much thought were given a formal reintroduction to the sport, proving that something others might've written off as unserious was worth getting excited about. Not only are squads made up of athletes who risk bone-breaking maneuvers for their craft, they train for hours on end, literally defying physics with their bodies, to prepare for one moment of a polished routine that could be altered in a matter of seconds. All of it is exhilarating.
Binge-watching Cheer got a lot of people rooting for a sport they hadn't considered before, and those feeling the void of this new interest can rest easy. Luckily, another modern cheerleading show actually exists: Dare Me, which aired on USA in early 2020 and is now available to stream on Netflix.
Dare Me is a 10-part teen series about high school cheerleaders who become entangled in a series of dark secrets after a new coach, who used to be a hot-shot cheer star, comes in to take over their squad. On paper it might sound a little PG, but don't let this simple plot fool you. Dare Me is bonafide insane. This is no Bring It On-style "Big Red stole the Clovers' routine" type of scandal: There's sadistic bullying, infidelity, obsession, and even murder! Dare Me is often too melodramatic to handle—similar to the way that Riverdale jumped from a missing persons series to B-plots of and cults and a drug called Jingle Jangle—but it's the kind of soapy teen show that's so crazy it's worth bingeing.
Created by Megan Abbott, who also wrote the book that inspired the series, and teen TV veteran Gina Fattore (Gilmore Girls, Dawson's Creek), Dare Me centers on teammates and best friends, Addy (Herizen F. Guardiola) and Beth (Marlo Kelly), whose relationship begins to unravel at the arrival of the seemingly perfect coach Collette French (Willa Fitzgerald). Shortly after meeting their new coach, Addy and Beth catch her cheating on her husband with her ex-fling and the Sergeant stationed in their town (Zach Roeig). The fallout of this moment is an addictively toxic game of manipulation and one-upmanship. For Beth, who comes from a wealthy but broken home and is the team's coveted head of the pyramid, or "top girl," this intel is powerful leverage over Coach, should she ever need it to get ahead socially or in the squad. Whereas Addy, who is middle class and a much quieter, more complicit personality, is exploited by Coach to believe she's special and uses her to both keep her quiet and help orchestrate the affair. Eventually (because why not) someone dies, which results in an elaborate cover-up, shaking their small Midwestern town, and particularly makes those involved with the crime lose their sanity.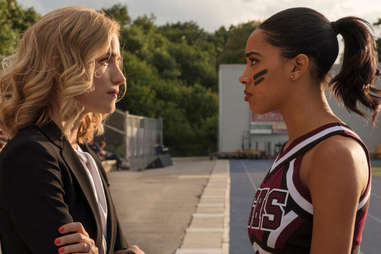 At times it feels like Dare Me really, really wants to be the Euphoria of cheerleading dramas (see: the neon-drenched cinematography, and Tumblr-like blog soliloquies), when really it's more like You because of the illogical turns it takes—but that's a good thing! You might not be a "good" show in the way a prestige drama might be, but it's fun and fast paced. Similarly, a lot of crazy shit happens in both the plot and the details of Dare Me. Episodes often open with cryptic shots of blood suspended in the atmosphere or creepy clips of loose teeth to hint at what's about to come. These clues turn this cheerleading story into an addictive crime drama: You want to know what it all means and what happens next, which Dare Me delivers with a plot that takes increasingly intense turns over the course of its first season.
There's obviously flaws to this overindulgent drama, like how aggressively in-your-face it likes to chant "Gen-Z is WILD!" and how it takes itself too seriously. At times, the writing makes it unclear whether the series itself believes the unhealthy claims of its characters, like when their voiceovers drone on about the lengths you should go for a friend or when to know to stop engaging in destructive behavior. In spite of its own confusion and hyperbole, the series as a whole still goes through lengths to examine the toxicities that can bubble up in friendships between young women. Even basing it around cheerleading, a sport with primarily female participants and built on hierarchies, Dare Me looks at how damaging unevenness in relationships can be by zeroing in on three characters brought together over scandal.
Dare Me's twisted story ultimately mirrors the tenuousness of the cheerleading pyramid itself: When one girl loses her balance, everything comes crashing down. It's an often outlandish journey to get to its big "Holy shit!" ending, but Dare Me is the sort of teen drama that runs with that insanity and goes home with the gold because of it. Just as the cheerleaders on the series can become addicted to making it as a "top girl," you'll get addicted to this brief, deranged binge.
Need help finding something to watch? Sign up here for our weekly Streamail newsletter to get streaming recommendations delivered straight to your inbox.