In December 2017, Netflix dropped its first German-language series, Dark, and it became a surprise hit nearly overnight. The series quickly picked up fans thanks to its being marketed as a European Stranger Things -- a child disappears in an eerie, suburban town, and the show is partially set in the 1980s -- but it proved to be so much more than that. The time-traveling series from German filmmaking partners Baran bo Odar and Jantje Friese is instead a complex story about the battle of good and evil, the nature of free will, and the fate of the universe, themes that manifest in human relationships. 
Season 2 may have arrived a year and a half after the show first debuted, but it came back bigger than before, with even more intricacies and reveals that beg for further explanation. Because you're probably dying to know where in the space-time continuum Dark's leading traveler, Jonas (Louis Hofmann), is, and what it all ultimately means, here's everything we know so far about Dark Season 3.
Recommended Video
Big Boi From OutKast Introduces Cliff to Atlanta's Food Scene
Will there be a Season 3 of 'Dark?'
A few weeks ahead of the Season 2 premiere in May 2019, Dark showrunner Baran bo Odar took to social media to announce the third and final season of the series had been greenlit. He wrote, "It's official! We are working on Dark Season 3. It is the final cycle of this great journey. We always had three season [sic] in mind when we developed Dark." 
It may be unfortunate the innovative series is already coming to an end, but since the time cycles on the show come in threes, it makes sense that Dark would wrap up with a third installment. 
When will 'Dark' Season 3 be released?
When Odar announced the series would be back, he also shared that it's scheduled to arrive sometime in 2020. It's hard to say when Season 3 will arrive -- Season 1 debuted in December 2017 and Season 2 dropped a year-and-a-half later, on June 21, 2019 -- but according to IndieWire, filming is already underway, so a spring/summer 2020 release seems likely. 
It's also no coincidence that Season 2 was released on June 21, the day Michael (AKA Mikkel) killed himself, launching the chain of events in Season 1. So, when you consider that bit of information, Netflix might intentionally release the final episodes on June 27, 2020, the day of the last cycle and the apocalypse.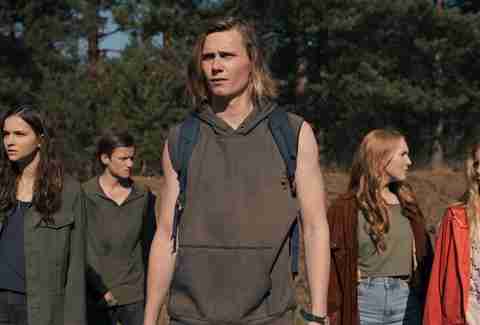 Who in the cast will be back?
When you're working with a time-traveling, multi-dimensional show like Dark -- which has the added complication that it has three separate actors playing each character -- guessing who will or won't be making an appearance in Season 3 can be a little dicey. While no cast members are officially confirmed, even characters who died in one cycle are still likely candidates to come back. That means most of the ensemble cast will probably return, with givens like Jonas (Louis Hofmann) and older Jonas (Andreas Pietschmann), Martha (Lisa Vicari), Magnus (Moritz Jahn), Franziska (Gina Stiebitz), Bartosz (Paul Lux) of the teenage cast, and Hannah (Maja Schone), Katharina (Jordis Triebel), Charlotte (Karoline Eichhorn), and Noah (Mark Waschke) of the adults. 
Plus, because we know Elisabeth (Carlotta von Falkenhayn) survived the apocalypse, it can be assumed that she, her father Peter (Stephan Kampwirth), her mother Claudia (Lisa Kreuzer), Regina (Deborah Kaufmann), and young Noah (Max Schimmelpfennig) will be back since they were all in the bunker together at the end of Season 2.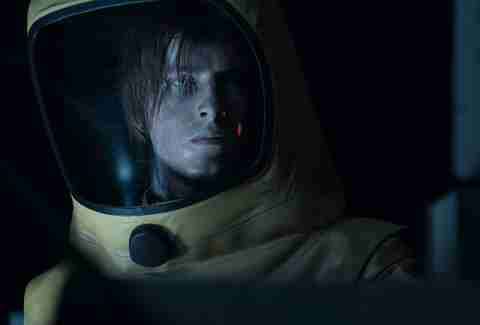 What will Season 3 be about?
Dark is the type of show that tends to give you a headache if you start theorizing about it. There are rules to the time travel on the show: Everything is a cycle and the past can't be changed, and there's a whole lot of incest and confusing family relations, like the revelation that Elisabeth and Charlotte are each other's mothers(???). But whether you've galaxy-brained until your brain explodes, or you're so confounded by the Season 2 ending that you've given up trying to predict what's next -- everything will serve a purpose in Season 3. 
In an interview with IndieWire, showrunner Jantje Friese said, "The basic idea of Season 3 was something that we already had when we started. There are also a lot of things in Season 1 hinting to Season 3. Also, we actually thought about putting some of the stuff that's now in Season 3 into Season 2, but then decided to move it backwards. So basically now everything that's left just falls into Season 3."
It's an extremely vague answer bound to inspire more questions, as Dark tends to do, but it's possible that Friese could be referring to the Season 2 finale reveal of multiple dimensions. Although Martha was killed by Adam in the finale, one of the final shots of the episode shows an alternative version of her arriving and telling Jonas, "I'm not who you think I am," and when asked what time she's from, she says, "The question isn't from what time, but from what world," before she takes him… somewhere.
Now that we know some kind of alternate realities exist, we need to know 1) Where the hell Jonas went, and 2) How these other dimensions fit into the plot overall. Could their existence set the various cycles on track? Whatever the case, they're certainly going to be important.
It's also now clear that the true villain on the show is Adam, who is Jonas himself (of course, because why wouldn't he be?). While he intended to undo time by setting off the apocalypse, we have to wait and see how he arrived at this world-shattering passion project of his, how he became so weathered and hardened (he did just kill the love of his life), and if Jonas, in this dimension or another, can somehow stop him. 
While that's what seems to be the "big centerpiece of it all," as Friese called Jonas and Martha's relationship and the conflicts surrounding them, she also explained Season 3's attention will also shift onto other key characters. She said, "We're going to see a bit more about grown Ulrich… also the same as we did in Season 2 where we put a little bit focus on different characters like Claudia and Egon, we're going to do the same in Season 3 and call some people up that had smaller parts." 
She also noted that some of these figures who may seem outwardly malicious, like Hannah, will have their true intentions revealed. She said, "As with every character in Dark, when you're sure you know who the villain is or who's doing the bad thing, you should be open for what made them that way because no one is just evil because they want to be; everyone is reacting to their own hurts and wounds. The past shapes you and everything that happens."
That may be a lot to unpack, but you've got until sometime in 2020 to mull it over and rewatch Seasons 1 and 2 over and over again like you're in a cycle yourself, looking for potential clues. In the meantime, we'll continue to update this post with any more news we hear about Dark.