Everything We Know About Netflix's 'Dark' Season 3
The time-travel mind-bender's final episodes are almost here.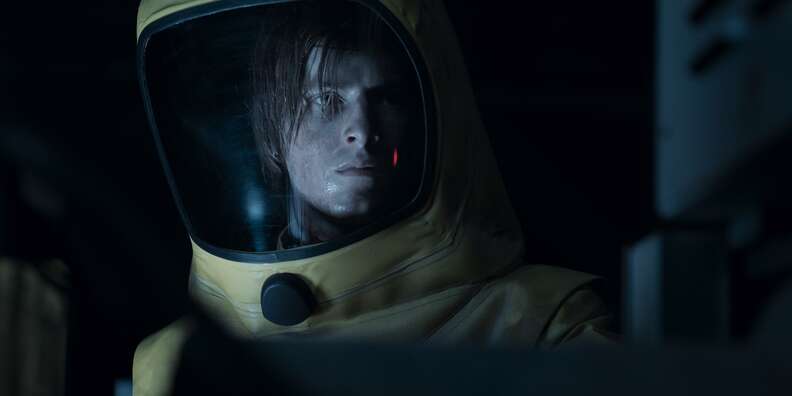 In December 2017, Netflix dropped its first German-language series, Dark, and it became a surprise hit nearly overnight. The series quickly picked up fans thanks to its being marketed as a European Stranger Things -- a child disappears in an eerie, suburban town, and the show is partially set in the 1980s -- but it proved to be so much more than that (and nothing at all like Stranger Things). The time-traveling series from German filmmaking partners Baran bo Odar and Jantje Friese is instead a complex story about the battle of good and evil, the nature of free will, and the fate of the universe, themes that manifest in human relationships.
Season 2 arrived last June and came back bigger than before, gaining a ton of traction online due to its ever-more-intricate storyline and steady stream of reveals that begged for further explanation. Because you're probably dying to know when we'll get more adventures that explore the space-time continuum with Dark's leading traveler, Jonas (Louis Hofmann), and what it all ultimately means, here's everything we know so far about Dark Season 3.
When will Dark Season 3 be released?
In May 2019, a few weeks ahead of the Season 2 release, Dark showrunner Baran bo Odar announced that a third and final season of the series had been greenlit. He wrote, "It's official! We are working on Dark Season 3. It is the final cycle of this great journey. We always had three season [sic] in mind when we developed Dark." It's unfortunate the innovative series is already coming to an end, but since the time cycles on the show come in threes, it makes sense that Dark would wrap up with a third installment.
When Odar announced the series would be back, he also shared that it's scheduled to arrive sometime in 2020. Filming wrapped in mid-December 2019, so a summer 2020 debut seemed likely, and on May 14, 2020, Baran bo Odar wrote on Instagram that all work on Season 3 was done, indicating again that a summer release was likely. Finally, on May 26, Netflix set the date via a Season 3 trailer release: June 27.
This date lines up with the plot of the show. It's no coincidence that Season 2 was released on June 21, the day Michael (a.k.a. Mikkel) killed himself and launched the chain of events depicted in Season 1 and Season 2. So, when you consider that bit of information, Netflix is intentionally releasing the final episodes on June 27, 2020, because it's the date of the last cycle and the apocalypse, even though that's a Saturday and the streaming service typically releases its programs on Fridays.
Is there a Season 3 trailer?
On May 22, the official Instagram account for Dark posted a bunch of cryptic images, including the symbol for infinity and the phrase "the end of the beginning," perhaps teasing an imminent Season 3 trailer. Co-creator Baran Bo Odar also posted an image of the show's creepy time traveling cave on his own account two days prior, adding "The last cycle starts soon... tick tock...." On May 26, Netflix released a German-language trailer for the final season and it quickly racked up more than a million views, and followed up a few hours later with the English-subtitled trailer above.
What will Season 3 be about?
Dark is the type of show that tends to give you a headache if you start theorizing about it. There are rules to the time travel on the show: Everything is a cycle and the past can't be changed, and there's a whole lot of incest and confusing family relations, like the revelation that Elisabeth and Charlotte are each other's mothers(???). But whether you've galaxy-brained until your brain explodes, or you're so confounded by the Season 2 ending that you've given up trying to predict what's next -- everything will serve a purpose in Season 3.
In an interview with IndieWire, showrunner Jantje Friese said, "The basic idea of Season 3 was something that we already had when we started. There are also a lot of things in Season 1 hinting to Season 3. Also, we actually thought about putting some of the stuff that's now in Season 3 into Season 2, but then decided to move it backwards. So basically now everything that's left just falls into Season 3."
It's an extremely vague answer bound to inspire more questions, as Dark tends to do, but it's possible that Friese could be referring to the Season 2 finale reveal of multiple dimensions. Although Martha was killed by Adam in the finale, one of the final shots of the episode shows an alternative version of her arriving and telling Jonas, "I'm not who you think I am," and when asked what time she's from, she says, "The question isn't from what time, but from what world," before she takes him… somewhere.
Now that we know some kind of alternate realities exist, we need to know 1) Where the hell Jonas went, and 2) How these other dimensions fit into the plot overall. Could their existence set the various cycles on track? Whatever the case, they're certainly going to be important.
It's also now clear that the true villain on the show is Adam, who is Jonas himself (of course, because why wouldn't he be?). While he intended to undo time by setting off the apocalypse, we have to wait and see how he arrived at this world-shattering passion project of his, how he became so weathered and hardened (he did just kill the love of his life), and if Jonas, in this dimension or another, can somehow stop him.
Who in the cast will be back?
The Hollywood Reporter reported in June that many of the series regulars will return for Season 3. That includes Louis Hofmann as teen Jonas, Jordis Triebel as Katharina, Lisa Vicari as Martha, Mark Waschke as Noah, Andreas Pietschmann as older Jonas, and Lea van Acken as the unnamed girl from the future. Set to join the cast are Barbara Nusse, Hans Diehl, Jakob Diehl, Nina Kronjager, Sammy Scheuritzel, and Axel Werner.
Showrunner Baran bo Odar is particularly forthcoming with filming details, however. We can glean from his regular Instagram posts that we'll be seeing more of teen Magnus (Moritz Jahn), old Elisabeth (Sandra Borgmann), young Elisabeth (Carlotta von Falkenhayn), Adam (a.k.a. oldest Jonas, played by Dietrich Hollinderbäumer), Wöller (Leopold Hornung), young Katharina (Nele Trebs), Ulrich Nielsen (Oliver Masucci), old Ulrich (Winfried Glatzeder), Franziska Doppler (Gina Stiebitz), young Egon Tiedemann (Sebastian Hülk), Doris Tiedemann (Luise Heyer), Bartosz (Paul Lux), Hannah (Maja Schöne), middle-aged Claudia Tiedemann (Julika Jenkins), young Noah (Max Schimmelpfennig), and Charlotte (Karoline Eichhorn).
Past that, it's probably safe to assume that we'll see more of Peter Doppler (Stephan Kampwirth) and Regina Tiedemann (Deborah Kaufmann), given that they were safe in the bunker when the apocalypse hit. We can probably also expect to see Aleksander Tiedemann (Peter Benedict) and Inspector Clausen (Sylvester Groth) in Season 3, especially given that the connection between the two and Clausen's missing brother hasn't been fully explained.
While that's what seems to be the "big centerpiece of it all," as Friese called Jonas and Martha's relationship and the conflicts surrounding them, she also explained Season 3's attention will also shift onto other key characters. She said, "We're going to see a bit more about grown Ulrich… also the same as we did in Season 2 where we put a little bit focus on different characters like Claudia and Egon, we're going to do the same in Season 3 and call some people up that had smaller parts."
She also noted that some of these figures who may seem outwardly malicious, like Hannah, will have their true intentions revealed. She said, "As with every character in Dark, when you're sure you know who the villain is or who's doing the bad thing, you should be open for what made them that way because no one is just evil because they want to be; everyone is reacting to their own hurts and wounds. The past shapes you and everything that happens."
Friese mentioned that the type of time travel the show is using is "deterministic" time travel -- that is, just because you can go back in time doesn't mean you can change anything that's going to happen: "We're hinting at that in the first season all the time that it's a circle. Everything happens constantly in loops. I just felt that was such a multilayered story. I put a lot of thought into it: What kind of information and when do you explain certain rules? How much room do you give for people trying to figure it out and when do you push them into the right direction? What kind of trigger words do you use? What kind of symbols do you use?"
That's a lot to sift through, but no doubt you've mulled it over while rewatching Seasons 1 and 2 over and over again like you're caught in a cycle yourself, looking for potential clues. In the meantime, enjoy Dark Season 3 on June 27.