Kyle Mooney's 'SNL' Partner Says the Key to Movies Is All About 'Not Being Annoying'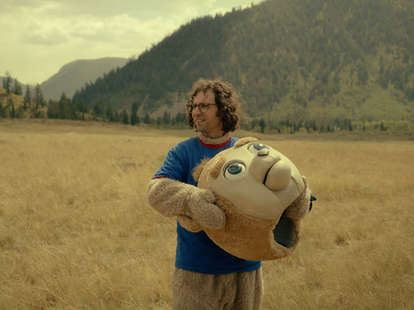 "I wanted to be a baseball player," says Dave McCary, whose childhood ambitions don't exactly match up with his day job as the director of Saturday Night Live's weirdest sketches. Blame influential movies like Being John Malkovich and Welcome to the Dollhouse for his failed MLB career.
The 32-year-old filmmaker's origin story might be a cliché, but his feature directorial debut, Brigsby Bear, isn't. The Sundance hit concerns James Pope (Kyle Mooney), a Kimmy Schmidt-esque ex-captive who becomes hell-bent on DIY-finishing his favorite TV show -- a kind of Doctor Who-meets-Barney educational program -- after it abruptly stops production. James' odd, original story is just the type of emotional journey McCary's been wanting to put on screen since he got into filmmaking more than a decade ago. It plays as a love letter to cinema and friendship, the latter of which should be unsurprising considering McCary made Brigsby with his eighth-grade buddies.
From SNL to his early Good Neighbor shorts (that's him straight-manning behind the camera in "Sporty") to some of the strangest Instragram comedy anyone could imagine, McCary's been building to this moment. Here, we talk to him about making Brigsby, and where he and close collaborator Mooney will go next.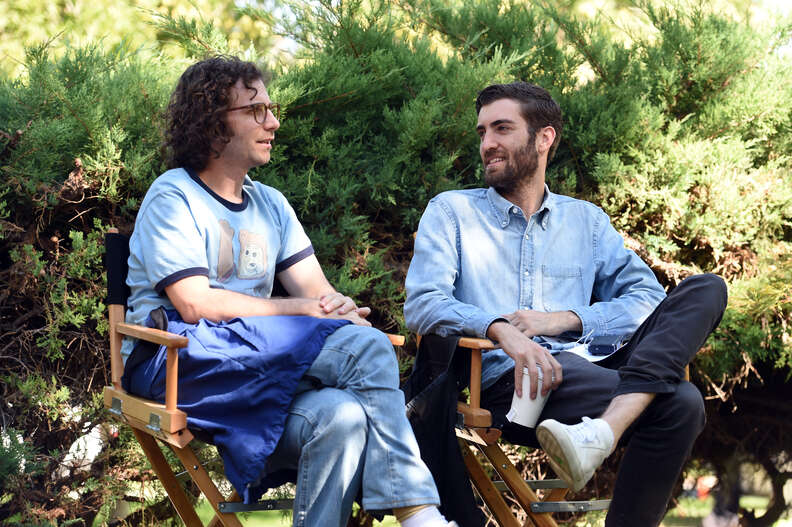 Thrillist: How did your work in sketch comedy prepare you for a feature-length movie?
Dave McCary: The major tool was pressure. With independent filmmaking, you don't have the luxury of extending days or getting more money to make a set piece. You're exercising the muscles of, What can we prioritize? and What amount of time do we have to get this done? With SNL, the turnaround is so insane, week to week, in every phase of production: You have a day of pre-production, a day of production, a day of editing. When you go into making a film, it's so relieving to have five weeks of pre-production, five weeks of shooting, and a few months -- some people have a year -- of editing. SNL built within me a readiness to utilize that time to be meticulous. And also just my threshold with anxiety and being able to be in a stressful situation, because with SNL there's no time to have a melt down.
In terms of working with people, I've been at SNL for four years. On that show, you have the biggest celebrities and pure geniuses coming through every week. You learn how to work with a brand-new person who's at the height of their career, who just wants to have fun and not be treated like they're on a pedestal. You learn that week to week -- how to not be annoying. Like Mark Hamill coming into Utah for three days to film with us: If I hadn't had the SNL experience, there's a world in which he's such a larger-than-life persona I could have just been a mess or not within my own body when speaking to him. That show removes any fanboy elements you have in your brain.
What made you guys want to go in a more serious direction, tone-wise, than what we've seen in Good Neighbor and SNL sketches?
McCary: I've always wanted to showcase how wonderful an actor Kyle is. I've been his biggest fan since we were kids. When we started making videos, Kyle was so funny, and funny internet videos were the things that were propelling people's careers -- like Lonely Island, who were big inspirations for us -- so we got stuck in this corner where making sillier videos was the expectation. Throughout that time, though, there would be pockets of real earnestness that we would capture in a lot of Kyle's characters because he's so great at exploring their vulnerabilities and insecurities.
My dream as a filmmaker was never, I want to make only comedies. When I read the Brigsby script, which [Kyle co-wrote with Kevin Costello], I thought it was heartwarming on the page, with inherent comedy sprinkled throughout. It felt like it would not have been nearly as interesting to go broad and super jokey. There have been hundreds and thousands of fish-out-of-water movies that tend to be overtly comedic and poke fun at the experience of, Well this guy's never seen our world, and, Look at all the crazy hijinks he can get into! There's still hints of that throughout the movie, but I really responded to, and I think we all really responded to, how, thematically, there was such a powerful message in the script. So I was like, This is a good opportunity to showcase that we can tell stories without relying on jokes.
That said, there are still traces of Kyle's typical characters in the one he plays in Brigsby Bear.
McCary: There's an audience for those Good Neighbor characters, and we love them, but we've come to realize over the years that a lot of them are very specific and not necessarily accessible to the masses. That's the other thing: We wanted to make a movie that felt nostalgic and that many different demographics could appreciate. It was important to us to tell a story that doesn't alienate too many audiences -- because some of our humor can be uncomfortable. And there's uncomfortable moments in this movie, but I think they're more digestible than our more obscure videos.
Is that something SNL has taught you, in terms of accessibility?
McCary: I kind of knew that going in. Following in the Lonely Island's footsteps, we were trying to remove ourselves from thinking we could tap into how amazing they were at making content that both comedy nerds and alt-comedy people, plus the world at large, could respond to. They are so talented at making everyone laugh, and we're not. We just knew that we were gonna operate in a smaller nook of the show -- to [SNL boss Lorne Michaels'] credit, he appreciates that we take swings at weirder ideas.
I was asking because there are quite a few Kyle- and Beck Bennett-centric pieces that have been cut for time.
McCary: Yep, my pieces [laughs]. Exactly.
Does it make you feel better to see the heartbroken YouTube comments?
McCary: Oftentimes I disagree with people who say that this or that shouldn't have been cut. We're in the studio watching and listening to the dress rehearsal audience not respond to our videos, and we know that this doesn't work for the people who watch the show. Mostly. It's very kind of the people who really like our stuff, who will seek it out and watch it on the internet, to have those thoughts. But I think a lot of these people don't realize, like, Trust us, it didn't work for this live audience. I don't personally need a sketch to make it on air to feel good about something. I've had plenty of stuff that's made it to air that I've felt less excited is out in the world than the stuff that's gotten cut for time. I try not to even think about what should or should not be on the show, because it's so arbitrary to say what belongs on the show -- the show isn't ours.
Has there been anything completely cut or rejected from the show that you're still trying to get made?
McCary: We consistently bring back a number of ideas to the table, year to year, that we think would be really fun for us. The powers that be at SNL are oftentimes much smarter than us about what's worth putting money into, but yeah, there's a sketch with Kyle on a football team. He's in the locker room, it's halftime, and the coach is giving a speech, trying to lift these dudes up, getting them pumped up. Kyle clearly shouldn't be on this football team, and he keeps derailing the momentum of the pep talk by making everyone feel uncomfortable. It's a pretty classic structure for a Kyle character, but it's really funny, and we'll probably try it again.
If something like the football sketch never makes it on SNL, would you want to see it on another show? I remember there was a Good Neighbor Comedy Central deal at one point.
McCary: We had a pilot presentation, where Comedy Central had given us some money to create a general idea of what our show could look like. We were about to revamp and potentially rewrite or refilm what we had made because they liked it, but it wasn't ready for air. As we were thinking about how to improve it, that's when SNL came in. At one point in time, that was really the dream: to get a sketch show going, a long-form thing that was our voice, because we had only made short-form comedy for so long. And then we got on SNL, the most incredible institution of comedy, but we're still making short-form comedy. Over a decade of just constantly making shorts, we had really always wanted to make a long video. So Brigsby is kind of like our long video.
Has the Brigsby experience made you want to invest more time in features?
McCary: I'm not really ruling out anything. I certainly know that after going through this feature process that that's a life that I want to be pretty close to living throughout the rest of my career, if I can. But I'm sure episodic TV stuff -- I'm actually working on a show with Kevin that Kyle would star in. It's still in the beginning stages, but it would be pretty dramatic, with hints of comedy, the same way Brigsby is. And who knows? As we're developing and writing, there's always the chance we could turn it into a feature. As of right now, we like it as a serial thing.
What about the D and K Podcast? Last we heard, Mr. Tuffs had called about New York.
McCary: [Laughs.] I would not be surprised if we jumped back into that at some point in our lives. It's hard to go after a project like that because it's not financially responsible, and we're trying to do bigger-picture things. I get so meticulous with stuff like that -- everything that we put out -- that I find myself stressing about a 15-second Instagram video. It makes me want to pull my hair out. That project meant so much to me, but at the end of the day, it was so meaningless and it's such a silly concept; it was just for us and our friends. It was great that people responded to it.
I miss it.
McCary: I miss it! I wish I could do it. I wish that someone would pay us to do that. It would be so fun.
This interview has been edited and condensed.
Sign up here for our daily Thrillist email and subscribe here for our YouTube channel to get your fix of the best in food/drink/fun.
Sean Fitz-Gerald is a staff writer at Thrillist Entertainment. Find him on Twitter: @srkfitzgerald.