Thanks to the success of his LL Cool J-approved clothing company FUBU, Daymond John knows a thing or two about business, and a thing or three about looking almost as handsome as LL Cool J. Because of his business savvy and handsomeness, he was an obvious choice as a judge on ABC's Shark Tank. Here, he gives his advice on how to win himself, Mark Cuban, and the rest of the school (of sharks) over with your completely awesome idea.
How to pitch to investors who have giant teeth that grow back when they fall out
Make sure you can break down your entire company in a short amount of time. Know all of the answers, even if it's just "I don't know, but one of the reasons I'm here today is that I'm trying to hire someone who knows how to do that." Always know your numbers...When you pitch to anybody, pitch what's in it for them. It's not about you. What does this have to do with them? Will this just be more money for them, will society look kindly upon them? What is it going to do for them?
Common mistakes presenters make
Giving the wrong value to their company. Don't pass that onto me, 'cause that's not my problem.
The best presentations from Shark Tank this season
One would be the Cozy Bug, which I invested in. It's a pillow-case dress that you can buy for a child around three years old and when she grows, you can just let down the ribbons and it becomes longer. [Owner Ali Lessor] really does well with those and I'm excited about it.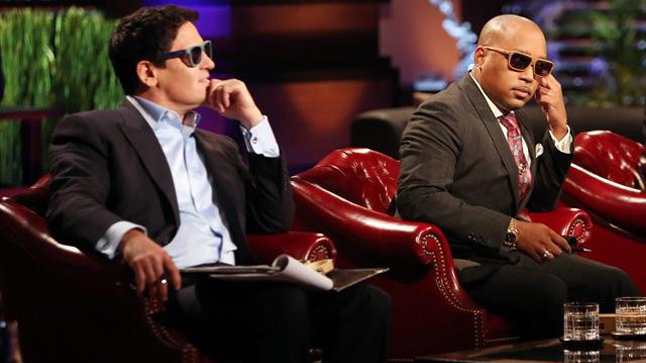 Photo: ABC
...And the worst
There was a guy with something called Plate Topper. He had a sale, but the pitch took almost two and a half hours. A lot of people don't know this, but they're supposed to be about eight minutes. He was very frustrating. He seemed like a nice guy, but he was just so difficult to nail down into a deal.
The company he would love to sic his Shark Branding group on
BlackBerry and RIM. That would be the one. 'Cause they need a lot of help.
Caffeine products: So hot right now
I've been seeing more and more energy stuff. Energy spray, energy waffles. Energy's the new thing...The waffles you can just pick up at the store, and they did not taste good to me. So they stood out to me. [Laughs] The spray -- it has five times the B12 of most energy shots. So I noticed after a while that we were all screaming and the owner was sweating profusely.