Everything We Know About 'Dead to Me' Season 3
More twists to come.
With its many juicy twists and enticing crime-fueled drama, Netflix's comedy thriller Dead to Me from creator Liz Feldman flies by like a page-turning summer beach read. The series -- starring Christina Applegate and Linda Cardellini as a messed-up pair of Laguna Beach BFFs who met through tragedy and came together over their shared love for The Facts of Life, Entenmann's, and, well, a handful of deaths and incriminating secrets that follow them wherever they go -- has amassed a huge following for its sense of humor, the savvy way it handles trauma, and the breadcrumbs of jaw-dropping reveals at every turn that always leave you wanting more. 
When Season 2 dropped in May 2020, it ended with the wild kind of cliffhanger the show has become known for, among many other open-ended questions that the series seems poised to answer in a third installment. While fans are left to guess what's next for the Thelma and Louise of Netflix, here's everything we know about Dead to Me Season 3 so far. 
Will there be a Season 3 of Dead to Me?
In July 2020, Netflix announced that Dead to Me will return for a third -- and final -- season. Good things have to end eventually, though, and too many dramatic turns for more seasons than necessary could've made the wildly popular dramedy exhausting. Show creator Liz Feldman told Refinery29 that she already knows where she's taking the series for Season 3, so if we had to guess, the madness that is the friendship between Jen and Judy should be given a satisfying but unexpected end. 
When will Season 3 of Dead to Me premiere?
The series may have initially premiered on May 9, 2019 and returned a year later on May 8, 2020, but it's practically all but confirmed that the third season will not come out May 2021 since it was renewed when production on many Netflix originals remain suspended amid the coronavirus pandemic. With the official green light, though, writers should be able to get back to work remotely, and once they get the go-ahead to actually shoot the final season, production should be pretty low-lift. With that in mind, a return some time in summer 2021 doesn't seem too far out of the realm of possibilities, but of course everything is still up in the air.
Brandon Scott

| Saeed Adyani/Netflix
Who in the cast will return?
There sure is a lot of murder on the twisty crime series, but the leads have yet to be killed off, at least. Christina Applegate and Linda Cardellini's BFF duo Jen and Judy may have gotten into a pretty brutal car crash at the end of Season 2, but it was clear they survived the accident, so you can assume they'll be back for more. Considering the show is entirely based around their sometimes toxic/sometimes reliable friendship, they'll likely be around for its entire run. 
James Marsden should also be back as Ben -- but not Steve. When Jen killed Judy's ex-fiancé Steve back at the end of Season 1, it seemed pretty clear that Marsden wouldn't be back on the show. Dead to Me managed to pull one of the oldest, soapiest tricks in the book, though, and brought him back as Steve's twin brother Ben -- because who wouldn't want more Marsden? Ben is still around, and very much wrapped up in the same drama as Jen and Judy, so figure he'll return.
As for the rest of the cast, detectives Ana Perez (Diana Maria Riva) and Nick Prager (Brandon Scott) should be back, and same goes for Jen's kids, Charlie (Sam McCarthy) and Henry (Luke Roessler). While there were a handful of exciting supporting cast additions in Season 2, like Judy's fling Michelle (Natalie Morales), her mother (Katey Sagal), and Ben and Steve's mother Eileen Woods (Frances Conroy), it's hard to say if they'll make another appearance in Season 3.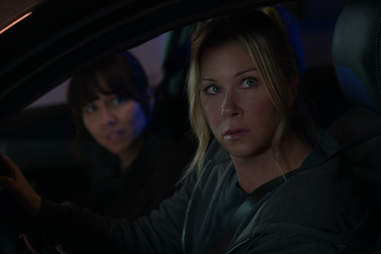 Netflix
What will Dead to Me Season 3 be about? 
With Season 1 and Season 2 each focusing on one character's secret -- the first being that Judy was involved with the hit-and-run that killed Jen's husband, and the second being that Jen didn't actually kill Steve in self-defense -- Season 3 is set to be about somebody else's secret. Showrunner Liz Feldman told Refinery29, "[...] There's some more story to tell. I know exactly what I would want to do for the third season […] especially now that you know how Season 2 ends. Now there's somebody else with a secret." She's likely referring to Ben, since he crashed into Jen and Judy while driving under the influence and drove away from the scene. As Feldman says, she's interested in continuing to explore the "constant give and take of, Do you tell somebody something if you know it will hurt them?" so the next installment should surround Ben's reckoning with abandoning the accident, potentially injuring Jen, whom he was romantically involved with, and whatever legal case ensues. 
James Marsden even spoke to the possibility of Season 3 centering on the compounding dilemmas in Ben's life to TV Guide. He said, "Not only is he maybe going to find out that Jen was responsible for his brother's death, he's also guilty of a hit-and-run. And they were the victims of the hit-and-run. And his brother was guilty of a hit-and-run in the first season ... I believe [Ben] does make a conscious effort to look at himself in the mirror when no one else is looking and do the right thing ... but sometimes the forces can overwhelm."
It seems like "the forces" will definitely start to "overwhelm," especially given all of the road cams in Jen's neighborhood that will likely prevent Ben's secret from remaining a secret for too long. Were that information to come out, Season 3 could also see Jen and Judy trying to find leverage over Ben if he proves to be a threat. Detective Perez may have let Jen go after she confessed to killing Steve, but now that the authorities found his body and the investigation is still on, if they're able to connect Jen and Judy to the crime (and the evidence is definitely mounting up against them), they may need to cut some sort of deal with Ben so the two of them keep quiet about their respective crimes. 
It also seems possible that Steve's money-laundering scheme and connection to the Greek mafia will come back in Season 3. We've yet to meet any of the shady figures that Steve was working with when he was still alive, and it was only just revealed that the chief of police is somehow involved too, so consider that a large focus of the upcoming season. Perhaps Jen, Judy, and Agent Perez will be able to force the mob into covering up the women's crimes, or maybe even more illegal activity is in their future. The SoCal pals' secrets just seem unable to stay secrets, no matter how hard they try. 
Continue to check back because as more news regarding Dead to Me Season 3 is announced, we'll keep updating this post.
Need help finding something to watch? Sign up here for our weekly Streamail newsletter to get streaming recommendations delivered straight to your inbox.