What to Know About 'Deadly Class,' Syfy's New Teen-Assassin Show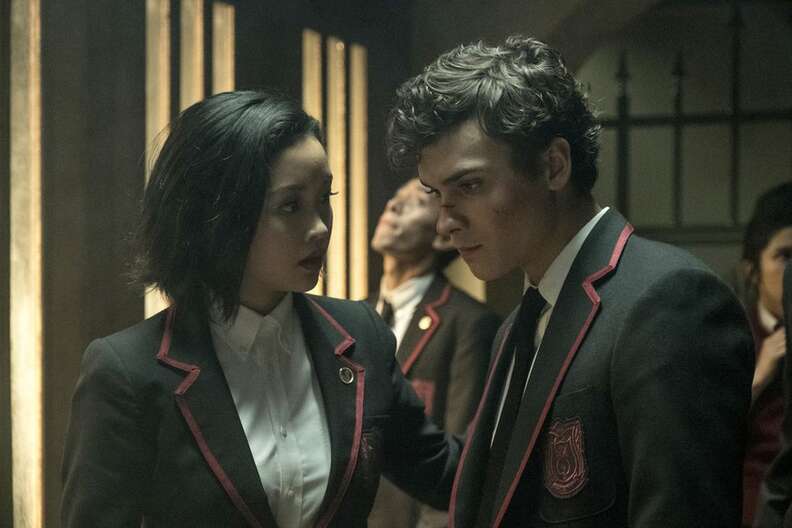 If you thought high school was rough, wait until you see what it's like at Kings Dominion Atelier of the Deadly Arts, the learned institution at the center of the new Syfy series Deadly Class. King's Dominion offers lethal instruction to would-be assassins, kids whose parents are the heads of organizations like cartels, the mafia, and the C.I.A. -- and it's a place where a pop quiz might require finding the antidote in time to save your life. "High school already feels like life and death for kids," says actor Luke Tennie, who plays a student named Willie. "Here, if someone stabs you in the back, the blade is real." The show, which is set in 1987, is based on the graphic-novel series by Rick Remender (who's also on board as a showrunner) and the cast includes To All the Boys I've Loved Before breakout Lana Condor as a student and Doctor Strange's Benedict Wong as the school's instructor. They gave Thrillist a few lessons on what to expect from this coming-of-rage story when we visited the Vancouver set.
It's not afraid to get political
King's Dominion exists to upset the balance of power. Master Lin (played by Wong) instructs students about how a bullet can change history by telling them about Gavrilo Princip, the 19-year-old peasant who assassinated Austria's Archduke Franz Ferdinand in 1914, leading to World War I and making World War II (and the subsequent Cold War) inevitable. At King's Dominion, Marcus Lopez Arguello (Benjamin Wadsworth) hopes to use his training to take out Ronald Reagan, because he blames the U.S. president for indirectly causing the death of his parents.
His back story is based on the real-life experience of a Nicaraguan friend Remender had as a teenager. "I wanted to mix what Reagan was up to into the DNA of Marcus, since he suffers the consequences of some of those policies," Remender said. "And the oppressive heartlessness of Ronald Reagan was such a big part of who we were growing up in the '80s and the punk scene. People standing up and resisting and speaking out against what he was doing. There was such a powerful distaste for Reagan."
Some might see easy parallels between the characters' anti-establishment rhetoric and today's politics. "I started writing this long before Trump," Remender said. (The first Deadly Class volume was published in 2014). "It was not really something that I had anticipated that we would be going back to, reelecting a far right-wing celebrity charlatan. But here we are. I think that what we're dealing with now is akin to what we were dealing with back then -- somebody who is removing the safety net for the lower classes."
It tackles trauma
In the wake of his parents being unintentionally killed by a suicidal person released from a psychiatric hospital as a result of a controversial Reagan era policy, an orphaned Marcus was subjected to years of abuse at a boy's home and lived on the streets. He suffers from depression, and even tries to kill himself. Actor Benjamin Wadsworth -- who was home-schooled -- said he relates to his character's depression and isolation. "I felt like I could really get into that," he said. Marcus isn't the killer the school believes him to be, and committing murderous "assignments" is hard on him. "He feels the ramifications," Wadsworth said. "It affects him mentally." Ditto for other students who don't want to be at King's Dominion, like the pacifist Willie and abandoned Billy (Liam James). But even those who are happy to be at the school show cracks in their psyches. "Chico enjoys killing," actor Michel Duval said of his character. "But he's been killing since he was seven years old, and that's traumatizing for a kid. It's not normal. And every time he kills, he's killing his own childhood."
One of Marcus' fellow students, Maria, tries to hide being bipolar and medicates in secret, and actress María Gabriela de Faría, who suffers from anxiety herself, said she can also relate. "I've been in crappy abusive relationships," she said. "I deal with anxiety, and I think it's important nowadays to show that, and to show that we are not what everybody sees. We are all hiding things all the time, and presenting a different self on Instagram and Twitter and everything."
It's got a no-guns policy (sort of)
Whether they want to or not, students at King's Dominion have to learn to kill, attack, and defend themselves with whatever's at hand. Maria uses her bladed fans, Lana her katana, Brandy Lynn (Siobhan Williams) her razor-augmented pom poms, Billy his skateboard and butterfly knives. "I've also poisoned a few people," said actor Liam James, who plays that latter character. "Just to make them have any kid's worst nightmare." (Yes, explosive diarrhea.)
Oddly, one weapon is verboten on school grounds: guns. We noticed a distinct absence of firearms and ammunition among the props displayed on set (apart from historical artifacts that once belonged to killers such as Lee Harvey Oswald). How come? "Master Lin's idea is that if you are to kill, it has to be in an honorable way," said actress Lana Condor, who plays Saya Kuroki. "And he doesn't see honor in using guns." This is one of the biggest departures in the show from the original comic book. "I think that when it's in the book, you're a bit disconnected from the reality of it," Remender said. "And in the last five years, the battle royale of it all has seeped into our actual existence. It's no longer a fantasy [to have a school shooting]. And so the heightened awareness of the school dealing with assassinations frankly works better without the inclusion of guns. It's not a metaphorical situation when you see those things."
Although Master Lin disdains firearms, they still exist in the off-campus world. This mostly affects the sharp-shooter character Willie, who comes to rely on his size more than his weapon, and no wonder. At 6'3" and 260 pounds, actor Luke Tennie is an imposing figure. "People don't want to mess with me, because I am my weapon," Tennie said. "But a bullet gets the job done a lot better than a fist. And we ain't always on campus."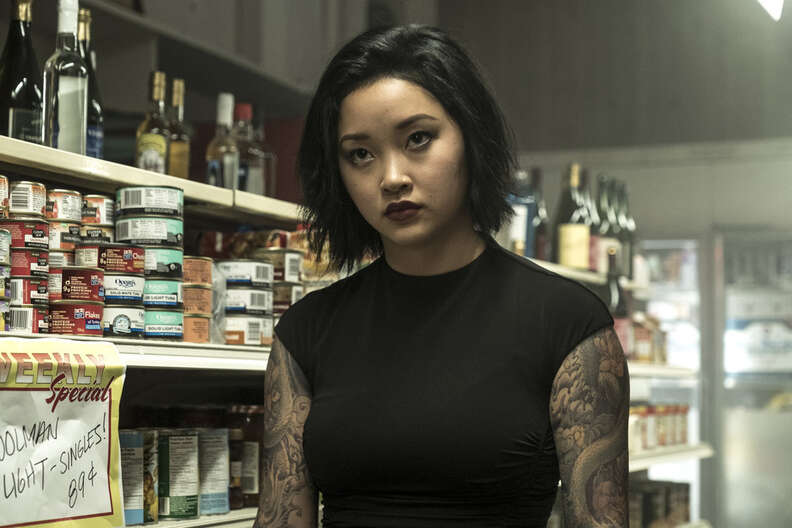 It's got tattoos, dildos, and bestiality
Tattoos can look threatening, of course. Chico's multiple skulls, for example (which were chosen by actor Michel Duval) send a clear message: Don't mess with this guy. Saya's sleeved arms also have an unpleasant effect -- almost mostly on her. "They're really itchy!" Condor said. "When they're half on, half on, you just want them off!" The production tried an experiment to see if Condor could sleep with the tats on overnight, which would save the time required to reapply them each morning. "They're like kids' temporary tattoos," she said, "but ten times more expensive. They put the pieces on, and then they airbrush the stencils, and it takes three hours. But I can't stop picking at them, so it wasn't going to work overnight."
It also has a character named Fuckface. "He's an abandoned kid who's been raised by a monster living in a trailer park," said Remender. "His life has been really rough, and he finds solace in loving animals. That love grows into something society might question, but to me, as a person who also fucks goats, sure, let's have a good time." (Surely he's joking here!) Remender said that, early on, he used Fuckface's love of goats as a test for his co-creator and co-showruner Miles Orion Feldsott, to see if he could handle this kind of content. "It was a lunch that turned into a 30-minute conversation about bestiality," Remender said. "So I figured we'd probably be able to make this partnership work."
Something else that required a lot of conversation was the design and building of a special double-ended dildo that had to double as a weapon. The network gave them the go-ahead, but ordered that the dildo not be flesh-colored. Ultimately, it was fashioned in a cartoony pinkish-red.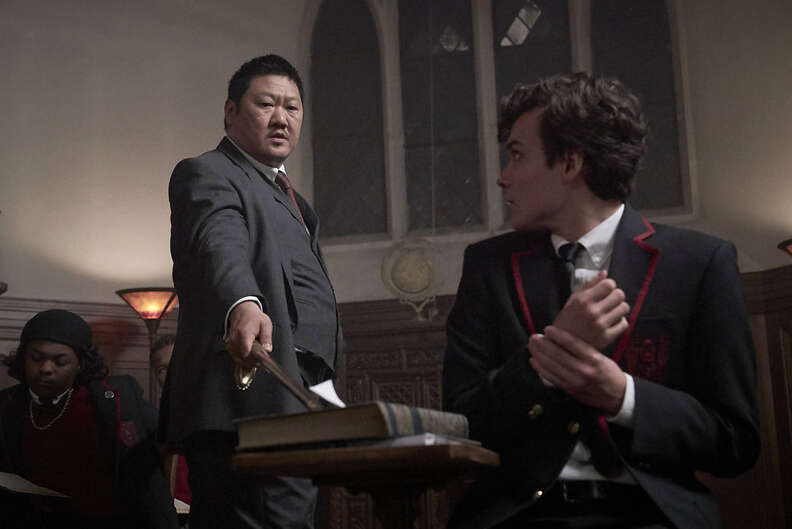 It has a code
King's Dominion is a school with many rules. There's no unsanctioned killing, no sex, no drugs, no disobedience, and no escape. Break these rules and you don't get expelled -- you die. "No one leaves," said actor Benedict Wong, who plays Master Lin. "If you manage to survive, this process makes you strong, and you get to join one of the legacy groups on campus. Master Lin is really hard on the students because there's no room for them to fuck around. I'm not going to kill them with kindness."