Everything You Need to Know About 'Dear White People' Before Season 2 Hits Netflix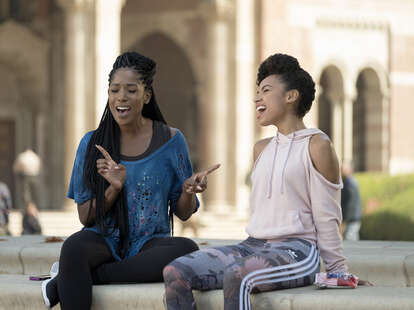 Ashley Blaine Featherson as Joelle Brooks, Logan Browning as Sam White

| Eddy Chen/Netflix
Ashley Blaine Featherson as Joelle Brooks, Logan Browning as Sam White

| Eddy Chen/Netflix
Dear White People, the TV show, premiered on Netflix last year, three years after the release of the film of the same name. As the creator of both properties that (obviously) address issues like race and privilege head-on, Justin Simien has been no stranger to swells of silly, yet predictable, controversy since the film's 2014 Sundance screening. He's defended himself against a barrage of mean tweets from people who were offended by the show's title, and there was even a call to boycott the series altogether. But shortly after the first 10 episodes hit Netflix, Dear White People was picked up for a second season, which will be released on the streaming platform Friday, May 4.
The show will pick up the pieces after the chaotic end to last year's finale, with Giancarlo Esposito contextually narrating as he did in Season 1. If you're currently racking your brain trying to remember everything that went down on the show last season, now would be a great time to rewatch all of it to get yourself back up to speed. But if time isn't quite on your side, prep yourself for Season 2 with our guide to what you need to know below.
First things first: How can I watch the new season?
On Netflix, duh.
Great. Now remind me again what this show is about?
The first thing you should know is that Dear White People is Netflix's own adaptation of the 2014 film of the same name. Written, directed, and co-produced by Justin Simien, the film, much like the series, follows a group of black students dealing with racial issues at the fictional Winchester University, a predominantly white, Ivy League institution. The spotlight is given to several main characters, though most of the focus is put on a student named Samantha White (Tessa Thompson), a junior who has caused quite the commotion on campus thanks to her radio segment called "Dear White People." Sam uses her platform to criticize Winchester's student body for their racial microaggressions and, naturally, it doesn't sit well with everyone. In response to Sam's show, a fellow white student named Kurt plans a blackface party that's crashed by black students at the end of the film, leading to an all-out brawl.
The series picks up right where the film left off (with Logan Browning taking over for Thompson as Sam), with the students continuing to navigate racial tensions on campus in the aftermath of the blackface party. Essentially, after a few episodes of exposition, all hell broke loose. The Season 1 finale ended with a campus protest getting way out of control right before the school newspaper released a report accusing a wealthy university donor of backing racist policies at the school. The school's black student body president was also arrested in front of everyone.
So, who in the cast should I know?
The main characters and their storylines are as follows:
Samantha White (Logan Browning): Sam is the host of her own campus radio show called "Dear White People." Her brash and aggressive way of criticizing racist occurrences on campus rubs both white students and the administration the wrong way, but it's also earned her a ton of respect from her black peers. What adds more depth to Sam's storyline is that, on top of being a light-skinned, biracial student, she also has a white boyfriend.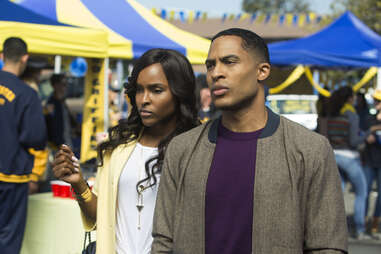 Troy Fairbanks (Brandon P. Bell): Troy is sort of like the Barack Obama of Winchester -- not only is he student body president, but his father is also the dean. (No wonder a friend calls him "Trobama" in episode 3.) Either way, Troy is kind of a big deal on campus. He also used to date Sam, though they tend to clash on a lot of issues now, since Troy focuses a lot more on keeping a calm exterior and being liked by the rest of the students at Winchester.
Colandrea "Coco" Conners (Antoinette Robertson): Coco and Sam used to be best friends, but all of that went out the window during their freshman year as roommates. She's presented as a foil to Sam's character, and because of her darker skin, she struggles with thinking she must "tone down [her] blackness" to be accepted by the other students at Winchester. She's also Troy's girlfriend... sort of.
Lionel Higgins (DeRon Horton): Lionel is a loner who works for the school newspaper, The Winchester Independent. He broke the story on the blackface party and he spends a lot of time with Sam, Troy, and the rest of the Black Student Union. He's also Troy's roommate, and it's revealed in Season 1 that he has a crush on Troy.
Reggie Green (Marque Richardson): Reggie is also a member of the Black Student Union, and he has a huge crush on Sam. His biggest moment in Season 1 comes when he's involved in a fight at a party that leads to a campus police officer forcing him to identify himself as a student seconds before pulling a gun on him. The incident with Reggie is a turning point for the season as a whole, and it echoes the countless times in which black men have been routinely profiled by police officers in the real world.
Gabe Mitchell (John Patrick Amedori): Gabe is Sam's boyfriend. He and Sam are obviously in love with each other, but their cultural differences tend to strain their relationship from time to time. Gabe is also the one who called the police at the party that ended with Reggie facing a campus police officer's gun.
Joelle Brooks (Ashley Blaine Featherson): Joelle is Sam's best friend, and offers immense comic relief. She also really, really likes Reggie.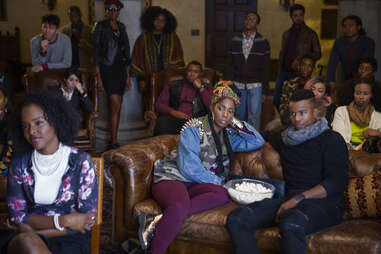 Where was everyone when I last saw them at the end of Season 1?
Samantha: Sam is dealing with a lot right now. She spent the last half of Season 1 fighting for her relationship with Gabe while simultaneously planning what was supposed to be the biggest and most important demonstration of her undergraduate career at Winchester. But, as anyone could have guessed, things didn't exactly turn out as planned. First, her protest, which was planned to take place outside of Troy's town hall meeting, was hijacked by two other student groups -- both of which were essentially "All Lives Matter"-ing Sam's entire cause. To make matters worse, Gabe ended things with her just as the protest began to go downhill. Talk about a wild night.
Troy: Speaking of wild nights, Troy may have had the most shocking experience of them all. Our golden boy was set to moderate the town hall meeting at Hancock Hall in "Chapter X," but after making a late arrival, a scorned Coco steals his thunder when she ends up locking Troy out of the meeting and sending him outside to deal with the protesters. Minutes later when all the students get sent an alert that the Hancocks are -- in Lionel's words -- holding AP house for ransom, Troy reacts to the news by smashing through the locked door of Hancock Hall with a shovel. He's immediately arrested by campus police, and Dean Fairbanks is seen intervening when one of the officers attempts to pull a gun on him before taking him away.
Lionel: Shit hit the fan on the night of the protest and, to pretty much everyone's surprise, most of that was because of our bashful budding journalist, Lionel. After Sam tells him (in so many words) that Armstrong-Parker is being used as a bargaining chip to stop her from protesting the town hall, Lionel does some research on the Hancocks -- aka Winchester's wealthiest donors -- and uncovers that the family has been funding racist policies at the school for years. He lets all this information fly at the town hall and secretly writes an article about it for the school paper, much to the chagrin of Silvio, his editor. Needless to say, chaos ensues as soon as the article is published.
Coco: Fresh off the heels of her "breakup" with Troy, Coco spends the night moderating the town hall so that she can cozy up to the dean. Her plan was to give the mic only to students with simple and harmless questions -- but that goes to hell when she passes it over to Lionel, who sneakily drops the bombshell about the Hancocks' plan to take down AP house. We can only assume that Coco quickly regretted her decision to give Lionel the floor, but given her knowledge of how much time he'd been spending with Sam, Troy, and the BSU, I'm honestly still questioning if this really was an accident.
Reggie: Despite the fact that the protest was happening in his honor, Reggie's focus was on a few other things in the season finale. He spends most of the episode pretty heartbroken over Sam's decision to attempt to patch things up with Gabe, though he reveals in the last five minutes that he's over her. (... Uh huh, I definitely buy that.)
Gabe: You've probably never seen poor timing quite like this. After spending way too much time making Sam watch his text typing bubbles disappear and reappear, Gabe shows up to the triple-protest and ends up breaking things off with Sam for good.
Joelle: Joelle has a huge crush on Reggie, though he appears to be pretty unaware of it due to his infatuation with Sam. But now that that's over (allegedly), we can probably expect Joelle to try and finally make a move and confess her feelings for him.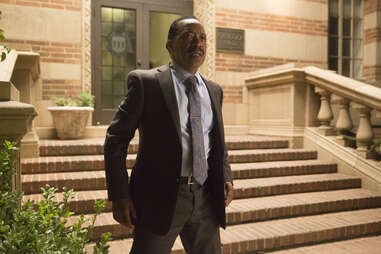 And everyone else?
Dean Fairbanks (Obba Babatundé): Dean Fairbanks -- aka Troy's father -- spent most of last season brushing off the BSU's politics and basically accusing Sam of gaslighting the entire campus. But after watching Troy get arrested seconds after stopping one of the campus police officers from pulling a gun on him, he looks like he may have finally seen the light.
Kurt Fletcher (Wyatt Nash): Kurt and his gaggle of Pastiche buddies were last seen trolling Sam and Reggie's protest. He blames her for how out of control things have gotten on campus and ends the night asking her if anything she's done so far has helped her situation or hurt it.
President Fletcher (John Rubenstein): Last seen looking very caught off-guard after Lionel's revelation.
Silvio (DJ Blickenstaff): Even after Lionel ignored all of Silvio's advice about leaving the Hancocks and their racist agenda off-limits, Silvio now has a crush on Lionel. Lionel yells a few curse words at him at the end of the town hall and, as one does after being told to "Shut the fuck up," Silvio reacts by kissing him.
Sooo... what happens next?
Great question, as there's certainly a lot of ground to be covered in Season 2. Anyone who plans on streaming Season 2 when all 10 episodes make it to Netflix on Friday should probably prepare themselves to see more of the aftermath of Sam and Gabe's breakup, as well as Troy's arrest and Lionel's big reveal.
The trailer for Season 2 dropped last week, and it looks like Sam is still dealing with backlash for her radio show. She's also seen going toe-to-toe with Gabe, who's now challenging the same views that he appeared to support while they were together after creating the viral campus film, Am I Racist?
Will there be any new faces in the cast his season?
Maybe? Aside from the tension between Sam and Gabe, the Season 2 trailer also gives us a look at a character that Joelle refers to as "Kirkland Signature Ann Coulter." So it might be safe to say that Sam isn't the only person trying to make her voice heard on campus.
Any guest stars?
Glad you asked. According to an Instagram post from October, Kid Fury (co-host of The Read podcast) and Todrick Hall (singer, performer, YouTuber, et al.) will have cameos in Season 2 as guests on Sam's show. It also looks like Lena Waithe (... LENA WAITHE) will appear on the show as well, though it's not clear what her role will be.
What have the Dear White People Season 2 reviews said so far?
So far, so good. Malcolm Venable of TV Guide writes that "it's not pretty, but it's great TV," alluding to the fact that the new season is slightly darker and deals with issues that are a little more timely, even prescient. Vanity Fair's Sonia Saraiya calls all 10 episodes "addictive," while praising the way that the show tackles racism. Basically, we have a lot to look forward to this season.
Sign up here for our daily Thrillist email and subscribe here for our YouTube channel to get your fix of the best in food/drink/fun.

Danielle Jackson is an editorial assistant at Thrillist, and she's rooting for everybody black. Follow her on Instagram @danielleknecole.