The Creator of 'Dear White People' on Season 2 and Why TV Shouldn't Try to Fix Racism
Logan Browning in 'Dear White People'

| Adam Rose/Netflix
Logan Browning in 'Dear White People'

| Adam Rose/Netflix
This story contains mild spoilers for Season 2 of Dear White People.
If you think Justin Simien, creator of the Netflix satirical drama Dear White People, is on a mission to "solve" racism, think again. "I never try to prescribe for a problem," says Simien. "I never wanna be the one to try to solve racism in a TV show. But I do think art is great at diagnosing problems."
That's the spirit of the series, now entering its second season on the streaming giant: Rather than repair our ongoing epidemic of American racism, Dear White People instead analyzes its sources and symptoms through sharp comedy and difficult, often uncomfortable, conversations. Simien can't fix America's race dialogue, but he can give his audience the tools to participate in it.
In a recent conversation about Dear White People's sophomore outing, Simien talked about the series' focal point and how television lets him confront his subject while also hemming him in. "The 'hem' part is when people do expect the show, or a movie or something, to have all the answers," he explains. "Because of course it can't, and if it did, or if it purports to have all the answers, I wouldn't trust it. Because race is not a simple subject.
"Honestly," he says with a laugh, "you need several films about many different elements of race to even get close to fully describing what it is and its impact." Participation is a good step, in other words, provided your expectations are in the right place.
There's a great deal that a series like Dear White People can achieve in just 10 episodes (or 20 across both seasons), after all. Maybe more than anything else, it asks viewers of all races and backgrounds to identify with characters who don't necessarily look like them or have the same cultural experience as them. Film, as Simien puts it -- borrowing a phrase from Roger Ebert -- is "the great empathy machine," so long as authors and filmmakers ply their craft properly and present us with characters in whom we can see pieces of ourselves. Great writing draws us in, but comes second to great characters.
As an example, Simien points to Lionel (DeRon Horton), the introverted aspiring journalist who comes out to his roommate, Troy (Brandon P. Bell), in Season 1's second episode: "I think that when Lionel walks into these spaces, now that he's out and hoping to find community and doesn't, I think that you do feel a little bit sorry for him, and maybe if you haven't walked through those particular shoes, you go, 'Oh wow, I didn't even realize that people were going through something like that. I never thought about that.' You know?"
In Lionel's lonesome search for kinship, we detect traces of our own feelings of isolation. "That's the feeling I get when I watch Girls, or Blue Is the Warmest Colour, or any number of films and TV shows that are well made but aren't necessarily about people like me -- but they're about people, and therefore I'm able to see myself in those people," Simien adds.
By now, Dear White People is well beyond the plot of Simien's 2014 film. Season 1 stuck to the movie's narrative about a blackface party held at Winchester University, a fictional Ivy League school, taking time to explore each character's backstory and follow them before and after the offensive event. In Season 2, the characters deal with the fallout of a climactic protest that ends in chaos. Some storytellers might find the thought of divesting from familiar ground daunting, but for Simien (who first began working on the television adaptation back in 2015), the chance to take the series to new places sounded exciting. "It was liberating to move past it, and to know that I don't have to set people up. We know enough about them to go on the journey, and to move on to now."
Much has happened in the real world during the year dividing Season 1 and Season 2, of course, and because Dear White People's material explicitly engages the real world, figuring out what to weave into Season 2's fabric was a Herculean task. "The hard part is what not to include," Simien admits. "I think that the magic trick, what I feel like we pull off, is when you watch Dear White People, you feel like the show is so topical, because all these characters are just constantly articulating and talking about current events and contextualizing themselves through current events.
"But the truth is that that's a bit of a sleight of hand," he continues. "Oftentimes what the characters are talking about, they're talking about it to hide something else that the scene is actually dealing with, something else that's actually going on in the scene." One illustration of that dynamic pops up in Season 2's third chapter, as the type-A and highly accomplished Coco (Antoinette Robinson) has a tete-a-tete with her friend, Muffy (Caitlin Carver). When Muffy laments the difficulties of being a woman in 2018 America, Coco quickly and cooly reminds her of the added difficulty of being black in 2018 America. "There's a line where Coco says, 'Oh what's that bag, is that Michael Kors?' And [Muffy's] very offended by that, and she says, 'No, it's Hermès.'
"Of course, the point that Coco is trying to make is, 'Bitch, you don't really have it that bad' -- excuse my French, that's the way Coco would say it," Simien laughs. "'You don't really have it that bad, because you still have a kind of privilege.' That's what the scene is really about." Therein lies the challenge of Dear White People: Finding the underlying meaning of each scene, and deciding where it will drive the characters: "We just try to get really specific about that, and drill down to that universal story that we're telling that would work in any cultural context."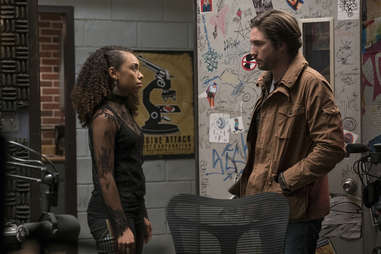 Another example of the simultaneous universality and specificity the show achieves appears in "Chapter VIII," when Sam (Logan Browning), host of the radio show from which Dear White People derives its name, has an overdue face to face with her white ex, Gabe (John Patrick Amedori), a film grad student putting together a documentary titled Am I Racist? for class. Alone in the station where Sam records her show, they hash out their wounds and resentments, which of course have to do with their romantic relationship, but also with broader cultural dynamics that the show engages.
In many ways, it feels like the episode Dear White People has been building toward since its premiere. Says Simien, "You know, that episode came about in the room; we were sort of talking about, if we trapped characters someplace, what would happen? And Jack Moore, who is the writer on that episode, has a playwriting background, and I grew up in the theater, and I just sort of thought, 'Well, wouldn't it be interesting to do a two-person play in the radio station?'" The result: A back-and-forth where the argument is the wedge separating Sam and Gabe, and keeping score of who's right, who's wrong, and even what the argument is about is futile.
Once more, it's empathy that turns the fight into a heartfelt conversation. "You realize that it's just the act of arguing that's keeping them apart, and that if they were somehow able to overcome the fight, whatever the fight may be about, none of the issues that they need to be so right about matter as much once they come together. At the end of the day, isn't that what we as a species are designed to do, is to cooperate and work together?" Roasting a person or dragging them online is easy; spouting racist invective is, as Dear White People tragically demonstrates, even easier. When you talk to that person face to face, though, that changes. "Without moralizing it," Simien says, "or extrapolating it again to, 'This is what you should do' -- it's not a moral, it's not, 'Go out into the world and have this conversation with every white person you see, or every black person you see'! -- but you can maybe look at the two of them talking and go, 'Oh my God, that's totally me and so-and-so.'"
If Dear White People gets you to have that conversation, if it persuades you to look at your life as well as the lives of others from new perspectives, then the show has done its job -- and Simien has done his. "I think that that is powerful," he says, "and it has led me, many times, after seeing a movie or a particularly powerful episode of television, to then go out into the world and have conversations and be a part of things that have completely changed my life in ways that I probably am not even aware of." That, to Simien, is the joy of film and television: Telling stories with a purpose, not necessarily a moral or a lesson. "I think people who tell stories without purpose or without at least pausing to consider... the effect of those stories, you're giving up so much of what I think is powerful about being a storyteller.
"I don't see the point," he adds with a final laugh.
Sign up here for our daily Thrillist email and subscribe here for our YouTube channel to get your fix of the best in food/drink/fun.
Andy Crump is a contributor for
Paste
magazine, The Playlist, WBUR's The ARTery,
Slant Magazine
,
The Hollywood Reporter
, and Birth. Movies. Death., and is a member of the Online Film Critics Society and the Boston Online Film Critics Association. Follow him on Twitter @agracru.