The 25 Best Denzel Washington Movies, Ranked
From blockbusters to Oscar-winning classics, we're looking back at the legendary actor's most iconic roles.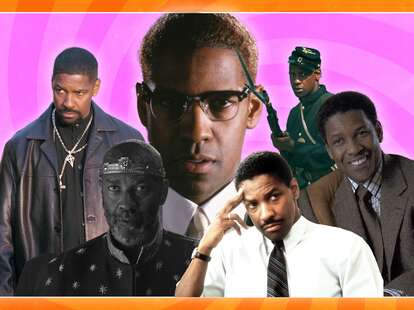 Image by Chineme Elobuike for Thrilliist
Image by Chineme Elobuike for Thrilliist
Is Denzel Washington the greatest actor of all time? With a handful of heroes, antiheroes, and realer than real roles to his name, he's certainly one of the most versatile. Directors like Spike Lee, Jonathan Demme, Ridley and Tony Scott, the Hughes brothers, and Antoine Fuqua all rely on him. Washington is even sharp enough to direct himself in acclaimed movies.
The legendary screen actor and noted thespian has earned the iconic Cecil B. DeMille Award and has nine Best Actor Oscar nominations to his name, including two wins. Now that he's been recognized by the Academy yet again for his work in 2021's The Tragedy of Macbeth, we're looking back at some of his best film performances. (Sorry, St. Elsewhere fans—TV work is not on this list.) Here are Denzel Washington's 25 best roles, from blockbuster gigs to the straight-up classics.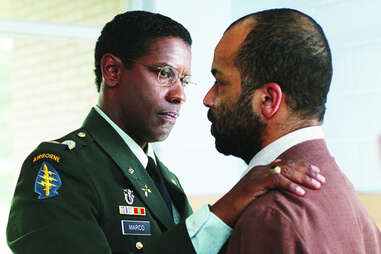 25. The Manchurian Candidate (2004)
Director Jonathan Demme (Silence of the Lambs) apparently sought to make a bleaker version of John Frankenheimer's Cold War thriller. Washington assumes the Frank Sinatra role, a soldier out to prove that a decorated vice-presidential candidate he fought with in the Gulf War (Liev Schreiber) is part of a conspiracy engineered by a powerful corporation. It's because of Washington that his character feels elevated to be far more than a pawn than he was in the original. —Craig D. Lindsey
24. Déjà Vu (2006)
Of all the movies Washington made with the late Tony Scott, Déjà Vu might be the most consistently underrated. As ATF agent Douglas Carlin, Washington is always fighting the clock as he attempts to solve the murder of an unknown woman (Paula Patton) killed in a bombing. Less flashy than the violent vigilante tale Man on Fire and more convoluted than the locked-in train thriller Unstoppable, this New Orleans-set time-travel mystery uses Washington's unrelenting focus and smoldering sense of longing to ground a story of romantic obsession told in wild, ambitious action movie beats. The movie might spin out of control without Washington's ability to sell both the inscrutable techno-babble and the relationship at the movie's center. —Dan Jackson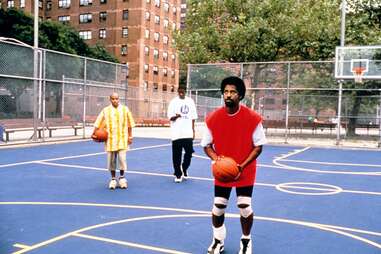 23. He Got Game (1998)
Cast against type as Jake Shuttlesworth, a convicted murderer released from prison to recruit his high schoool basketball star son (Ray Allen) to play for the preferred college of the evil governor, Washington finds nuanced notes to play in one of the trickiest roles ever dreamed up by his frequent collaborator Spike Lee. On and off the court, he's believable as a man haunted by his past, and as a father looking to bond with his son. As written by Lee, the character can be tender and cruel, wise and cutting. Clearly relishing the complexity of the material, Washington rarely strikes a false note navigating the plot's parable-like twists and turns. —DJ
22. Flight (2012)
Flight hasn't maintained a major cultural footprint since it opened in 2012, but Washington gives a knockout performance as an alcoholic pilot who often drinks on the job but manages to crash-land a plane despite his inebriated state. After being hailed for his fortitude, a toxicology report calls his bravery into question and threatens to derail his skilled career. Robert Zemeckis' film is a complex character study about a man who is neither hero nor villain—a balance few actors can strike as rousingly as Washington, who received his sixth Oscar nod for the role. —Matthew Jacobs
21. Power (1986)
Although he's only in a few scenes in this Sidney Lumet-directed all-star satire, the young Washington makes quite an impression. With the menacing cool he would give us 20 years later in American Gangster, he's a suave, sinister lobbyist out to make sure Richard Gere's political consultant takes his aspiring Senate candidate (the late J.T. Walsh) all the way to the finish line. —CL
20. Unstoppable (2010)
Maybe there's no more perfect idea for a movie than: two guys spend 90 minutes trying to stop a runaway train before it sets off a bunch of explosive chemicals. Even better when those two guys are played by two of the most effortless actors working today, Chris Pine and Denzel Washington, whose strained camaraderie provides the track that Tony Scott's final film careens around on. Frank Barnes (Washington), an old hand railroad engineer with decades of experience behind him and facing early retirement, is in the midst of showing the ropes to youngblood conductor Will Colson (Pine) when the two concoct a last-minute plan to chase after a speeding locomotive against the wishes of their incompetent superiors. It's a perfect white-knuckle thriller, anchored by the dynamic relationship between its two leads, perhaps the only two men in Hollywood we'd trust to catch a runaway train. —Emma Stefansky
19. Mo' Better Blues (1990)
In his first collaboration with director Spike Lee, Washington plays jazz trumpeter Bleek Gilliam, a rising musician who finds himself caught up in a series of romantic and professional entanglements. Given how often Washington now finds himself running around in action hero mode, either seeking vengeance or saving the world, it's bracing to watch him play a member of a Fort Greene creative class, working through a series of personal crises. Along with The Preacher's Wife, it's a great example of Washington's often underused skills as a romantic lead. Tasked with playing a character on a bumpy path to maturity, he plays befuddlement, confusion, and trepidation just as well as he plays dogged determination. —DJ
18. Courage Under Fire (1996)
The layered war plot of the Rashomon-inspired Courage Under Fire could easily take a couple hundred words to sort out, but, much like the suppressed trauma that Denzel Washington's Lieutenant Colonel Nat Serling carries throughout the film, that would be obfuscating the point of Washington's simmering, powerful performance. Washington plays a Gulf War Army Lieutenant who is tormented by his own horrible deed while digging up the truth about a Captain's (Meg Ryan) suspicious death in combat. With hindsight, the film itself leans a bit too far into third-wave "support women combat specialists♥" feminism while graphically depicting the terrors of war, but Washington's guilt-ridden Serling, who must bury his PTSD and shame lest they swallow him whole, is its rudder, steering the action through stormy waters until the reprieve on the other side. —Leanne Butkovic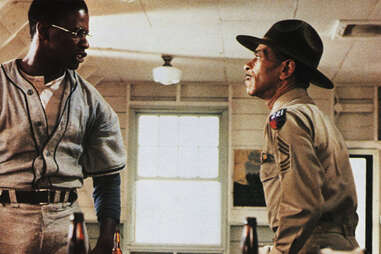 17. A Soldier's Story (1984)
For this rather prosaic Oscar-nominated adaptation of the Off Broadway show A Soldier's Play, Washington returned to the role he assumed in the play, a cocksure private who's one of the many soldiers and suspects in the murder of a self-loathing Black sergeant (the late Adolph Caesar). Howard E. Rollins, Jr. may lead the cast as the captain who gets called in to investigate and finds himself unpacking the complexities of racism and self-hatred, but Washington shines in the supporting role. —CL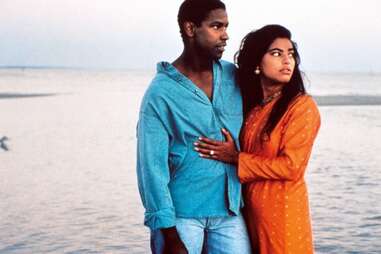 16. Mississippi Masala (1991)
Denzel Washington has always been a sex symbol, but he's rarely been in movies that can cast him as a romantic lead. Mississippi Masala is the exception to this rule. Mira Nair's film is more vast than its simplest logline about a carpet cleaner named Demetrius (Washington) in Greenwood, Mississippi, who falls for an Indian girl, Meena (Sarita Choudhury), after she accidentally hits his truck. It's also about the fallout from Idi Amin's expulsion of Asians from Uganda and the diaspora that resulted, as well as colorism and the tensions that can boil over between minorities in a place where racism is prevalent. But at the center of that is Demetrius and Meena's nascent love, tenuous at first, since he first engages with her to make his ex jealous, but develops into a full-blown romance. Washington's charm is palpable opposite Choudhury in her first screen role, but he fleshes out Demetrius, as well, as a man questioning his own stagnation for the sake of steadiness. —Esther Zuckerman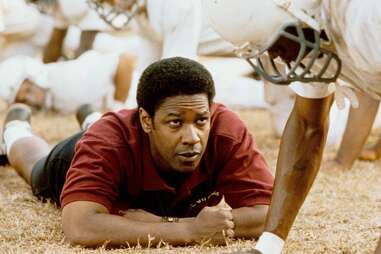 15. Remember the Titans (2000)
One of Washington's greatest gifts as a movie star is his ability to immediately send a jolt of electricity through familiar, over-worked material. On the surface, Remember the Titans is a fairly predictable underdog sports narrative, a '70s set story of integration at a Virginia high school about a Black coach inspiring his players to victory. Despite the Disney-ready sheen and some manipulative bits of hokum, Washington brings all of his charisma and intensity to bear on the role of Herman Boone, elevating the other performers and the movie around him. He's the most memorable part of a movie that might otherwise be largely forgotten without his presence. —DJ
14. Much Ado About Nothing (1993)
Denzel is known for his intensity, but Kenneth Branagh spotted the charm behind the actor's heavy mug when he cast him in Much Ado About Nothing, arguably the most ebullient Shakespeare adaptation ever committed to film. As Don Pedro, a nobleman who stands in contrast to his vindictive half-brother, Washington announces his respectability with the mere flash of a smile. His smooth elocution blends nicely with the movie's sprightly ambiance, and in retrospect, one might wonder why Washington wasn't included in the rom-com era that helped to define the '90s. —MJ
13. The Pelican Brief (1993)
You could say Denzel's rise to prominence to being, not just one of Hollywood's greatest actors, but greatest movie stars, officially started when he starred alongside Julia Roberts in this adaptation of the John Grisham thriller. As the knight-in-shining-armor newsman (who was originally written as a white character in the source material) who comes to the aid of Roberts's law student on the run, Washington officially became a mainstream movie hero. Having hit theaters just before the release of Philadelphia, it was inevitable he was on the way to superstardom with this one. —CL
12. American Gangster (2007)
When he worked with Tony's brother Ridley Scott, Denzel encapsulated being both bad and badass in his performance as real-life drug kingpin Frank Lucas. With an equally ambitious cop (Russell Crowe, his old rival from Virtuosity) on his tail, Denzel was truly memorable as a scary-yet-sophisticated self-made entrepreneur, making a lot of money and a lot of enemies as the No. 1 drug supplier during the '70s. —CL
11. Cry Freedom (1987)
For the first hour of this movie, Denzel is the star of the show—and what a glorious hour it is. As murdered African activist Steven Biko, Washington commands the screen with such sophistication and charisma, it's almost unnerving he didn't win the Best Supporting Actor Oscar he was nominated for. This is probably because, unfortunately, Biko is killed halfway through, and the movie turns into a caper flick where his white journalist friend (Kevin Kline) tries to sneak out of Africa to tell Biko's story. Still, that hour, though. —CL
10. The Tragedy of Macbeth (2021)
Joel Coen's pared-down Macbeth adaptation takes the Scottish play's dark, twisted aura to extremes with stark minimalist sets and shadowy black-and-white photography, but it's Denzel Washington's turn as the bloody thane that grounds the film in one noble man's descent into absolute madness. Playing up his characteristic powerful stature and commanding voice, Washington is a terrifying foe for those unfortunate enough to stand in his way, and a formidable equal to co-star Frances McDormand's prickly twist on Lady Macbeth. While the endgame, as always, is a violent, blood-spattered mess, the film, through Washington's layered performance, never loses sight of the tragedy in its tale of one great man driven to the edge of sanity by blind ambition. Toil and trouble, indeed. —ES
9. Fences (2016)
Before his death in 2006, playwright August Wilson was adamant that a Black director helm the film adaptation of the '50s Pittsburgh-set drama Fences, and Washington, serving as director, producer, and star, rose to the occasion, nabbing a Best Picture and Best Actor nom as former baseball player Troy Maxson. Reprising his role, along with Viola Davis in an Oscar-winning Supporting Actress turn, from the 2010 Tony-winning stage revival, Washington's working-class patriarch is a lived-in performance of a complex man in a struggle against his own past, pride, and present socioeconomic circumstances, imbued with deep reverence to Wilson's text. There isn't a weak link in this cast, including Jovan Adepo in a fraught relationship as his son Cory and Stephen Henderson as his best bud, but Washington, as he often does, towers. —LB
8. Crimson Tide (1995)
There are few things better than a good old-fashioned submarine movie, and Crimson Tide is hands-down one of the best ever made, chronicling a fictional nuclear standoff inspired by the Cuban Missile Crisis. When a group of Russian ultranationalists take control of a nuclear missile installation, the USS Alabama is sent to patrol the seas and launch a preemptive strike if the Russian extremists arm their bombs. Onboard the Alabama are its commanding officer, the battle-hardened Captain Frank Ramsey (Gene Hackman), and his chosen XO, the untested and philosophical Lieutenant Commander Ron Hunter (Denzel Washington), who share little in common when it comes to the art of war. Their opposing views—Ramsey's "We're here to preserve democracy, not practice it" vs. Hunter's "The true enemy is war itself"—come to a boil when it looks like nuclear arms might have to be used after all. The film's strength is in its claustrophobic scale: nuclear war comes down to the battle of wits between two ferocious actors matching each other blow for blow. —ES
7. Inside Man (2006)
Washington is at his sharpest (and sharp-dressed) as he teams up once again with Spike Lee for this wildly entertaining heist thriller. Playing an NYPD hostage negotiator who discovers a seemingly endless series of twists when a crew of robbers (led by Clive Owen) holds a bank hostage for 24-hours, we're meant to feel all of the leading man's anxiety and pressure with each and every turn. Bringing a suaveness to the film that's as much of a blockbuster action movie as it is a tense thriller set in a post-9/11 NYC, there was never a man better for this job than Denzel. —CL
6. Devil in a Blue Dress (1995)
In a perfect world, there would have been dozens of movies made where Denzel played Walter Mosley's prized gumshoe Easy Rawlins. Unfortunately, Devil in a Blue Dress is the only one. (So far!) Still, the film from Carl Franklin is a good piece of Black noir, which gives us a great performance from Washington, as well as an impressive turn from Don Cheadle, who plays his deadly but loyal friend Mouse. —CL
5. The Hurricane (1999)
While this movie is notorious for its inaccuracies, one thing is for certain: Denzel is incredible in it. Finally getting the chance to make a boxing flick (as many leading actors eventually get to do), he portrays real-life pugilist Rubin "Hurricane" Carter, who was wrongfully imprisoned for 20 years on a triple-homicide rap and had to spend most of his life clearing his name. And there goes the fourth Oscar nod for Washington. —CL
4. Glory (1989)
Though it's framed around the perspective of Matthew Broderick's Colonel Robert Gould Shaw, the commanding officer leading the first all-Black volunteer regiment during the Civil War, the most enduring aspect of Glory remains Washington's Oscar-winning turn as defiant enslaved-man-turned-soldier Trip. So much of the performance's power comes from Washington's ability to find a stillness amid the violence, rancor, and melodrama that director Edward Zwick stages around him. As an actor, Washington remains gifted at locating small human moments against the backdrop of history or the chaos of spectacle. No matter what's going on around him, whether it's horrifying or objectionable, you're drawn to him. —DJ
3. Philadelphia (1993)
Does Philadelphia hold up? That's probably the question that first comes to mind when thinking about Jonathan Demme's drama about a lawyer with AIDS (played by Tom Hanks) who sues his firm for wrongful termination, represented by a initially homophobic personal injury attorney, portrayed by none other than Washington himself. The answer is that Philadelphia, thanks to the great performances and Demme's deft direction, doesn't seem as dated as one might think. It remains a nuanced and emphatic portrait of discrimination. Hanks, of course, won the Oscar for his work, but Washington carries the movie equally, and it's astounding to watch two of the greatest screen actors of all time bouncing off each other. Washington plays his character Joe Miller with a dogged determination that is forced to pause as Hanks' Andrew Beckett contemplates his own mortality. It's not just the lifting of his prejudice, but the expanding of his empathy. —EZ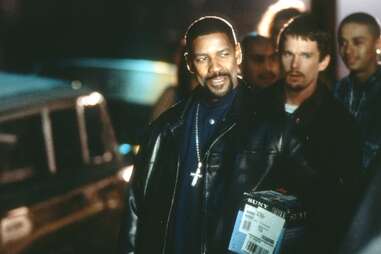 2. Training Day (2001)
Let's forget for a minute that Washington won his second Oscar playing a piece of shit. His Detective Alonzo Harris is a chain-smoking, whip-riding, utterly corrupt LA cop who takes a naïve white-boy cop (Ethan Hawke) for an ever-eventful ride. Let's remember instead the devilish layers Washington brought to that role. For most of the movie, he had audiences wondering if he'd take Hawke on a crooked-but-ultimately righteous path or send him to hell along with him. Yeah, he was a bad guy, but he was one of the most fascinating bad guys anyone has ever seen. —CL
1. Malcolm X (1992)
Was there ever any doubt that Malcolm X wouldn't be No. 1? This is the role Denzel Washington is the most famous for, and for good reason. Spike Lee's epic biopic is not just a cinematic history of the slain civil-rights leader, but an opportunity for Washington to explore every facet of a character's personality. From zoot-suited hustler, to incarcerated searcher, to reborn militant, to enlightened activist, he gave us every part of Malcolm—as well as every part of himself. It's perhaps one of the greatest Oscar snubs of all time that he didn't win Best Actor for the role. —CL