All 43 Denzel Washington Movies, Ranked
Is Denzel Washington the greatest actor of all time? With a handful of heroes, antiheroes, and realer than real roles to his name, he's certainly one of the most versatile. Directors like Spike Lee, Jonathan Demme, Ridley and Tony Scott, the Hughes brothers, and Antoine Fuqua all rely on him. Washington is even sharp enough to direct himself in acclaimed movies.
But like most accomplished actors, not everything Denzel's done has been legendary. Even a brilliant, beloved thespian who earned the Cecil B. DeMille Award -- not to mention all the other acting trophies he's racked up over the years -- has just as many misses in his filmography as he does hits.
In time for this weekend's The Magnificent Seven, we ranked all of Washington's film performances from worst to best (sorry, St. Elsewhere fans -- TV work is not on this list), separating the misfires and blockbuster gigs from the straight-up classic work.
43. Virtuosity (1995)
You'll never see Denzel look more embarrassed than in this sci-fi mess. As an incarcerated cop who gets sprung out of jail to track down a virtual-reality criminal (a young Aussie actor named Russell Crowe) who's taken synthetic human form, Washington half-asses his performance. He must've thought, "Hey, if the movie doesn't give a damn about being good, why should I?"

42. For Queen & Country (1988)
Apparently feeling cocky after mastering a flawless South African accent in Cry Freedom a year prior, Washington decided to go full Cockney in this very obscure drama. He's a British paratrooper who returns home to inner-city London and finds he was better off being shot at in the jungles of whatever. After seeing Washington slur his way through a bad accent, you'll understand why this film has stayed buried.

41. Fallen (1998)
Washington once said he turned down the Morgan Freeman role in Seven because he thought the script was "too evil." Yet he had no qualms starring in this supernatural thriller/police-procedural mash-up, as a cop (again!) who's hunting after a serial-killing apparition who likes to sing "Time Is on My Side." Just like Seven, this also has a twist ending, and it's ridiculous as hell.
40. Heart Condition (1990)
In a rare case of Washington taking on a "magical negro" role, he stars as the ghost of a slick-ass lawyer who haunts his archnemesis, a racist cop (Bob Hoskins) who receives his heart during a transplant. Although Washington exhibits a sly playfulness, this movie is downright wretched. Washington eventually fired the agent who talked him into doing this.

39. The Book of Eli (2010)
This Hughes brothers-directed, postapocalyptic Western is also quite possibly the most deranged pro-Christian blockbuster ever made. Washington is the titular character, a lethal, damn-near-impenetrable drifter who becomes a wanted man because he's the only person on Earth with a copy of the King James Bible. Crazy as it is seeing him kick ass for the Lord, he's mostly on autopilot.

38. The Taking of Pelham 123 (2009)
Next to Spike Lee, the late Tony Scott is the only director Washington has been comfortable working with over and over. The worst of their team-ups is this remake of the underrated '70s caper flick, where Washington plays a meek traffic cop trying to subdue a crew of criminals (led by an all-over-the-place John Travolta) who have taken a subway car full of people hostage. He's not at his full potential. But then again, neither is the movie.

37. Man on Fire (2004)
Another Washington/Scott collab that is also a remake of another movie (the 1987 version starred Scott Glenn and Joe Pesci). This time, Denzel is a tormented CIA operative-turned-bodyguard who goes on a rampage when the little girl he protects (a still-tiny Dakota Fanning) gets abducted. As hilarious as it is seeing Denzel go lethal in order to save young white girls (see: The Equalizer, The Book of Eli), this movie is a sadistic eyesore.

36. John Q (2002)
Both Denzel and this working-class drama just ooze with pathos. The earnestly named John Q. Archibald is a blue-collar dude-turned-folk hero who takes a hospital hostage so doctors can replace his son's enlarged heart with his. Surrounded by an all-star cast (Robert Duvall! Ray Liotta! Eddie Griffin?), it's still Washington's world, as he tries to stay solemn even when the role requires him to act like he's shit outta luck.
35. The Preacher's Wife (1996)
People were so used to seeing Denzel as an action hero or a strong, dramatic protagonist that they didn't know how to handle him in this Penny Marshall-directed holiday trifle. This remake of the 1947 movie The Bishop's Wife has Washington in the Cary Grant role, an angel sent down to save a preacher and his church who ends up catching feelings for the title character (Whitney Houston, whom this movie was really centered around).

34. Safe House (2012)
Washington is an ex-CIA guy again. This time, he's a mind-fucking rogue operative who, along with the low-level agent (Ryan Reynolds) whose job it is to keep tabs on him, is running all over Cape Town, getting chased, mowed, and beaten down by baddies who want the highly sensitive information he's holding. Basically, it's like watching Denzel get into the same fight over and over and over again.

33. 2 Guns (2013)
This oily summer blockbuster is dumb and confusing as hell (halfway through the movie, the stars actually recap the plot to each other), but this cartoonishly violent, nonsensical bit of pulp is almost worth seeing just to watch Washington (rocking a Shane Diesel goatee) and Mark Wahlberg as smack-talking partners in crime who don't know they're really undercover agents.
32. The Bone Collector (1999)
Hey, wanna see Denzel Washington act, but not really move all that much? Well, you're in luck with this sordid thriller. He's not doing much other than literally lifting a finger as a tetraplegic forensics expert (named Lincoln Rhyme!) who teams up with and makes goo-goo eyes at a traffic cop (Angelina Jolie, before she became ANGELINA JOLIE!) in order to stop a savage serial killer.

31. Déjà Vu (2006)
Getting back in the game with Tony Scott, Washington tries to bend some minds in yet another sci-fi/police-procedural whatzit. He's an ATF agent who somehow travels back in time to stop a terrorist attack in New Orleans and save the life of the woman he's smitten with (future 2 Guns co-star Paula Patton). Don't ask me how the hell all that goes down -- just watch it.

30. The Siege (1998)
Released way before 9/11 happened, this cluttered terrorist thriller has Washington -- an FBI agent this time! -- investigating terrorist cells that have made several attacks on New York City. Bruce Willis and Annette Bening show up as the white people who make things worse. Sadly, it's almost worth watching just to remember a time when stuff like this was considered fictional.

29. Flight (2012)
This Robert Zemeckis-directed flick may have given Washington his sixth Academy Award nomination (his fourth for Best Actor), but dammit, it's a miserable slog of a movie. Not to mention, the wall-to-wall classic rock soundtrack was annoying as hell. But Denzel does show us his unlikable side, playing a boozing, drugging airline pilot who is forced to take a long-ass look at himself after he saves a plane full of people while under the influence.
28. Carbon Copy (1981)
It's time we talked about Denzel's big-screen debut. He entered the scene in this lightweight comedy and showed off some smart-ass charm as the long-lost son of a respectable white businessman (George Segal) who ends up losing everything -- wife, house, job, etc. -- once this chip off the block shows up in his life.

27. Unstoppable (2010)
Have you ever wanted to go on a merry-go-round with Denzel Washington? Well, that's what happens in this dizzying action flick, his last collab with Tony Scott before Scott died in 2012. Washington plays a veteran railroad engineer who pairs up with a conductor (Chris Pine) to stop a runaway freight train filled with toxic chemicals.

26. The Equalizer (2014)
Denzel is all meticulous, OCD-like precision in this adaptation of the '80s TV show, where he reunites with Training Day director Antoine Fuqua. Washington is an ex-Black Ops who once again has to use his particular set of skills (especially in the climax, which is set in a hardware store and seems like a gorier version of the Home Alone finale) on bad guys who wreak havoc in his neighborhood.

25. Ricochet (1991)
This slick-but-entertaining crime show was lost from the '90s, with Washington as a cop-turned-politician who's targeted by a murderous ex-con out to destroy his career (John Lithgow, who played his boss in The Pelican Brief). The most memorable performance comes from Ice T, as a childhood buddy-turned-street kingpin who helps Washington get his own revenge.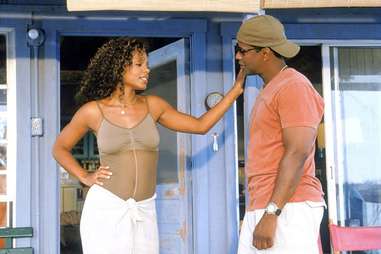 24. Out of Time (2003)
You probably forgot this sweltering, noirish B-flick, where Denzel is a Florida police chief stuck in a sticky situation after he steals money from a drug bust to help his ailing married girlfriend (Sanaa Lathan). If that's not enough, his homicide-detective ex (Eva Mendes) is also on his tail. So, needless to say, he acts like the average dude who's trying to keep two gals happy at the same time.

23. The Mighty Quinn (1989)
Some of you may not have heard of this little actioner from the '80s, with Denzel as a Caribbean police chief trying to solve a millionaire hotelier's murder, for which his childhood friend (Robert Townsend, with a silly-ass Jamaican accent) is the prime suspect. It's worth it just to see Washington's chief fight off the advances of a married white socialite, played by the forever-ravenous Mimi Rogers.

22. The Manchurian Candidate (2004)
Director Jonathan Demme (Silence of the Lambs) apparently sought to make a bleaker version of John Frankenheimer's nutty Cold War thriller. Washington assumes the Frank Sinatra role, a soldier out to prove that a decorated vice-presidential candidate he fought with in the Gulf War (Liev Schreiber) is part of a conspiracy engineered by a powerful corporation.

21. The Great Debaters (2007)
Denzel's second turn as a filmmaker is yet another modest, fact-based flick (produced by Oprah!). Washington once again takes the backseat, playing a debate coach who, during the Jim Crow-crazy 1930s, rounds up a crew of students from a historically black college and makes them a badass debate team, ready to out-talk any white person they come across.
20. Remember the Titans (2000)
Sure, this Jerry Bruckheimer-produced, fact-based sports drama is standard uplifting hokum. But we shouldn't forget how Denzel put his whole foot into his performance as a stubborn football coach trying to teach a racially diverse sports team how to get along and work together on and off the field.

19. He Got Game (1998)
Spike Lee's sports drama is all over the damn place. Thankfully, Washington, sporting an impressive afro, is its center, playing an inmate who is temporarily released in order to convince his basketball-playing son (Ray Allen) to play for the governor's college. This is the movie where Washington finally gets freaky with a white girl -- a troubled prostitute played by Milla Jovovich.

18. Much Ado About Nothing (1993)
It's not every day you see a brotha spit the words of William Shakespeare on the big screen. Thankfully, actor-director Kenneth Branagh was ballsy enough to give Washington the meaty, commanding role of Don Pedro, prince of Aragon (which, of course, he handled like a boss!) in his sunny all-star adaptation of the Bard's comedic play.

17. Power (1986)
Although he's only in a few scenes in this Sidney Lumet-directed all-star satire, the young Washington makes quite an impression. With the menacing cool he would give us 20 years later in American Gangster, he's a suave, sinister lobbyist out to make sure Richard Gere's political consultant takes his aspiring Senate candidate (the late J.T. Walsh) all the way to the finish line.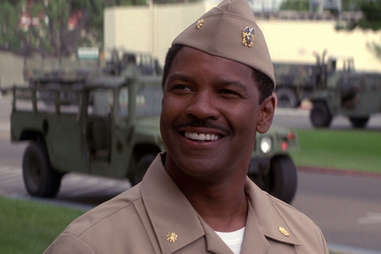 16. Antwone Fisher (2002)
Since this was Washington's first film as a director, he took on a supporting role in front of the lens. He's the psychiatrist to the title character (played by Derek Luke), a tormented man serving in the US Navy. Although the story itself (scripted by none other than the real Antwone Fisher) was sappy as all getout, Washington did a credible job both in front of and behind the camera.

15. Mo' Better Blues (1990)
It's during this movie, his first collab with Spike Lee (who co-stars as a troublemaking manager), that Denzel cemented his status as an onscreen ladies man. He's a jazz trumpeter who is more dedicated to his horn than his relationships, and he bounces back and forth between two women (Cynda Williams and Joie Lee, Spike's sister).

14. Courage Under Fire (1996)
Other than sporting a rather unflattering flat-top, Washington's turn as a tormented Gulf War veteran investigating the suspicious death of a female captain (Meg Ryan) is some awards-caliber stuff. Unfortunately, this movie came out during the summer of Twister and Independence Day. So everybody forgot about it during awards season.

13. A Soldier's Story (1984)
For this rather prosaic Oscar-nominated adaptation of the Off Broadway show A Soldier's Play, Washington returned to the role he assumed in the play, a cocksure private who's one of the many soldiers/suspects in the murder of a self-loathing black sergeant (the late Adolph Caesar). Howard E. Rollins, Jr. plays the captain who gets called in to investigate.

12. Mississippi Masala (1991)
Probably one of the greatest injustices to Denzel Washington's career is that he was rarely called on to play a romantic lead. One look at this little-seen indie sleeper from director Mira Nair (Salaam Bombay!) where he stars as a Mississippi carpet cleaner who falls in love with an Indian lass (the eternally scrumptious Sarita Choudhury), and you'll wonder why he didn't star in one movie after another where he was smashing girls left and right.
11. Inside Man (2006)
Denzel is at his wily, sharp (and sharp-dressed) best as he teams up once again with Spike Lee for this wildly entertaining heist thriller. He's an NYPD hostage negotiator who discovers a whole bunch of drama when a crew of robbers (led by Clive Owen's dashing ass) takes a bank hostage during a 24-hour period. A leggy Jodie Foster is also around doing some mysterious stuff.
10. The Pelican Brief (1993)
You could say Denzel's rise to prominence -- from black movie star to movie star -- officially started when he starred alongside Julia Roberts in this adaptation of the John Grisham thriller. (It came out a week before Philadelphia.) As the knight-in-shining-armor newsman (who was Caucasian in the book version) who comes to the aid of Roberts's law student on the run, Washington officially became a mainstream movie hero.

9. Devil in a Blue Dress (1995)
There are several people I know who like to think that in a perfect world, there would've been dozens of movies made where Denzel played Walter Mosley's prized gumshoe Easy Rawlins. Unfortunately, this is the only one so far. Still, it's a good piece of black noir, which gives us a great performance from Washington as well as an impressive turn from Don Cheadle, who plays his deadly but loyal friend Mouse.

8. Crimson Tide (1995)
The first film Denzel did with Tony Scott is still the best one. This claustrophobic summer blockbuster (which got an uncredited script-polish from Quentin Tarantino) has Washington and Gene Hackman as submarine officers butting heads when they get an order to launch their missiles. It's not as deep as Das Boot, but seeing Washington get his They Call Me Mister Tibbs! on as he defiantly does battle with Hackman's arrogant commander is enough to entertain ya.
7. American Gangster (2007)
When he worked with Tony's brother Ridley, Denzel encapsulated being both bad and badass in his performance as real-life drug kingpin Frank Lucas. With an equally ambitious cop (Russell Crowe, his old rival from Virtuosity) on his tail, Denzel was truly memorable as a scary-yet-sophisticated self-made entrepreneur, making a lot of money and a lot of enemies as the No. 1 drug supplier during the '70s.

6. The Hurricane (1999)
While this movie is notorious for its inaccuracies, one thing is for certain: Denzel is a beast in it. Finally getting the chance to make a boxing flick, as all leading actors eventually get to do, he plays real-life pugilist Rubin "Hurricane" Carter, who was wrongfully imprisoned for 20 years on a triple-homicide rap and had to spend most of his life clearing his name. And there goes the fourth Oscar nod for Washington.
5. Philadelphia (1993)
Washington proved he isn't afraid to take chances in this courtroom drama, where he played a homophobic lawyer called to represent an attorney with AIDS (Tom Hanks), who is suing his former firm for wrongful termination. Hanks may have gotten all the glory when he won his first Best Actor Oscar for his performance, but Washington (who was also nominated for Best Supporting Actor) gave a liberating turn as a man who confronts his own fears and prejudices as he takes on people who are stuck with theirs.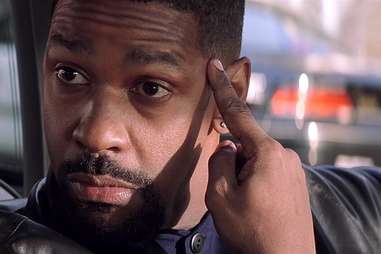 4. Training Day (2001)
Let's forget for a minute that Washington won his second Oscar basically playing a piece of shit. His Detective Alonzo Harris is a chain-smoking, whip-riding, utterly corrupt LA cop who takes a naïve white-boy cop (Ethan Hawke) for an ever-eventful ride. Let's remember instead the devilish layers Washington brought to that role. For most of the movie, he had audiences wondering if he'd take Hawke on a crooked-but-ultimately righteous path or send him to hell along with him. Yeah, he was a bad guy, but he was one of the most fascinating bad guys anyone has ever seen.

3. Cry Freedom (1987)
For the first hour of this movie, Denzel is the star of the show -- and what a glorious hour it is. As murdered African activist Steven Biko, Washington commands the screen with such sophistication and charisma, it's almost unnerving he didn't win the Best Supporting Actor Oscar he was nominated for. This is probably because, unfortunately, Biko is killed halfway through, and the movie turns into a caper flick where his white journalist friend (Kevin Kline) tries to sneak out of Africa to tell Biko's story. Still, that hour, though.
2. Glory (1989)
OK, he played a slave one time. But since this is Denzel we're talking about, he didn't portray just any slave -- he portrayed a slave with dimension, who wasn't afraid to disregard white folks' rules. He played a slave who had no problem shedding a tear when he felt the whip on his back. And he played a slave who, even after all that, still wanted to fight for his country. Washington won his first Oscar for giving audiences a complex portrayal of an expendable man who became an expendable soldier -- and proved that he would be headed for bigger and better things.
1. Malcolm X (1992)
Was there ever any doubt this wouldn't be No. 1? This is the role Denzel Washington is famous for, and for good reason. Spike Lee's epic biopic is not just a cinematic history of the slain civil-rights leader, but an opportunity for Washington to explore every facet of a character's personality. From zoot-suited hustler, to incarcerated searcher, to reborn militant, to enlightened activist, he gave us every part of Malcolm -- as well as every part of himself. Those who still think Al Pacino should've won Best Actor for Scent of a Woman that year should really sit their asses down and take this one in for a day.
Sign up here for our daily Thrillist email, and get your fix of the best in food/drink/fun.
Craig D. Lindsey is a freelancer whose work has been seen on Vulture, RogerEbert.com, Nashville Scene, and The Raleigh News & Observer. You can holler at him at @unclecrizzle.