Trump Quotes & Racist Tweets Make This Border-Crossing Movie Trailer Even Scarier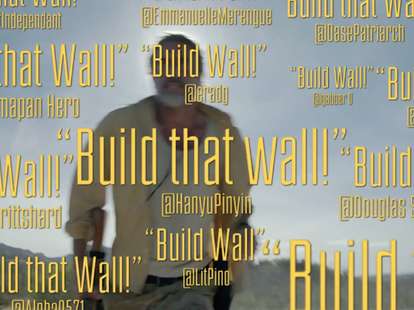 Desierto, the directorial debut of Gravity screenwriter Jonás Cuarón, is a raw and roaring survival story set against the U.S.-Mexican border. The movie stars Gael García Bernal (Y Tu Mamá También, Mozart in the Jungle) as Moises, a father desperate to cross into the States to reunite with his son, and Jeffrey Dean Morgan (The Good Wife, The Walking Dead) as an American vigilante who shoots Mexican immigrants for sport. When the hunter spots Moises and other undocumented workers traveling through the desert, he grabs his rifle and bloodthirsty dog and goes to work.
The first trailer for Desierto gives you a sense of Cuarón's bleak, sun-baked vision. Between glimpses of Bernal running for his life and Morgan blasting away from invisible vantage points are words of praise from the movie's festival run. "Swift, primal, and unrelenting," declares one critic.
That's how the American trailer sells Desierto. But in Mexico, Cuarón's movie is getting a decidedly different push. If you weren't already mulling the talking points of our current presidential election as you watched a sadistic jingoist blow away his fellow man, the Mexican trailer will clear things up.
"The U.S. has become a dumping ground for everyone else's problems," says the narration, provided by Donald Trump's campaign trail quotes. "When Mexico sends its people, they're not sending their best, they're sending their people with lots of problems. They're bringing drugs, they're bringing crime, they're rapists. It's gotta stop, and it's gotta stop fast."
A second Mexican trailer, cut and released by the international distributor Cinépolis Distribución, is even more disturbing. Swapping movie critic quotes for rah-rah fan reactions on Twitter is an en vogue marketing tactic -- see Batman v Superman's post-release commercials -- but this Desierto clip culled social media for the most shocking displays of American nationalism, intensifying the pulsing direction on display. Beware: this gets ugly.
"This guy is a total hero," one user says of Morgan's gunmen. This is the world Desierto enters when it hits theaters on October 14.
Sign up here for our daily Thrillist email, and get your fix of the best in food/drink/fun.
Matt Patches is a Senior Editor at Thrillist. He previously wrote for Grantland, Esquire.com, and Vulture. Find him on Twitter @misterpatches.