'Designated Survivor' Is the Election-Year Show We Need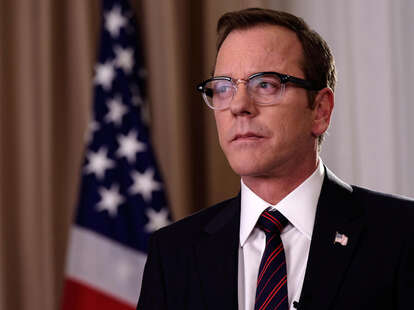 ABC
ABC
Last night's episode of Designated Survivor featured Kiefer Sutherland's President Tom Kirkman in a series of tricky moral situations where he had to make the right call. Will the new president, the former secretary of Housing and Urban Development who ascended to the office only after a terrorist attack during the State of the Union, tell the American people he'd actually been fired the morning before he took his new job? Will he discipline a disloyal staff member? Will he disown his ecstasy-dealing, EDM-loving son?
In almost each situation -- the ridiculous ecstasy plot is still unresolved -- he makes what you could call the "right" decision. He's honest and forthright with the American people. He doesn't fire the disloyal staff member out of spite, and instead gives him a promotion. Despite the fact that the nation is still reeling from an unprecedented (and still unsolved) terrorist attack, the episode ends with him getting a big hug from his adorable daughter. In the world of Designated Survivor, POTUS knows best.
If you've spent the last eight years watching popular television shows about our government, this should be pretty astounding. Over President Obama's years in office, our television dramas, and even our comedies, have become increasingly skeptical, cynical, and at times downright maniacal about the office of the presidency. In its own endearingly clumsy way, Designated Survivor pushes back against this trend.
Unlike the action-movie hero presidents we often see on the big screen, television presidents tend to be morally conflicted -- if not just straight-up evil. On Netflix's bloodthirsty House of Cards, Kevin Spacey's President Frank Underwood kills dogs and pushes journalists in front of trains. On ABC's Scandal, the unapologetically childlike President Fitz makes selfish decisions in his reckless pursuit of Olivia Pope. On HBO's Veep, Julia Louis-Dreyfus' Selina Meyer is never not petty (or hilarious) in her pursuit of power. Collectively, these shows paint a portrait of Washington as place where the virtuous and the noble are chewed up like a rack of ribs at Freddy's BBQ joint.
In addition to other TV presidents, Designated Survivor also has our Trump-powered reality to contend with. All the shows from this fall's TV season must do battle with the reality-show-like antics of the current election, but Designated Survivor, even with its far-fetched Tom Clancy conspiracy elements, is in more in direct conflict with cable news than some of the frothier shows served up by the networks this season. It's primed to serve as the perfect dose of escapism from the headache-inducing 24-hour news cycle.
As voters express distrust in both major party candidates, whether it's about their taxes or their emails, there's comfort to be found in the moral certainty of Kiefer Sutherland's voice. Though his Cornell sweatshirt and glasses from the pilot projected a nerdy, unsure quality, every episode since has shown President Kirkman emerge as righteous badass, like a modern-day Jimmy Stewart who can repair your laptop, recommend a good podcast, and kick your ass if he wanted to.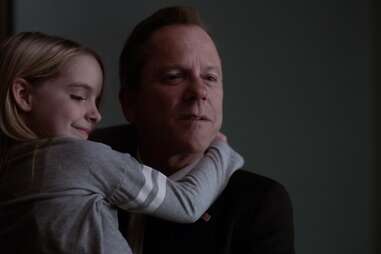 So far, audiences are tuning in to see Sutherland's steady hand. In addition to impressive ratings for the premiere, the show also set a new record for DVR viewership after its premiere. In these challenging political times, people want to watch Kiefer Sutherland be a cool president. But will that goodwill last? Or will President Jack Bauer become a more problematic figure?
It's easy to forget that 24, now fondly remembered by many as a crackerjack thriller about a guy having a series of very bad days, was also a political lightning rod when it aired, drawing criticism for the way it portrayed torture, due process, and Muslim-Americans. In comparison, Designated Survivor seems designed to be as politically inoffensive as possible: President Kirkman spends part of each episode scolding trigger-happy generals, quieting racial unrest in the country, and reassuring frightened Americans that everything is going to be OK. The nation's responsible dad is home. It's a far cry from Kevin Spacey's Frank Underwood urinating on his father's grave.
If Tom Kirkman resembles any TV president, it's probably Martin Sheen's grandfatherly Josiah Bartlet from The West Wing. But where Bartlet was a book-quoting fuddy-duddy with a Ph.D. in economics, Kirkman is a CrossFit warrior in Warby Parker glasses. He may look like a pushover, but, when the big dogs threaten him, he barks back. Hopefully, as the show evolves, we'll get to see him bite.
Sign up here for our daily Thrillist email, and get your fix of the best in food/drink/fun.