Everyone Is Losing Their Damn Minds Over the New, Good 'Detective Pikachu' Trailer
Picture this: Pikachu, the beloved furry face of the Pokémon franchise, is a detective. He wears a tiny detective hat. He solves crimes with the help of a human companion. He's voiced by Ryan Reynolds.
You may think one of these things doesn't quite fit with the others, but that's just because you haven't watched the Detective Pikachu trailer yet. If you're one of those people, please do so now, and then appreciate with us how good this movie looks and how Pikachu has huge glossy eyes and lil' forehead wrinkles.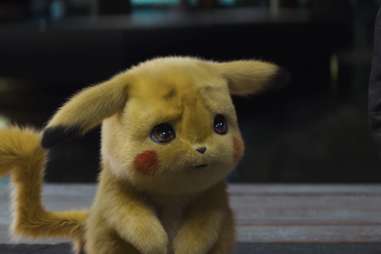 The basic plot is: In this town where humans and Pokémon chill together freely, Tim Goodman (played by Justice Smith) long ago gave up on his dreams of becoming a Pokémon trainer in favor of going corporate and, like, making a ton of money. We've all been there. But he's sad about his boring life, and when his private detective father goes missing, he teams up with Detective Pikachu to find out what's happened to him.
Tim, by the way, can understand what Pokémon say -- or at least what Detective Pikachu says -- so to his ears, when the creatures speak, they don't just sound like they're repeating their own names over and over, as is tradition in the multitude of games (two new ones are due outon the Switch this week!) and animated TV series and movies. That's where Ryan Reynolds comes in. Detective Pikachu is based on the Pokémon spin-off Nintendo 3DS game, in which Pikachu talks with you, solves mysteries, and wears a Pikachu-sized jacket in addition to the tiny detective cap.
I'd also like to take some time to appreciate how good all the animated creatures look (unlike in the recently released Mowgli trailer, where the animals look profoundly unwell). It's the best possible outcome of a movie studio crafting digitized "realistic Pokémon" (the Google results for which are cursed) that look touch-able without looking too real. Pikachu still has his teeny mouth and overly large eyes, the Bulbasaurs have their waddly stump-legs, Psyduck… looks like Psyduck, et cetera. The animators clearly took pains to stay true to the original designs rather than making Pikachu look too much like an electric mouse (which he technically is), while also adding the requisite amount of texture so that we'd believe that Justice Smith actually could place a little hat on a Pokémon's head.
The trailer is so good that the Internet has already stepped up their meme game. A common thread seems to be the fact that Ryan Reynolds also plays the foul-mouthed ex-X-Man Deadpool.
In closing, I leave you with this screencap of surly nightclub singer Jigglypuff, which I will never stop thinking about.
Sign up here for our daily Thrillist email and subscribe here for our YouTube channel to get your fix of the best in food/drink/fun.
Emma Stefansky is a staff entertainment writer at Thrillist. She still plays Pokémon GO. Follow her on Twitter @stefabsky.