Devs, a limited series set to run this upcoming spring on FX, is still shrouded in mystery. Written, directed, and executive produced by Alex Garland (Ex Machina, Annihilation), the series bears its director's speculative touch, diving into concepts like quantum computing and artificial intelligence while also juggling a conspiracy with a fictional cutting-edge tech company at the center. While we're still, at minimum, several months out from the series premiere, FX provided some insight into Devs at the 2019 New York Comic-Con. Let's take a look.
Recommended Video
This Restaurant Gives Brunch a Punjabi Twist
Is there a trailer yet?
If by "trailer" you mean "cryptic teaser with Nick Offerman whispering sweet nothings in your ear," then yes! Despite being an indeterminate number of months out from the series premiere, FX released a short teaser for the series during the 2019 New York Comic Con. "It's an amazing thing, where love will take you, the road you'll travel, the lengths to which you'll go," Offerman's character cautions.
When does Devs premiere?
The series is slated to debut on FX in Spring 2020, but it currently doesn't have a set release date.
How many episodes are there?
Devs is an eight episode long limited series. Showrunner Alex Garland has stated that the series is more like "one long movie" than a traditional TV series.
Who's involved creatively?
Devs is essentially the brainchild of film director Alex Garland, who is best known for films like Ex Machina and Annihilation. This is his first foray into episodic television; he wrote and directed all eight episodes of the series. At the show's New York Comic-Con panel, he alluded that distribution issues with some of his prior films were part of the reason that he chose to turn to TV at this point in his career. "There's something about the construct of cinema at the moment, of the nature of opening weekends, and I just thought, 'Maybe… maybe this isn't the right space for me because the stuff I do is too odd and it's not mainstream,'" io9 reports Garland saying. "So I thought maybe TV is a better home for me."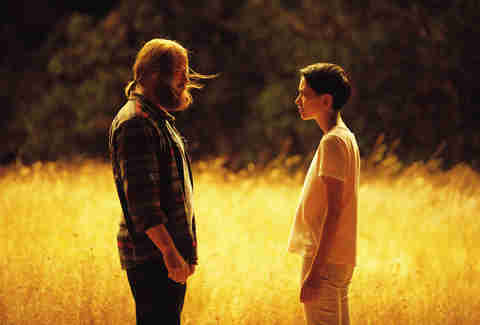 Who's in the cast?
Devs stars Sonoya Mizuno (Ex Machina) as Lily Chan, a software engineer chasing the reasons behind her husband's death. Opposite her is Nick Offerman, who plays tech company Amaya's mysterious CEO, Forest. Also rounding out the cast are Karl Glusman (Nocturnal Animals), Jin Ha (Jesus Christ Superstar Live), Zach Grenier (The Good Wife), Stephen McKinley Henderson (Ladybird), Allison Pill (American Horror Story: Cult), and Cailee Spaeny (Bad Times at the El Royale). 
Glusman plays Sergei, Lily's boyfriend; Jin Ha plays Jamie, a cyber security specialist, Grenier plays Kenton, Amaya's head of security, Stephen McKinley Henderson plays Stewart, one of Amaya's top technical minds; Pill plays Katie, a quantum physicist and Forest's second in command; Spaeny plays Lyndon, a young but stubborn member of Amaya's secret devs group. 
What's the plot of Devs?
The series focuses a young software engineer named Lily Chan working for Amaya, a Silicon Valley-based tech company. After her boyfriend dies from an apparent suicide, Lily begins to investigate the circumstances of his death, suspecting that something else is going on. She quickly realizes that all of the clues lead back to Amaya's CEO, Forest, and Devs, the company's secret development division. In researching her boyfriend's death, Lily ends up uncovering a tech-based conspiracy with the potential to change the world. 
Io9 reports that, based on information divulged at the New York City Comic-Con panel, the show dives deep into heavy technological concepts like artificial intelligence and quantum computing. Garland said that he originally got the idea for Devs while thinking about determinism, and the theoretical belief that a superpowered computer that could theoretically predict the future. Sounds fun!