'Dickinson' Is the Perfect Show to Usher in the Fall of Big, Sad Feelings
Taylor Swift, Adele, and Emily Dickinson should all be on your radar this month.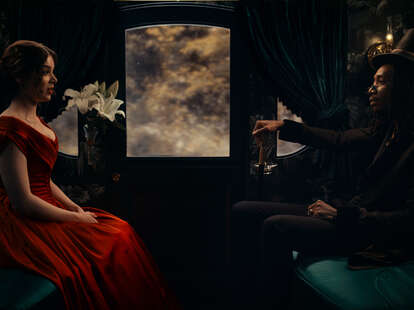 The third and final season of Dickinson opens at a funeral. It appears at first to be a memorial for a Union soldier, but it turns out to be Emily's aunt. The minister has no time for this. There are more important dead people to attend to. The Dickinsons are left unmoored. On the way home, Emily (Hailee Steinfeld) hitches a ride with her old friend Death (Wiz Khalifa), who is in a foul mood because his work isn't as fun as it once was. Emily is invigorated thinking she got a sign from beyond the grave to continue her work.
It's a scene that's a wonderful example of what Dickinson has deftly been able to do over its short but sweet run on Apple TV+, melding the absurd with the morbid. It also proves that the series is the perfect way to inaugurate what is set to be a banner season for girls and their feelings.
Dickinson premieres this Friday. The next, Taylor Swift re-releases her most autumnal and most sorrowful album, Red. The following week, the queen of sobbing into your warm mug of cocoa Adele comes out with 30, her first album in six years. The season has already been dubbed "sad girl autumn," with a trend story in NBC News making the term official. With Dickinson, it's really kicking off.
The series may seem like an odd choice to lump in with these pop landmarks. Sure, Swift and Adele are great songwriters, but should they really be compared to one of the greatest American poets? That's actually the game showrunner Alena Smith has been playing this whole time.
When I spoke to Smith back when Dickinson was part of Apple TV+'s launch in 2019, she compared Emily to Billie Eilish. "I've heard this phrase that Billie Eilish's music has been described as 'gloom pop,'" Smith said. "I think that is the right phrase for the aesthetic of Dickinson as well. I think we live in a gloom pop moment."
Out of context, it's a comparison that sounds silly, but Smith has been able to successfully draw the line between the present and past beyond simply the use of modern language and current music, and her experiment has gotten only more successful as the narrative has progressed. This season, for instance, Emily is trying to figure out her place as an artist in an unsettled world and how she, a secluded white woman, can write in a way that moves people beyond her sphere. (While focused on Emily, each season Dickinson has made strides in depicting race. This season follows Chinaza Uche's Henry as he ventures South to get a job teaching a regiment of Black soldiers, and gives an expanded storyline to dressmaker Betty, played by Amanda Warren, who is helping Sojourner Truth, Ziwe in a cameo, write her autobiography.)
One of the reasons Dickinson works alongside Swift and Adele for the autumnal cry season is the aesthetic, of course. Smith and her writers have milked their settings' quaint New England rites for all they are worth. In the second episode of this season, there's a party scene set to Tkay Maidza's "Syrup" where the local young people engage in the seasonal tradition of "maple sugaring." At one point, Emily and her sister, Lavinia (Anna Baryshnikov), attend a quilt fair. This is the shit fall was made of. And yet Dickinson is also a show about longing. Fans have gravitated to the clandestine romance between Emily and her friend/sister-in-law Sue (Ella Hunt) more than anything else on screen. Sue's very pregnant at the start of Season 3, and still their interactions are devastatingly sexy. But Dickinson also finds a way to make reading Walt Whitman sexy. It just has that power.
So in the coming weeks, as you're strolling around leaf-covered streets—or imagining you are doing so if you don't happen to live in that climate—and listening to Taylor Swift wail about leaving her scarf at Maggie Gyllenhaal's house or Adele lamenting her divorce, remember to turn on Dickinson when you get home. It will fit right in with the mood.