There can be (way more than) 100 of the biggest celebs in showbiz in the same room, but there's only one who really matters: Lady Gaga. This isn't the first Oscars the titular star of A Star Is Born has been celebrated at -- she was nominated for Best Original song in 2016 for "Til It Happens To You," featured in the campus sexual assault documentary The Hunting Ground -- but it is a huge year for Gaga, née Stefani Germanotta. Her wrenching performance as Ally, opposite Bradley Cooper's Jackson Maine, in ASIB catapulted the already super-famous pop singer to a new plane of celebrity. No longer is she merely the avant-garde wild card who'll show up on the red carpet in a meat suit; she's ascended to near-deity status, reigning in her characteristic unpredictability for yet another personal pivot to flawless, untouchable star who still celebrates her roots.
At the 91st Academy Awards, Lady Gaga is back in the running for best song with "Shallow," an all-but-certain Oscar victor that's already taken home a bevy of awards, and is a Best Actress nominee for the first time ever, an award combination that's never happened before. In the awards circuit, she's impressed us with her chic red carpet looks, made fast friends with The Wife herself, Glenn Close, and blew us away with her performance at the Grammys. We're desperately awaiting her performance of "Shallow" with Bradley Cooper at this host-less, controversial Oscars and her tearful speech when she wins her first Oscar. As the most exciting star of this Oscars (this year's Timothée Chalamet, if you will, with all apologies to Richard E. Grant), we decided to follow Lady Gaga's big day for all the little monsters out there. Follow along.
Recommended Video
Thrillist's Best (and the Rest): The Truth Behind the Saddest Cookbook Ever
Friday, February 22: The pre-Oscars party
Backdating is maybe cheating, but Friday's pre-Oscars party included a piece of spicy gossip that bears reporting here. Gaga, who recently announced her breakup from fiancé Christian Carino, was reportedly "in a corner together all night" talking with Cooper, according to Us Weekly. (The exes also briefly said hello to each other.) But what does it mean??? Is Cooper on the cusp of breaking up with his long-time Russian model girlfriend Irina Shayk with whom he has an almost 2-year-old child?? Is Gaga and Cooper's on-screen chemistry manifesting off-screen (finally)????? Inject the costars' well-documented admiration for each other directly into my veins. May the prophecy be fulfilled and bring about world peace.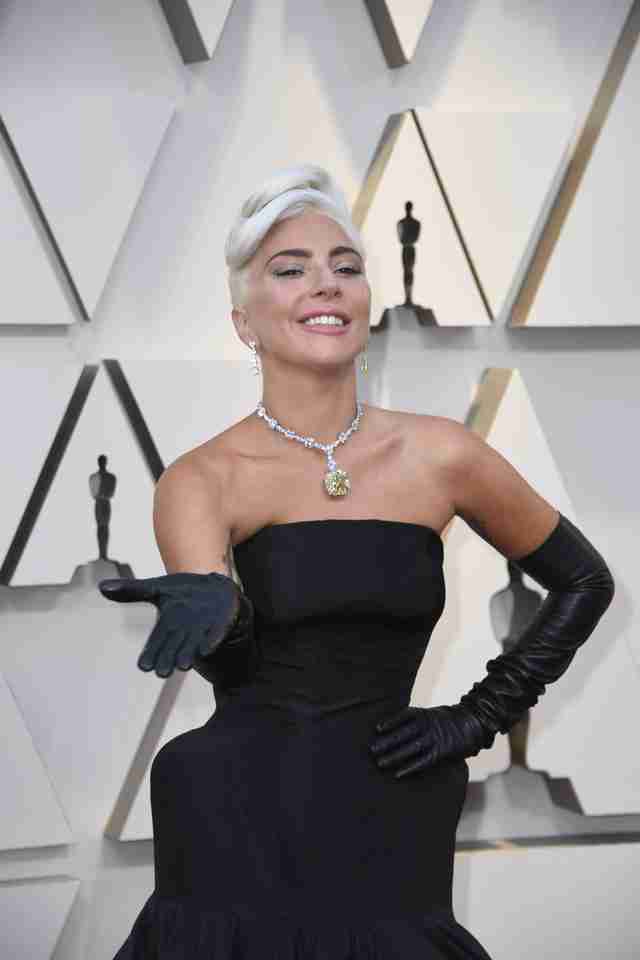 Oscars Day, Sunday, February 24, 7:37pm: GAGA ARRIVES!!
She's here in a classic-as-it-comes black Alexander McQueen dress, elbow-length leather gloves, and very, very expensive and iconic Tiffany's necklace. The reaction tweets rolled in:
8:00pm: Gaga says hello to everyone
Nothing but kindness to her competitors from my generous Gaga. She even gave Rami Malek a little bowtie straightening.
8:02pm: Gaga loves Queen!
Despite being not a very good opening performance by Adam Lambert and the rest of Queen singing bits of "We Will Rock You" and "We Are the Champions," Gaga loved it! It's probably just all that Oscars energy!
8:08pm: Gaga loves jokes!
We got our first glimpse of Gaga -- who is conspicuously sitting next to Irina and NOT Bradley -- on the Oscars telecast during the opening monologue given by Maya Rudolph, Tina Fey, and Amy Poehler. Rudolph went for singing the "aaAAAAAaAaaHHhhhh" bridge from "Shallow," which our girl Gaga seemed to enjoy very much.
9:13pm: Light on Gaga, high on drama
The first third of the ceremony has been suspiciously light on Gaga shots, but Twitter is loving The Tension that, even with just a few shots, is apparently palpable between the love triangle that is Gaga, Bradley, and Irina.  
9:50pm: Oscars break, please enjoy this Twitter art
As we twiddle our thumbs until the performance of "Shallow," please do not sleep on writer Joanna Rothkopf's Twitter bit that she's been cultivating for months. This is True High Art.
10:00pm: IT'S "SHALLOW" O'CLOCK
I HAVE CHILLS!! KISS KISS KISS KISS KISS!!!
Let's walk through this real quick. First, the walkup:
Then Bradley crooned to Gaga:
Then it was Gaga's verse, where a big ass Steinway was rolled out and ready for her to play live:
Then, everyone watching the Oscars died:
Watch the entire performance:
10:27pm: "SHALLOW" WINS BEST SONG!!!
I mean, we knew this was coming... but still!!!! Lady Gaga gave an impassioned, earnest acceptance speech about working hard, all through tears. Congrats to Gaga and co. for her first Oscar victory!
Watch the entire acceptance speech:
10:33pm: Gaga needs a drink
Same.
10:59pm: Gaga lost, but Best Actress, but it's fine!
Olivia Colman won for portraying Queen Anne in The Favourite, and that's really good! Gaga, who looked stoked for her fellow nominee, even got a shoutout from Colman in her acceptance speech!
11:15pm: Goodnight to Bradley Cooper's mom.
She wore really good sunglasses all night. 
11:43pm: Getty Image Lady Gaga photo dump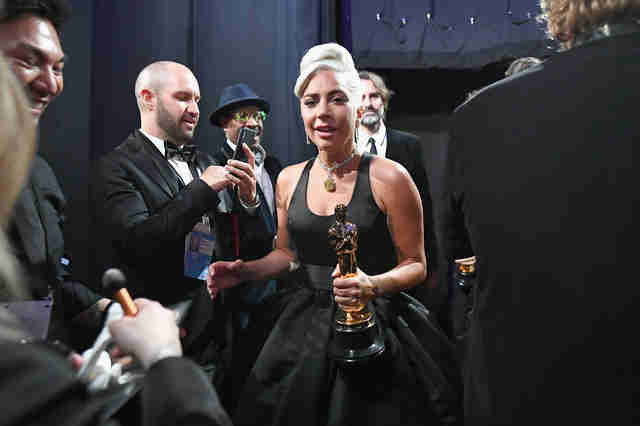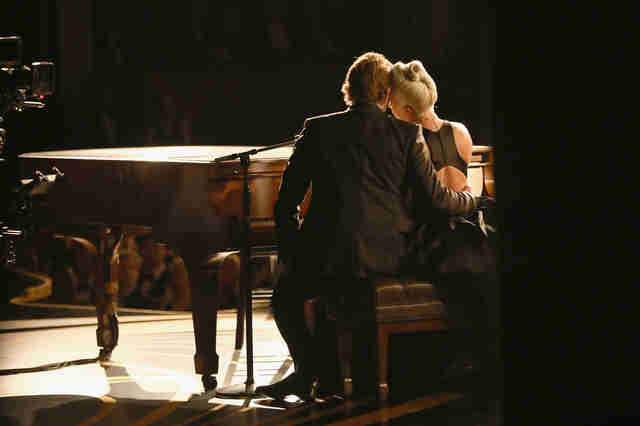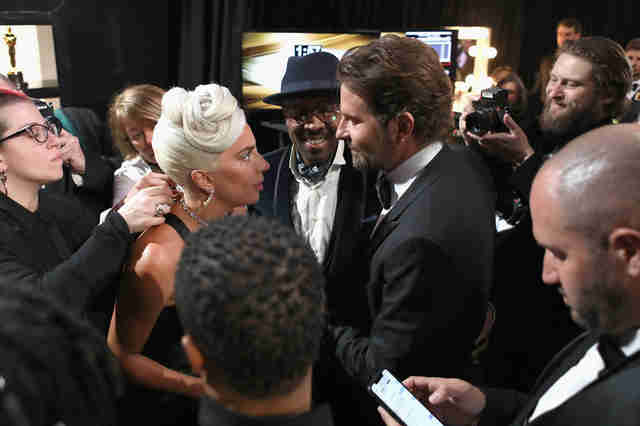 After parties: Gaga at Governor's Ball
At the official Oscars after party, Lady Gaga briefly mingled with her fellow trophy winners of the evening. Notably, she chatted with Ludwig Goransson, who won Best Original Score for his work on Black Panther.
After parties: The Vanity Fair party entrance
What is an Oscars without a lavish afterparty that normies like me aren't invited to? Arriving at VF's annual event, Gaga connected with her statue on, like, a spiritual level:
She also got her requisite solo photo shoot with her Oscar:
She snagged a photo with a few other huge names in music. Besides cowriting partner on "Shallow" Mark Ronson, here she is with Beck and Halsey.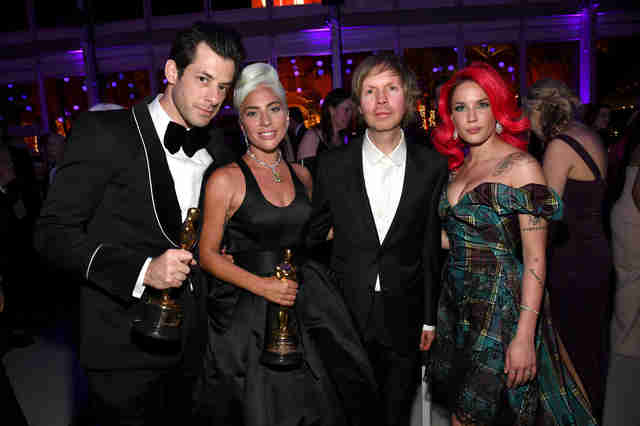 Walking around the party, she seemed in a daze, which... yeah, same! Here's a video pulled from director Eli Russell Linnetz' Instagram story:
From the party photos from last night, it seems like Gaga and Linnetz were running around the party together, at least briefly:
After parties: Gaga hangs out with Madonna
At Madonna and Guy Oseary's post-game party, Lady Gaga apparently buried a long-running feud with Madonna with some very intensely posed photos.