Everything We Know About Discovery+
The new streaming service from Discovery is here.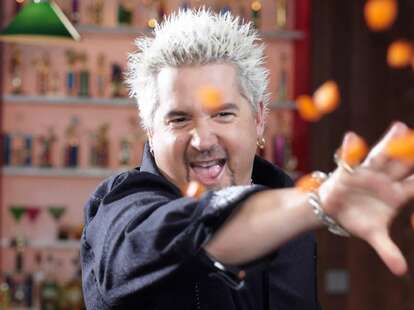 Every time you think you've subscribed to enough many streaming services already, a bold new entry comes along hawking its wares. The latest competitor to join the streaming wars: Discovery, Inc.'s Discovery+, which launched January 4, 2021. [Disclosure: Discovery is an investor in Group Nine Media, which owns Thrillist.] Billing itself as "the definitive non-fiction, real-life subscription streaming service" to differentiate itself from the likes of Disney+, Apple TV+, HBO Max and NBC's Peacock, Discovery+ offers original shows and a library culled from Food Network, HGTV, Travel Channel, and Discovery, Inc.'s other lifestyle networks. To help you determine whether it's right for you, here's what we know so far about Discovery+, including price, content and other important details.
What is Discovery+?
Coming from Discovery, Inc., Discovery+ is a streaming service that features the ability to watch not only all new, exclusive shows, but popular releases from the company's networks, including Animal Planet, Discovery Channel, Food Network, HGTV, ID, OWN, and Travel Channel. According to a press release, based on partnerships with A&E Networks and BBC, it'll also feature content from A&E, The History Channel, Lifetime, and BBC's Natural History Collection, as well as from Thrillist's parent company, Group Nine Media.
So, figure this streaming service your destination for nonfiction viewing, covering everything from science and adventure to food and lifestyle. It's where you'll find BBC's acclaimed Planet Earth franchise to get blown away at the natural world, put on your tinfoil hat for some Ancient Aliens, and everything in between.
When does Discovery+ launch?
Discovery+ launched on Monday, January 4, 2021. At its debut, the streaming service had over 50 new original series available, as well as 150+ hours of exclusive content from Discovery's brands and partnerships. Following the launch date, even more originals are set to premiere and more series should be made available throughout the year.
How much does Discovery+ cost?
The cheapest, ad-supported subscription plan for Discovery+ costs $4.99 per month, and the next tier, which is free of ads, runs at $6.99 per month. That's definitely on the cheaper end of the streaming subscription plan spectrum, with Netflix now costing $13.99 per month and HBO Max at $14.99 per month. Although NBC's Peacock's most basic plan is free with ads, Discovery+ is comparable to its without-ads plan of $4.99, and its $6.99 plan is the same as the monthly price of Disney+. You can sign up (and try out the seven-day free trial) here now.
Are there any sign-up deals?
If you're a Verizon customer, you could be in for a free subscription. According to a press release, those who already have the Play More or Get More Unlimited Plan, or who sign-up for them, will get 12 months of Discovery+ free. Those on or new subscribers to Verizon's Start or Do More Unlimited plans are also in for a deal, but for six months free. You can check your eligibility here.
What shows are available at launch?
Right off the bat, Discovery+ has both licensed series you might already be familiar with and new original shows available to watch. A&E's Ghost Hunters, BBC's Blue Planet, HGTV's Property Brothers, History's Pawn Stars, TLC's Dance Moms and 90 Day Fiancé are just a few of the shows you're probably used to catching on cable that hit Discovery+ on day one and you can now watch at your leisure. And as for the all new originals, a whopping 54 debut on the streaming service immediately. (Details on those below.)
What original shows are coming to Discovery+?
A massive slate of originals are headed to Discovery+—some spun-off of already existing properties and featuring network stars you know and love, and some entirely new. Falling into categories of automotive, food, home, lifestyle, nature, science, and animals, paranormal and the unexplained, and true crime, there's a little something for everybody, and a whole lot for the curious-minded.
At launch, some exciting new titles include Bobby and Giada in Italy, a culinary travel show hosted by celebrity chefs Bobby Flay and Giada De Laurentiis, a comedic cooking show with Amy Schumer called Amy Schumer Learns to Cook: Uncensored, spin-offs of 90 Day Fiancé and Ghost Adventures, Frozen in Time, a design show focused on flipping homes with dated interiors, nature shows like Mysterious Planet narrated by David Schwimmer and Elephant Hospital, a new reality show, This Is Zit, featuring TLC fan favorite Dr. Pimple Popper, and a new competition series, Race Across the World. Full-length documentaries are available as well, like true crime additions JonBenet Ramsey: What Really Happened? and Onision: In Real Life about a controversial YouTuber named Greg "Onision" Robinson. A select offering from HGTV's beloved Fixer Upper stars Chip and Joanna Gaines' Magnolia Network will also be available, including the cooking show Magnolia Table with Joanna Gaines and the first episode of a select number of other Magnolia Network shows that will debut in full later in 2021.
There's a lot of originals to check out right away, but that's just a smattering of what will be exclusive to the platform. In its first year alone, Discovery+ plans to roll out more than 1000 hours of original content, so expect to discover even more later on.
Need help finding something to watch? Sign up here for our weekly Streamail newsletter to get streaming recommendations delivered straight to your inbox.