The 2021 Puppy Bowl Lineup Is a Treat, As Always
The 2021 batch of pups are here to win your heart.
This is Jiffy, an American Staffordshire Terrier.

| Elias Weiss Friedman/Animal Planet
This is Jiffy, an American Staffordshire Terrier.

| Elias Weiss Friedman/Animal Planet
There is truly no more joyous occasion each winter than the annual reveal of the Puppy Bowl lineup. Each year before the "Big Game," the "Big Game" being the Puppy Bowl, Animal Planet releases a slideshow of the "players," the "players" being the adorable pups that will participate in the rumble.
Look, the rules of the Puppy Bowl, now in its 17th edition, are amorphous. The fun is all about cooing over cute puppies tripping over themselves and being cute, and the announcement of the starting lineup gets right to the point. You get to scroll through photos and pick your favorites based on completely unscientific data, like "whose face do you want to smoosh the most?" This year, I'm particularly leaning toward rooting for Team Fluff, based on the fact that it has this Chow Chow/Irish Red and White Setter mix named "Chunky Monkey" on its roster. Chunky! Monkey! Don't you just want to hug his floofy body? Isn't he such a mush?
Joined in floof-dom, Chunky Monkey will battle alongside Fozzie, a Norwegian Elkhound mix who seems like a conscientious objector to the mere idea of competition.
On the opposing Team Fluff is the Belgian Malinois/American Staffordshire Terrier mix Argos, who will surely someday become a giant.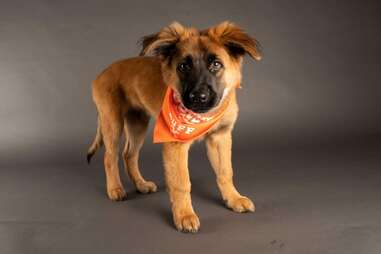 Argos will compete together with the likes of Gus, a Beagle/Cocker Spaniel mix who can do no wrong in my eyes.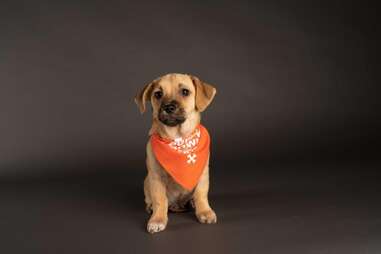 The great thing about the Puppy Bowl is that it really doesn't matter who wins and you don't have to think about Tom Brady for even a single second. Also, all the participating pups are rescues who are up for adoption. The show will air on both Discovery+ and Animal Planet on at 2pm ET on February 7, which, also, yes, happens to be the day of the Super Bowl.
Need help finding something to watch? Sign up here for our weekly Streamail newsletter to get streaming recommendations delivered straight to your inbox.