Daniel Fishel/Thrillist
Daniel Fishel/Thrillist
The Untold Story of Disney's Long-Rumored, Villain-Themed 'Dark Kingdom' Park
Welcome to Urban Legends, a month-long collection of articles dissecting persistent myths, unexplained phenomena, shared nightmares, and tales so bizarre they can't possibly be true... or can they?
"Anyone know what will come of The Villains Park (Dark Kingdom) concepts?"
Three years ago, a Disney fan hoping for updates about a supposed all-villains theme park that Disney would nestle alongside its other properties in Central Florida posted that inquiry to Reddit. In response, someone linked to an equally vague post on the WDW Info webpage about Disney parks that were never built. More posts popped up in 2016, fueling the mystery. Earlier this year, another Reddit user linked to a post on the Berlin-based news-and-rumor site MoviePilot, and just this June, the tourism site Travel Whip revved up the rumor. Again and again the concept of a Dark Kingdom park was reiterated, and again and again the response attracted believers and skeptics alike. Round and round the discussion went, like the Mad Tea Cups and Dumbo the Flying Elephant rides at Disneyland.
Every post devoted to the Dark Kingdom features the same basic skeleton: Disney had (or has?) plans to carve out part of its Walt Disney World complex and hand it to the brand's rogues gallery. Instead of being relegated to the parks' Halloween celebrations, villains like Ursula, Captain Hook, Maleficent, Gaston, the Evil Queen, and even Oogie Boogie from The Nightmare Before Christmas would get their chance to shine year-round in ghoulish shows and attractions.
Except that this park never existed -- not even in some rough conceptual form. As Disney historian Jim Hill told me, "The idea of the Dark Kingdom seems to have basically come from the internet, with no basis on anything concrete." Or, as one former Imagineer familiar with actual proposed projects and the online rumors puts it, "An entirely villains-centered park is complete bullshit."
The story of the Dark Kingdom isn't unfounded, instead the unlikely synthesis of hearsay, years of disparate (and wholly unrelated) projects, snowballing half-truths, wispy rumors, an aggressive consumer product line that's captured the imagination of acolytes, and Disney's inability to formally comment on park plans. And the legend's origin traces back to a single day in Disney history: July 11, 1986.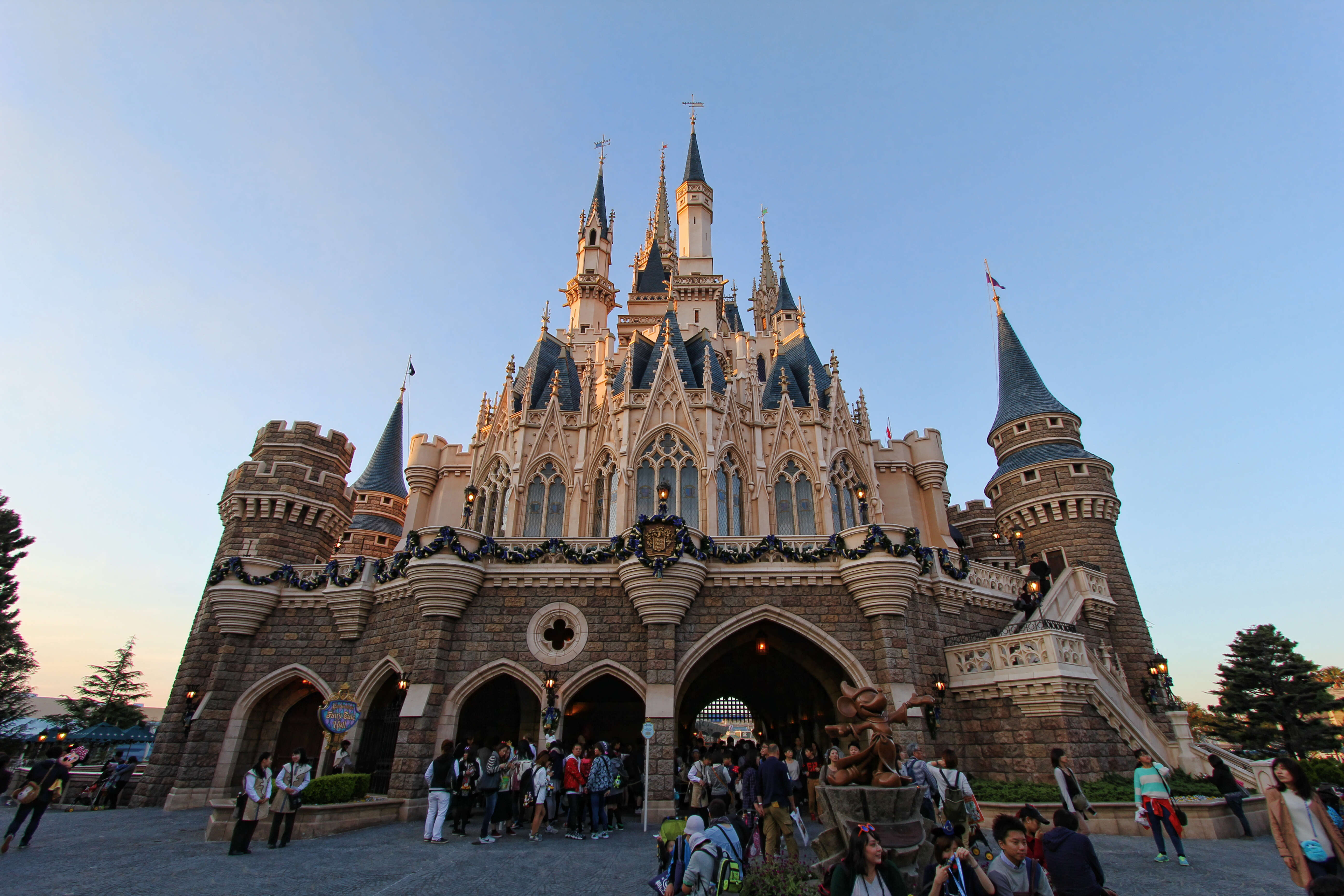 The freedom to be villainous
Tokyo Disneyland, Disney's first international theme park, opened on April 15, 1983 and swiftly established itself as something different than its California namesake. While largely designed by Walt Disney Imagineering, the secretive group of engineers, artists, and technicians that work out of a rambling collection of buildings in Glendale, California, Tokyo Disneyland wasn't technically owned by the Walt Disney Company, but by Oriental Land Company, a Japanese conglomerate of hotels, transportation outfits, and restaurants. Under OLC, the Imagineers weren't hampered by the financial constraints or synergistic obligations that could foil ambitious projects elsewhere.
Cinderella Castle Mystery Tour, which opened on July 11, 1986, was an emblem of that outside-the-box thinking. "The idea was to do a Haunted Mansion-type experience but not the Haunted Mansion," former Imagineer Mark Eades, who helped design the amazing video effects in the attraction, told me.
The Mystery Tour mirrored the experience of the Sleeping Beauty Castle tour in Disneyland, but with a twist. Cast members warning participants that the experience might be too intense was just the beginning; as a cheery tour guide ushered tourists through the castle, the Magic Mirror from Snow White and the Seven Dwarfs appears, irked by the guide's disparaging remarks about villains. In a flash, the portraits on the walls mutate, turning Pinocchio's face into a painting of Stromboli. A secret passageway opens up, leading the tour (and your terrified tour guide) through a number of show scenes: the Evil Queen's laboratory (complete with poison-dipped apple); ghastly spirits; the Chernabog from the "Bald Mountain" segment of Fantasia (crowd-pleaser!); and those creepy gnomish goons from Sleeping Beauty.
At the very end of the tour you come face-to-face with the Horned King, the big bad from The Black Cauldron, the notorious animated flop that had been released in America less than a year before the Japanese Mystery Tour opened. The Horned King Audio-Animatronic figure was one of the more sophisticated figures in existence, and visitors used light swords to "vanquish" him, a welcome lesson that good ultimately conquers evil. Cinderella Castle Mystery Mansion also taught park-goers that spending time with the Disney villains could be really, really fun.
Clearly, someone at the company noticed.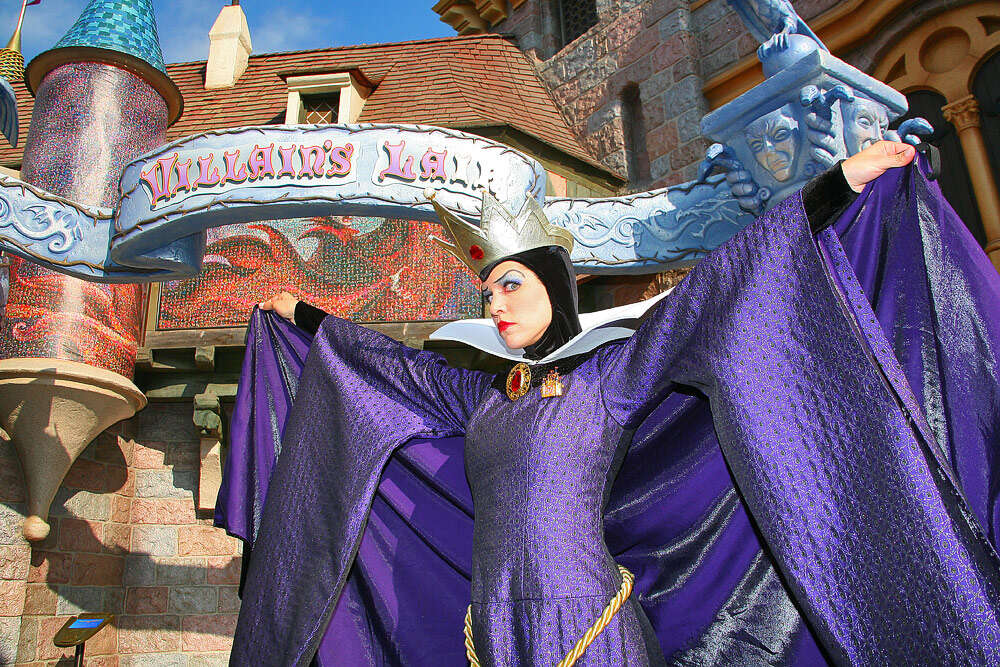 Bringing the evil stateside
The first attempt at stateside villainy came with the establishment of Fantasyland's Disney Villains shop, which opened in July 1991 to sell spooky merchandise centered around the hero counterparts. The shop closed in 1997 when it was used to sell merchandise from The Hunchback of Notre Dame -- yes, Disney dedicated prime real estate to a store exclusively hawking Quasimodo plush -- but returned in 1998 as Villain's Lair. A second shop, Villains in Vogue, also opened on September 14, 1998 at Disney's Hollywood Studios (then known as Disney-MGM Studios) in Walt Disney World.
Around the same time, Disney plotted its next move for space previously occupied by Walt Disney World's 20,000 Leagues Under the Sea: Submarine Voyage, a sprawling attraction and operational nightmare that broke down for good in 1994. The open real estate put Imagineering (in California) and Walt Disney World operations (in Florida) at constant odds, with team members from both sides proposing ideas (including a Harry Potter-themed land back when Disney had temporarily secured the theme park rights from J.K. Rowling). The two attractions eventually built in that space – a character greeting space for Ariel from The Little Mermaid and a play area themed to Winnie the Pooh – were safe options. But one rejected idea for the 20,000 Leagues space would warp the Dark Kingdom narrative forever.
Villain Mountain was pitched as Magic Kingdom's second flume ride after Splash Mountain. Riding Hades' underworld boat from Hercules, guests would run into classic Disney villains before the grand finale: a run-in with a towering, Audio-Animatronic version of the winged demon Chernabog from Fantasia. A steep flume chute provided an escape route, returning the vessel to the safety of Fantasyland. The current internet rumor mill suggests that then-Disney-CEO Michael Eisner, nervously anticipating the opening of Universal Orlando's second gate, Islands of Adventure, in the summer of 1999, adored the concept. True or not, it didn't go beyond lavish concept art.
"[Villain Mountain] was just a concept," said Eades. "I can't emphasize that enough. People say, 'They were going to build that,' but they have no idea. It was never more than a concept."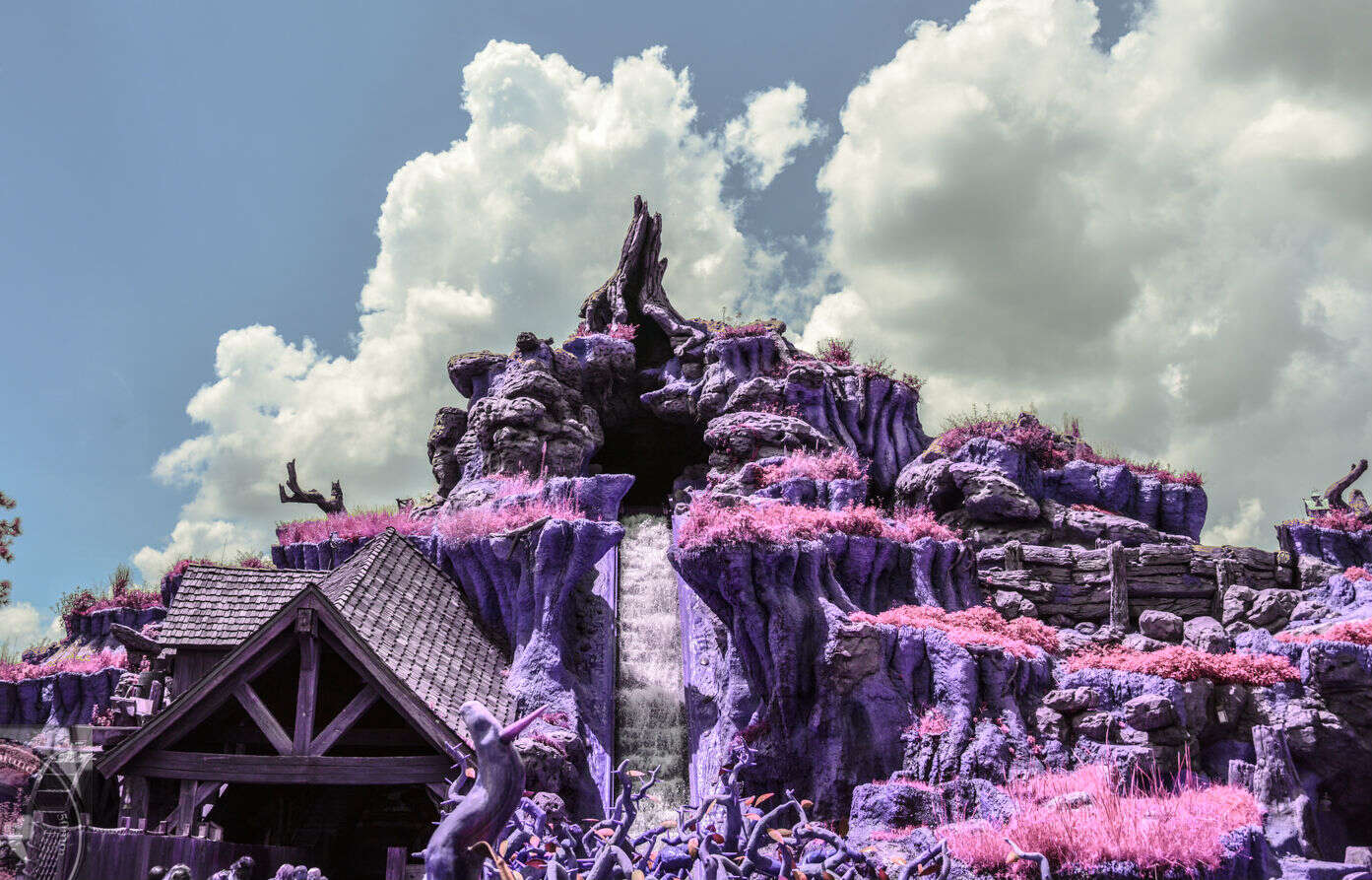 An ambitious Fantasyland expansion continued to fan Dark Kingdom rumors. In 2014, Disney unveiled the Seven Dwarfs Mine Train attraction, a family-friendly roller coaster with the most state-of-the-art Audio-Animatronics ever including a truly uncanny version of Snow White's Evil Queen (in old hag guise). Another staple of the new land was a character meet-and-greet with Gaston, who could be spotted outside of a tavern that bears his name. The villains were still there, but an attraction devoted exclusively to their exploits remained out of reach.
By the time that New Fantasyland opened, however, the villains had been commoditized and packaged into a single brand: Disney Villains. Disney Consumer Products chairman Andy Mooney, who devised the official Disney Princesses line after seeing a gaggle of girls dressed in homemade costumes standing in line at a Disney on Ice show, stepped in to integrate the darker take into the public conscious. They weren't as many constraints on the brand as with the Disney Princesses (who couldn't look at one another or appear to be in the same physical location); acting rascally was part of their commercial identity. The grouping maintained core Disney Villains like the Evil Queen and Hook, alongside newer staples like Jafar and Ursula. More recently, Oogie Boogie from Tim Burton's The Nightmare Before Christmas has joined the ranks of a flood of villain merchandise, including officially licensed handbags at Hot Topic and a cavalcade of T-shirts sold in the New Orleans Square section of Disneyland. (An official Instagram account for the brand was started earlier this year.)
With the audience primed, surely the all-villains park must be on the way? The answer is no, although a pair of projects in the late-2000s would certainly confuse those who desperately wanted these rumors to be true.
New parks, new confusion
Disney's California Adventure, a long-in-development second gate for the Disneyland Resort in Anaheim, California, opened on February 8, 2001. An odd hodgepodge of abandoned ideas from other parks like the Port Disney project in Long Beach, a proposed West Coast version of Epcot, and the failed Disney's America theme park (which was to be nestled near Washington, DC), the park was meant to celebrate the historic and cultural significance of California. This meant that there were huge tonal inconsistencies, very little Disney IP, and a clear lack of cohesive vision. Veteran Imagineer Marty Sklar, who passed away earlier this year, famously said of the park: "I liked it better as a parking lot."
Attendance was just as poor. Sources say that there were days when as few as 400 people waltzed through the turnstiles. By the end of 2001, more than 12.3 million people had visited Disneyland, while only 5 million visited Disney's California Adventure, a park that was literally steps away.
Almost immediately, management stepped in to revamp the park. When Disney acquired Pixar in 2007, they installed John Lasseter as Imagineering's Principal Creative Advisor. One of his first orders of business was the installation of Blue Sky Cellar, a kind of three-dimensional coming attractions for events and rides headed to the park, inside Disney's California Adventure. Unveiled in the cellar was a redo of California Screamin' roller coaster, themed around the Disney Villains. Cars would zoom past giant props associated with Disney Villains: Jafar's staff, the Evil Queen's crown, and, of course, Captain Hook's hook. This retrofitted coaster would be part of a small area dubbed Villain Village that would also include an Ursula spinner (left over from another abandoned Little Mermaid project). But despite Villain Village being part of the public-facing showcase to energize California Adventure, the plans never came to fruition.
"That was another concept," Eades told me.
Muddying the waters further is the fact that a Disney Park with a deceptively similar name to the so-called Dark Kingdom was very much in the works in the late 2000's. In early 2008 historian Jim Hill wrote a huge report on Night Kingdom, a $520-million project akin to Sea World Orlando's insanely popular Discovery Cove. But instead of swimming with dolphins, Night Kingdom guests would observe nocturnal predators as they went about their business. "Night Kingdom was never going to be about the villains," Hill pointed out. "Between looking at nighttime animals like hyenas and the spelunking bat caves and zip lines and all of that, it was never built around the villains." Disney themselves knew that the name was confusing and, in the months that followed, changed it a number of times before abandoning it altogether. By the end of 2008, plans for Night Kingdom fell by the wayside, in large part due to the hiccuping economy and guest surveys that suggested that people weren't all that interest in an exclusive (and expensive) nighttime-only park.
Why everyone loves a villain (and the idea of a villain park)
In the years that followed, Disney Villains became an even greater part of the corporation's business, even if they failed to materialize concretely in the parks. Maleficent, starring Angelina Jolie as the self-described Mistress of Evil from Sleeping Beauty, made nearly $800 million in 2014. (Jolie recently said that a sequel was moving forward.) Additionally, plans are underway for a Cruella de Vil origin film to star Oscar-winner Emma Stone. On the Disney Channel, Descendants, a live-action made-for-TV movie about the children of famous Disney villains, was a ratings smash. The 2015 film got a sequel this past summer; more than 21 million people watched.
The villains continue to claim stakes in the parks, too, but in a different way than most had hoped. In 2013 a 13-hour Disney Villains event, entitled Villains Unleashed, was a sensation at Disney's Hollywood Studios. Guests waited for hours to get their one-on-one time with some of Disney's most fearsome foes. The following year a hard-ticket event (also called Villains Unleashed) returned to Disney's Hollywood Studios with even more evildoers, including obscure picks like Dr. Hämsterviel from Lilo & Stitch, Shan Yu from Mulan, Hector Barbossa from Pirates of the Caribbean, Bowler Hat Guy from Meet the Robinsons, and Constantine, Kermit the Frog's evil doppelgänger from Muppets Most Wanted.
Believers clinging to the Dark Kingdom urban legend will never hear Disney dispute the rumors because, as they say, no idea totally goes away at the company. If the Villains Mountain sounded familiar, it's because that's almost the exact layout and narrative of Expedition Everest: Legend of the Forbidden Mountain, the "mountain" coaster at Disney's Animal Kingdom, which opened on April 7, 2006. Ditto the idea of a nocturnal animal experience like the Night Kingdom eventually made its way to Animal Kingdom in the form of a nighttime safari. Instead of issuing statements on what won't happen, Disney will often pivot to something that is actually in the works. During my research for this piece, a former Imagineer told me that a Marvel-only theme park was developed, five separate attractions were designed around Brad Bird's The Incredibles, and at one point a dog-friendly version of the Magic Kingdom was in the works, complete with a castle made of bones. Who knows where those concepts will turn up next or what form they might take next.
"There's the way the public thinks Disney works and the way it actually works," Hill explained. "The Dark Kingdom is a fantasy online because it's easy to build a park entirely out of rollercoasters or a place that celebrates Disney Villains. The hard reality is that since they opened Disney's Animal Kingdom, they haven't been about adding a fifth park because when they added the fourth one, it cannibalized attendance at other parks. It speaks volumes that Disney is spending $600 million [or more] on Star Wars: Galaxy's Edge, when they spent two-thirds of that to build Animal Kingdom. It's more about making what we have here work."
The final nail in a Dark Kingdom coffin is Disney's current stance on antagonists: while the classics run rampant, the current movies rarely generate a new Captain Hook or Evil Queen. This largely has to do with Pixar's approach to villains. Filmmakers who have worked for the company have stated that instead of featuring villains, Pixar films feature complicated characters that sometimes make bad decisions. (It should be noted that this isn't an official stance, but looking at the Pixar filmography it's easy to see.) Walt Disney Animation Studios, now overseen by Pixar bigwig John Lasseter, adopted the thinking, too; Zootopia had backstabbing bureaucrats instead of a mustache-twirling heavy, while Moana had some narcissistic crab and a faceless volcano monster. The closest thing Frozen, the biggest Disney movie ever, has to a villain is a bad boyfriend.
Like many great legends, the Dark Kingdom is really fun in theory. Because as fun as it is to be around the villains for a few hours, it might be a drag to spend a whole day with them. "An all-villains park doesn't work because it's kind of like yin and yang. You can't have one without the other," one former Imagineer said. In other words, you can't luxuriate in the darkness without some of that quintessential Disney magic.
Sign up here for our daily Thrillist email and subscribe here for our YouTube channel to get your fix of the best in food/drink/fun.

Drew Taylor is a lifelong Disney enthusiast and Contributing Editor at Moviefone. He has contributed to
Vulture
, The Playlist, Collider, and
Vanity Fair
. Follow him on Twitter at @DrewTailored.