People Got Super Pissed That Disney+ Didn't Work at Its Launch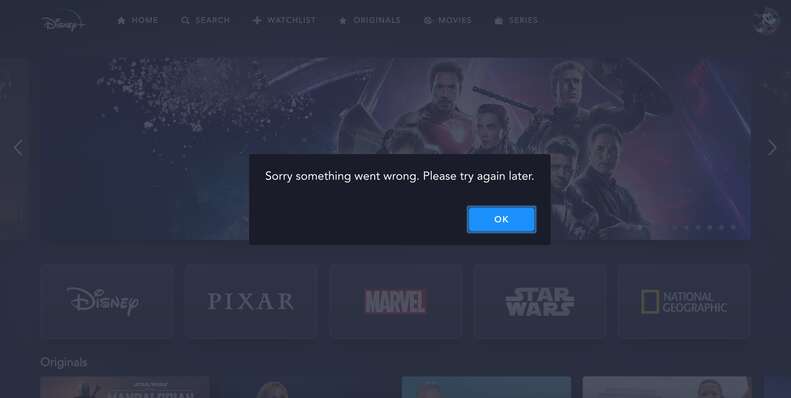 Even Disney, the mega-profitable giant that will one day own every media operation in America and possibly the world, has problems. The highly anticipated launch of its standalone streaming service, Disney+, came Tuesday morning and presented the world with error messages and spinning buffer wheels across platforms as the masses tried their damndest to stream The Mandalorian, Toy Story 3, Secretariat, and Blank Check to start their days. The loading issues were reported on desktop, and the Disney+ iPhone, Roku, Xbox, Apple TV, and PlayStation 4 apps, though without consistency from person to person. Amazon Fire Stick users seemed to dodge the whatever tech problems plagued everyone else.
According to a tweet from the service's verified account, the streaming demand "exceeded our highest expectations," causing slowdowns and outages across the country.
As is the case with any high-profile consumer product failure, people immediately took to Twitter to express their discontent and make jokes at Disney's expense. Many of those jokes were some variation on the number of people who apparently didn't have to work or go to school or attend to their families on a random Tuesday morning in November.
Others found it mildly humorous that Disney spent its vast resources hyping a product it couldn't support on day one.
Big-brained tech geniuses across the internet pointed out that, DUH, this is a new technology that EVERYONE is trying to use, you're an idiot if you thought it would work right off the bat.
Still others expressed pure outrage at Disney's lack of care -- someone, somewhere, should be fired!
Some thought we, the users, were the real idiots for not understanding servers and technology and the product development process. Don't blame the victims!
Then there were those who relied on sarcasm, the internet's tried-and-true register.
Finally, most people took the outage as an opportunity to make a few mildly humorous jokes using imagery and video from the House of Mouse. Hope they don't get sued for copyright violation!
By the afternoon, it appeared that many of the issues from the morning were mostly resolved, with no lag time or loading problems for even its deepest back titles, including The Shaggy D.A. and The Ugly Dachshund. But Disney better squash any remaining bugs soon if they don't want to risk more light online roasting that everyone will probably forget in a week. There's content to be consumed! Greyfriars Bobby and National Treasure 2 aren't going to watch themselves!
Anthony Schneck is an entertainment editor at Thrillist. Follow him @AnthonySchneck.