9 awesome ways to spend a free day in DC
Say someone offered you a free day to go out and do whatever the hell you wanted. You'd probably jump for joy -- or at least pump your fist for joy -- but then after that, you might find yourself paralyzed, because there are just too many possibilities. To help shake you out of it, we put together a list of some of the greatest ways to have the most killer DC day possible.
Start Waffling
Get today's brunch, lunch, dinner, and any other meal heretofore not yet imagined from B Too's waffle bar, serving up waffles with porcini, enoki, and oyster; blood sausage with caramelized apple; and prosciutto, parmesan, and roasted tomato.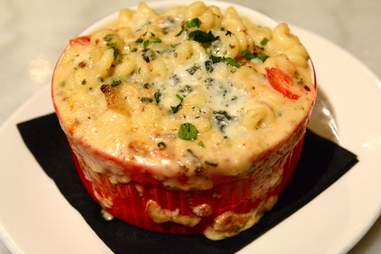 Laura Hayes
Get Cheesy
Free days are for fromage-ing at Cheestique. Decimate any and all diets with the cambozola blue cheese, crumbled bacon, roasted tomatoes, and fusilli pasta (AKA the Bacon 'N Blue).
Book A Pirate Ship
Seriously, book Boomerang's custom built party pirate ship with 80+ of your best friends (you can also just buy one ticket) for a night of pillaging and plundering (drinking cocktails and chilling) up and down the Potomac. Double seriously and worth repeating: spend today partying like a pirate!
The Hamilton
Pig Out
Pack in as much as you can with The Hamilton, where you can dine on pig Ears while rocking to live music. How does sushi or pasta or oyster po' boys with a side of (Hamilton regulars) The Reverend Peyton's Big Damn Band sound? Good. That's how it sounds.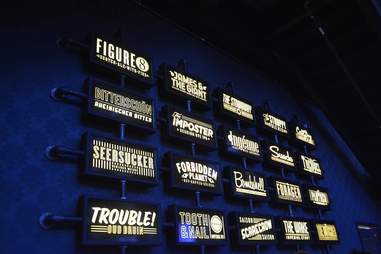 Weaponize The Party
Try any of Bluejacket's 20 drafts on-site for just three bucks a pop. Then realize you decided to pick this day to party in a former munitions manufacturing warehouse. Rad.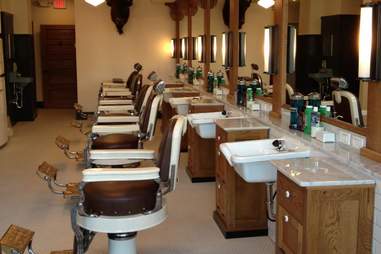 Fix Your Face
Get old school at the Wise Owl barber with the chipper shave (straight razor, hot lather, hot towels, facial massage), beard trim, or the mysterious additional services ("within reason"). Sure, it's like a day of pampering but just remember there's a bison head on the wall so it's still totally tough.
Get The Need For Speed
Now's the time to live out your Charlie-Sheen-in-The-Chase fantasies at Allsports Grand Prix course (Kristy Swanson not included). Bring your ride to this racetrack and try and beat Michael Munley's record 20.440 lap time.
Laura Hayes
Check A Reinvented Classic
Don't just get chicken and waffles today, get City Tap House's chicken and waffles. Why? They've slathered this banging version with honey thyme butter, coffee stout syrup, and red pepper jam. Save the regular stuff for another day.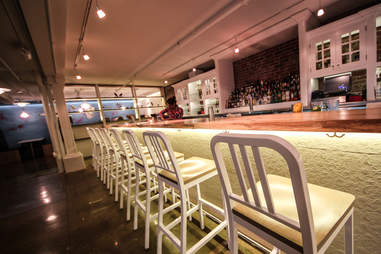 Spill Some Secrets
Now that you have some time to pretend you're cool, head through an alleyway to the hidden lounge 2 Birds 1 Stone, where you'll chill in one of their four alcoves and sip cocktails like the New Day (blanco tequila, Salers Gentiane, and Apertitivo Americano) housed in vintage glassware.