8 Documentaries With Absolutely Crazy Twists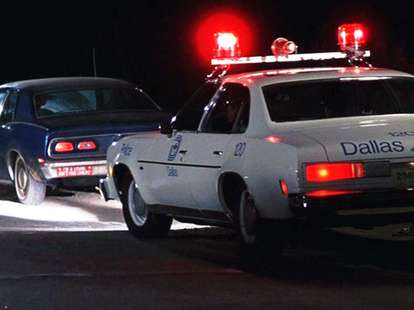 Everyone loves a good plot twist, but it's so much more incredible when that twist is real. When documentaries can catch the unpredictable, the strange, the shocking, and the sudden, that's when they beat scripted drama for all it's worth.
Of course, occasionally it's also quite tragic. The eight nonfiction classics below prove that truth is often crazier than fiction.
Catfish (2010)
Thanks to the popular MTV series it spawned, Catfish is one of the most influential documentaries of all time. The title itself has become a common verb meaning to deceive using a false identity on social media, typically for romantic relationships. That's exactly what happened to Nev Schulman, as was revealed in this unbelievable film by his brother, Ariel Schulman, and Henry Joost. The way they structured the doc makes it play like a love story turned thriller turned stunning psychological character study. It's no wonder so many were quick to call it a fake.
Where to watch it: Rent it on iTunes, Amazon, Vudu, and YouTube
Crazy Love (2007)
If you think Catfish can't be topped as far as true romance goes, wait until you see this stunner by Dan Klores and Fisher Stevens. Their doc chronicles the story of Burt Pugach and Linda Riss, who began dating in 1959. The problem was, he was married at the time, so she left him. The bigger problem was, Pugach was extremely jealous and couldn't allow Linda to be with anyone else, so he paid some guys to burn and blind her with lye. And that's not even where the "crazy" part of the title comes in.
Where to watch it: Rent it on iTunes, Amazon, Vudu, and YouTube
Dear Zachary: A Letter to a Son About His Father (2008)
There are films you must see at least once but never will want to see again, and this is one of them. Its twist is not one you see coming nor one you applaud, which sums up most tragedies, whether or not they're exploited for effect. The doc is about a man's murder and the child he never knew was on the way. Director Kurt Kuenne meant this simply to be a private project honoring his longtime friend, who was killed by his pregnant girlfriend. But due to unforeseen circumstances, it needed to be made public.
Where to watch it: Stream on Netflix
F for Fake (1975)
Orson Welles, notorious for his accidental hoax with the 1938 radio adaptation of The War of the Worlds, was the perfect filmmaker for a documentary about chicanery and charlatans. Through wit and whimsy and editorial wizardry, he presents a wildly enthralling dual portrait of art forger Elmyr de Hory and fraudulent biographer Clifford Irving. Like any film about con men, this one had to have a twist ending. Welles, a great admirer of magic tricks, delivers his like it's the prestige of a grand illusion.
Where to watch it: Stream on FilmStruck; rent it on iTunes, Amazon, Vudu, and YouTube
Gimme Shelter (1970)
If you don't know your history of rock concerts, the Rolling Stones, or pop culture of the 1960s, then you may be able to go in cold to this Maysles Brothers film (co-directed by Charlotte Zwerin), which is mostly famous for its tragic plot twist. The doc chronicles the end of the Stones' 1969 US tour in the Maysles' signature observational style, focusing on the Altamont Free Concert. What happened there was a shock to attendees and performers, and to the rest of the world, prior to its serving as the narrative curveball of this iconic film.
Where to watch it: Stream on Film Struck; rent it on iTunes, Amazon, Vudu, and YouTube
The Imposter (2012)
In 1994, a teenage boy disappeared in San Antonio, Texas. Four years later, he seemed to turn up in Spain. The film doesn't waste any time (it's right there in the title) divulging that the supposed kid was actually a French adult by the name of Frédéric Bourdin. However, that real-life plot twist is still remarkable considering how long it took for the truth to come out and given that the deception, which apparently fooled even the boy's mother, raised so many questions that remain unanswered. There aren't many mysteries more baffling than this one.
Where to watch it: Stream on Netflix
The Overnighters (2014)
Centering on the North Dakota oil boom and its effect on the once-small town of Williston, this film benefits from an unexpected revelation about one of its main characters. Although it weaves a few interrelated stories, the overall focus is on newcomers to an area full of jobs but short on lodging, and Pastor Jay Reinke, who opened up the floors of his church to strangers in spite of locals' concern for safety. Director Jesse Moss spent two years documenting everything in real time, and how the story concludes was as much of a surprise to him as it is to us.
Where to watch it: Stream on Netflix
The Thin Blue Line (1988)
A murder case involving the death of a Dallas, Texas policeman was solved thanks to the sudden twist ending of Errol Morris' brilliant true-crime classic. Throughout the film, the details of the story, some of them contradictory or just false, are laid out by everyone involved as a witness, including the man who appears to have been wrongfully convicted for the killing. With "reenactments," Morris shows us variations based on those testimonials, allowing us to try to figure it all out ourselves. Then, in perfect detective story fashion, a confession is extracted out of the real murderer, setting up the eventual release of the falsely accused.
Where to watch it: Stream on Netflix and FilmStruck
Sign up here for our daily Thrillist email and subscribe here for our YouTube channel to get your fix of the best in food/drink/fun.
Christopher Campbell is a freelance film editor and critic, and the founder of the documentary review site Nonfics. Follow him for opinions of all sorts of movies @thefilmcynic.