Accomplish 8 New Year's resolutions for $0
<a href="https://www.flickr.com/photos/mondayne/8335421715" target="_blank">Elliot Scott/Flickr</a>
One of the biggest reasons we give up on New Year's resolutions is the boatloads of cashmoney it costs to make them happen. But what if we told you a bevy of the most common seasonal promises can be accomplished at no cost? Check this list of some of the most common resolutions and how to accomplish them for free (or at least very, very, very cheaply). 
Lisa S./Shutterstock
1. Lose weight
There are plenty of free fitness apps that can help you avoid crazy expensive gym fees and trainers named "Chaz". A few of the better ones are Gain Fitness, which is stocked with more than 1,300 exercises and step-by-step commands. There's also the NIKE+ Training Club, which features more than 100 full-body, 15-, 30- and 45-minute workouts, and Argus, which is a tracking app that monitors everything -- fitness, health, and even sleeping. It's like a creepy stalker that really has your best interest at heart.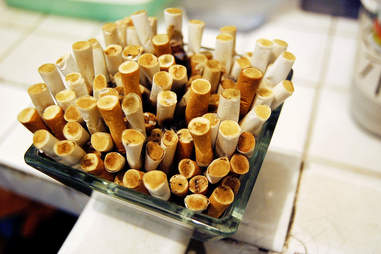 <a href="https://www.flickr.com/photos/dexters/3440184473" rel="nofollow" target="_blank">tai chang hsien/Flickr</a>
2. Quit smoking
No need to drop cash on large men to hit you every time you want to light up. According to a Duke University study, fruits and vegetables make cigarettes taste terrible, which is kind of a win/win because of #1 (extra win when you realize Duke was founded with tobacco money). Also try an organization rightfully titled "QUIT", which features 24-hour-a-day Skype counseling whenever you feel an urge to smoke. Need more? Check the American Heart Association's site that features more always-available hotlines. 
Lisa F. Young/Shutterstock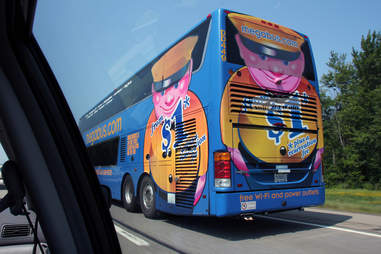 <a href="https://www.flickr.com/photos/18378305@N00/" rel="nofollow" target="_blank">Canadian Pacific/flickr</a>
4. Take more trips
Yes, MegaBus which has routes through most American cities can take you where you want to go for as cheap as a one measly buck, provided you keep a look out for promotions and special offers and don't mind "Bus Smell". Need a place to stay when you arrive? Try Couchsurfing. It's simple: you crash on someone's couch for free and, in return, you allow them to do the same. People also review each other and give recommendations, so it's really not that creepy. Ok, it's a little creepy, but hey -- free is free!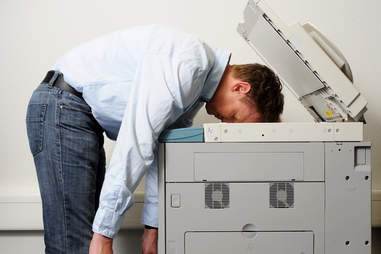 Techniker Krankenkasse/Flickr
5. Manage stress
Start doing yoga. Seriously. And before you accuse us of irredeemable crunchiness: even the Mayo Clinic insists that yoga can reduce stress. Check out DoYogaWithMe, which has100% free videos with poses from downdog to updog (not much, what's up with you?). If getting stretchy isn't your thing, take a look at Mind Tools, which offers up free and helpful advice on everyday stressors. 
<a href="https://www.flickr.com/photos/danielthornton/8620041374" rel="nofollow" target="_blank">Daniel Thornton/flickr</a>
6. Help others
You should be doing this for free anyway, but just in case you need some guidance, check All For Good, which serves as a hub for a bevy of different organizations. If you want a household name, the Red Cross is always great. Lastly, VolunteerMatch, which allows perspective volunteers to choose areas of interest and matches them up with like-minded organizations that could use your help. Feel that? That's the warm fuzzy feeling of doing a good deed… or you ate a really hot meatball. Both are pretty cool.
<a href="https://www.flickr.com/photos/98609244@N08/9230538869" rel="nofollow" target="_blank">evelynrivera2/Flickr</a>
7. Get your finances in order
Hit up Mint, which can link all you credit card, bank account, and other financial info into one easy to read (and keep track of) interface. If you're in a bit of a hole because of the Holidays or any other reason, there are good debt counseling services that offer help at no charge: GreenPath, National Debt Relief, and Curadebt, all of which are non-scammy ways to get those finances in order. 
<a href="https://www.flickr.com/photos/ksawyer/4358683068" target="_blank">Kayla Sawyer/Flickr</a>
8. Read more!
Google Books and Amazon both offer thousands of free books for your reading pleasure. Also, don't forget about how many books are constantly falling into the public domain, which usually means free. And, if all else fails, there are these amazing no-cost public institutions called "libraries". Heck, some book depositories even carry a wide selection of movies and, yes, video games… just in case your other resolutions include "attempting to not leave the couch for three days straight".