A Brief History of Donald Trump Insulting Other Celebrities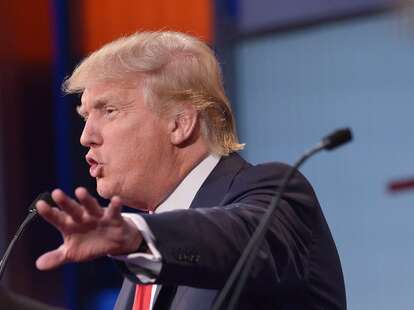 Mandel Ngan / AFP / Getty Images
Mandel Ngan / AFP / Getty Images
Donald Trump is best known for his petty Twitter fights. Well, and his mountain of money. And his reality shows. And his failed casinos. And his presidential bid. And his comb-over that just won't quit. But after all that, he's totally the Twitter guy! Since 2009, the insane billionaire has engaged in all sorts of weird, mainly inexplicable fights -- some of which spilled over into the non-social media realm. Here are 10 of the best feuds he has waged against other celebrities (we didn't include his political barbs), with context and current updates. May we one day witness the glory of a Trump-Cher cat fight in Macy's: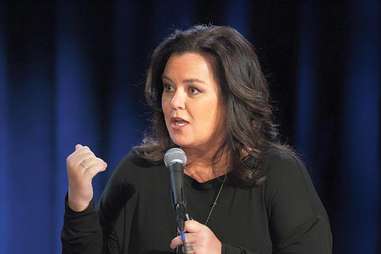 Rosie O'Donnell
The history: This is a long one. In 2006, Rosie gave Donald hell for not firing Miss USA Tara Conner, who admitted to substance abuse. She called him a "snake-oil salesman," and he called her a loser and "nice fat little Rosie." Other highlights (if you'd call them that?) include Donald's 2011 tweet expressing condolences to the parents of Rosie's new partner; Donald calling her "crude, rude, obnoxious, and dumb" when she returned to The View; and Trump's insistence to Sean Hannity that Rosie was a bully who had it coming.
Have they made up? While Rosie hasn't explicitly slammed The Donald in a while, she has made some shady suggestions about him being an asshole. And he's clearly not over it. So nope.

Jerry Seinfeld
The history: Back in 2011, Seinfeld was slated to appear in Trump's son's benefit to aid St. Jude's Children's Research Hospital. Except after Jerry signed up, Donald started mounting his birther crusade against Obama in earnest. Seinfeld wasn't comfortable with it, so he tried to quietly bow out. Not Trump's style. The billionaire sent a letter to the New York Post that shamed Seinfeld for canceling and also dissed his scrapped show The Marriage Ref. Jerry told Extra after the fact that he loved Trump, who was "God's gift to comedy." Ouch.
Have they made up? Seinfeld allegedly made a donation to St. Jude's to smooth things over. Trump, meanwhile, claimed he had no problem with the guy, but said he "just can't be with him." Whatever that means.
Jon Stewart
The history: During Jon Stewart's tenure, The Daily Show went after Donald Trump with the enthusiasm of a 6-year-old on a go-kart. And The Donald noticed. He tried to accuse Stewart of racism in 2011 and later, in a moment of pure Twitter nirvana, raged against Stewart for revealing Trump's supposed birth name "Fuckface Von Clownstick." He called Stewart overrated and a phony, but in doing so, he unwittingly helped the whole Fuckface thing trend. So point Stewart.
Have they made up? The feud's just got less public with Stewart's exit, though he made sure to get in plenty of takedowns in his final weeks. We imagine he'll find a way to keep the hate alive.

Danny Zuker
The history: Zuker, an exec producer on Modern Family, had taken a few swipes at Trump on Twitter prior to their legendary 2013 brawl. But when Danny mocked Donald's ratings, it got personal. Trump fired back that he had "never heard of you and was told you are a loser - after reading your credits I have no questions about it!" They went back and forth for the next few months, but Danny got the best burn in with, "Donald Trump doesn't like the show I work on but then we've never tested well with the racist, hypocritical, multiple bankruptcy demo."
Have they made up? Did you read any of that? They probably have scheduled insult tweets slated well into 2030.
Cher
The history: This one started in 2012, when Cher took to Twitter to slam Mitt Romney. The Donald was apparently not pleased. He proclaimed her an "average talent who is out of touch with reality" and "like Rosie O'Donnell, a total loser!" (He really likes that word.) Later that year, Cher complained about Macy's carrying Donald Trump's menswear line in a rant that included the words "racist cretin" and not-kind references to his famous hair. Trump came back with plastic surgery slams and... yeah, they've fought on Twitter a lot.
Have they made up? When Trump declared his presidential bid, Cher went back on Twitter to call him an "obnoxious asshole" and insist he'd only win the "state of desperation." Don't expect to see him at any future Vegas shows.

Arianna Huffington
The history: In 2012, Trump maturely called the founder of The Huffington Post ugly on Twitter. "I fully understand why her former husband left her for a man- he made a good decision," he concluded. There was a brief, but not super-interesting exchange. Fast-forward to 2015, when HuffPo announced it would be treating its coverage of Trump 2016 as "entertainment" rather than a legit political story. Trump called Arianna a "liberal clown" and her site "money losing" in a series of breathless tweets.
Have they made up? Arianna never seemed quite as invested in this game as Donald -- though that entertainment announcement was a pretty sick burn. That said, she doesn't seem ready to apologize and you know Trump isn't going to, so this is ongoing.
Robert De Niro
The history: The year was 2011. Donald Trump had been hitting the birther beat especially hard. Bobby De Niro was doing an interview with Brian Williams in the middle of the Tribeca Film Festival, and made some not-so-subtle comments about it. "I won't mention names, but there are certain people on the news in the last couple of weeks -- what they're doing is crazy," he said. "They're making statements about people that they don't even back up. Go get the facts before you start saying things about people." When Williams asked if the person had a show on his network on Sunday night (i.e., Celebrity Apprentice), De Niro said yes, and compared the "mysterious" person to a pathetic car salesman. In a subsequent interview with Fox & Friends, Trump basically called De Niro stupid.
Have they made up? Not really, but do either of these guys care? That'd be a hard no.

Mark Cuban
The history: In 2004, Trump sent Cuban a super-condescending letter of condolence over his cancelled show, The Benefactor. He also went after him in his 2007 book Think Big. But things really heated up in 2012, when Cuban attempted to challenge Trump in the name of charity. If the living hairpiece shaved his head, the Mavs owner would donate $1 million to charity. Rather than do that, Trump decided to mock Cuban's net worth and current show (Shark Tank). They scuffled for a bit. Later in 2013, Trump said he was better-looking than "dopey Mark Cuban," which, dude, pick your battles.
Have they made up? Oddly, yes. Last month, Cuban called Trump "probably the best thing to happen to politics in a long, long time," and so far, it actually appears to be sincere. Go figure.
Russell Brand
The history: Trump's beef with Russell Brand began mysteriously in fall 2014. Out of the blue, he tweeted that he'd watched Brand on Fallon the other night and wondered what the hell people saw in him. (He was -- can you guess? -- a "major loser.") He followed up with, "Katy Perry must have been drunk when she married Russell Brand -- but he did send me a really nice letter of apology!" It's not clear what Brand apologized for, or why Trump was talking about Fallon (Brand had been on Letterman a few days prior, not The Tonight Show), but Brand of course responded. "Are you drunk when you write these tweets? Or does that foam you spray on your bald head make you high?" Trump then continued hassling Katy Perry for answers on her marriage to such a loser, and Brand tweeted an article accusing Trump of getting everything from his daddy.
Have they made up? Last month, Brand posted an eight-minute response to Trump's presidential candidacy, none of which was complimentary.

Ed Koch
The history: Ed Koch used to be the mayor of New York City. Donald Trump lives there, and doesn't like rules. So it's not exactly surprising the two feuded during Koch's time in office. The most public one involved NBC and Trump's attempts to lure them to his "Television City" complex on the Upper West Side. Both men wanted to keep NBC from moving to Secaucus, but neither was super happy with the way the other kept cutting the other one out of the negotiations. Angry letters were eventually released, Trump called Koch a "moron" who should resign, and Koch called Trump a greedy pig.
Have they made up? Ed Koch passed in 2013, so the thing's effectively over. But based on his 2011 comments on Trump's presidential potential, we imagine he's currently shit-talking Donald from the pearly gates.
Sign up here for our daily Thrillist email, and get your fix of the best in food/drink/fun.
Kristin Hunt is a staff writer for Thrillist, and is really going to miss Jon Stewart's coverage of Trump 2016. Follow her to states of desperation at @kristin_hunt.