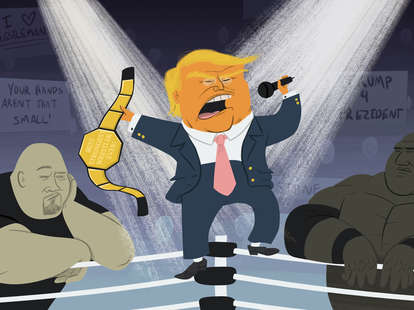 Trump Can't Lose: How the WWE Primed a Presidential Candidate for America
On April 1, 2007, 80,103 spectators descended upon Ford Field in Detroit for the year's biggest professional wrestling event: WrestleMania 23. The brawl broke the stadium's attendance record, and earned WWE its highest box-office sales ($5.38 million) and pay-per-view buys (1.2 million). The arena set-up boasted 414 LED video screens, 56 searchlights, and 35 stage flamethrowers spurting flames 30ft high. Aretha Franklin kicked off the show with a rendition of "America the Beautiful."
But perhaps most spectacularly of all, WrestleMania 23 featured 2016 Republican presumptive nominee Donald J. Trump knocking one of the most prominent figures in professional wrestling to the ground -- and giving him a solid thumping.
With his collection of startling ties, repertoire of dyspeptic smirks, and hovering fur cloud of hair, Trump fit right into that atmosphere of perpetual one-upmanship and theatrical ultra-violence. He exceeded all expectations. "It wasn't a professional wrestler like The Rock that broke the record for box office and pay-per-view all time," Court Bauer, a WWE creative executive from 2005 to 2007, explained. "It was Donald Trump versus [WWE CEO] Vince McMahon -- two guys in their early 60s, with their hair on the line."
This July, Trump will formally earn the GOP's nomination at the Republican National Convention, a feat few believed was possible 12 months ago. While the candidate didn't physically smack his way into the final round of the presidential battle royale, his training in the ring and his place in the annals of pop culture can't be overlooked. Trump himself has noted the similarities between politics and the WWE. The election cycle prompted pro-wrestler and fellow WrestleMania 23 contender John Cena to make a similar, shade-throwing observation: "It seems like, at least this year around, they're studying our playbook."
Donald Trump, Republican nominee, is still very much Donald Trump, WrestleMania victor. "Sports entertainment" may be meticulously choreographed, essentially "fake," but provoking primal emotions can suspend disbelief. Trump's a master. Give him a mic and an audience -- or 10 million Twitter followers -- and he's a showman, a bruiser, a rabble-rouser as immensely watchable as a WWE Hall-of-Famer (though, he's one of those, too).
While many behind-the-scenes ensured the entrepreneur came out on top at WrestleMania 23, not even they could look away from the drama that transpired. Trump wasn't just another WWE guest star. He was a celebrity -- a truth we only think we remember.
Donald Trump's metamorphosis from mere businessman to gossip star kicked into gear in the 1980s. In 1981, with Trump Tower literally on the rise in New York City, People called Trump "tall, fair, and movie-star handsome," along with "brilliant," "arrogant," and "vicious." By the end of the year, the magazine likened him to Alexander the Great. "He is not the newest TV heartthrob but the latest star in the high-stakes world of New York real estate. His aim: 'to put a little show business into the profession.'"
Trump also wanted to put a little of his profession into show business. Starting with The Jeffersons in 1981, Trump cameoed on The Nanny, Spin City, Sex and the City, The Drew Carey Show, Suddenly Susan, and The Fresh Prince of Bel-Air. He graced the big screen nearly as often, popping up in Zoolander, Two Weeks Notice, a deleted scene from Wall Street: Money Never Sleeps, and Woody Allen's Celebrity, where he shared his plans to buy St. Patrick's Cathedral ("... maybe doing a little rip-down job and putting up a very, very tall and beautiful building"). He was best known to the millennial generation for directing Kevin McCallister to the lobby of the Plaza Hotel in Home Alone 2: Lost in New York. This is to say nothing of television spots for Pizza Hut and McDonald's.
Wayne's World director Penelope Spheeris -- who worked with Trump in 1994 on The Little Rascals, in which he played father to Waldo, the spoiled-brat character -- has a sound theory. "I think he just likes the attention," she told me. "If you've been on movie sets, what happens is people are very sort of tippy-toe, and don't want to disturb anybody. They don't know which way to walk, and they're like, 'Oh my gosh, I hope I'm not interrupting.' OK, think of the total opposite of that -- because that's the way Donald entered the set."
The Apprentice producer Bill Pruitt has come to regret his part in the glorification of the businessman's name. "Trump was as big a narcissistic pig while doing The Apprentice as he's ever been," said Pruitt, who spoke to me in defiance of "a Bible-thick NDA." "Producers like myself helped give him a platform and become a more successful public figure by surrounding him with well-told stories that appealed to 30 million viewers."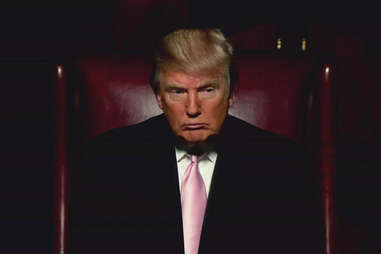 Pruitt called it the "hero-making business." Producers needed the Trump brand to be massive. "So we sold him like a shiny new car, and viewers bought it. The Trump name was firmly placed by the NBC/[Mark] Burnett team on the Thursday prime-time schedule just as prominently as it was on casinos and skyscrapers, golf courses, and fake universities."
A key element of NBC's pro-Trump campaign was televisual cross-promotion. In between episodes of the fourth season of The Apprentice in 2005, Trump guest-starred on the network's soap opera Days of Our Lives. "I think you'll find that I'm a very willing employee," Days' resident schemer Nicole tells the Trump alter ego. "Working under you, I think, could be mutually beneficial." The following Saturday, NBC's Saturday Night Live spoofed the Days of Our Lives appearance, with Darrell Hammond impersonating Donald Trump impersonating Marlon Brando. Clearly, NBC needed more Trump.
A little more than a year later, NBC planned a series of appearances for Trump on an altogether sweatier soap: Monday Night Raw, where high-octane theatrics matched the reality-show host's personality. At the time, NBC had close ties with WWE (Raw aired on the NBC-owned USA Network, while NBC aired at least two 90-minute WWE specials a year), and so did Trump. The real estate mogul "hosted" WrestleMania IV and V at Trump Plaza Hotel and Casino in Atlantic City (the actual venue was the adjacent Atlantic City Convention Hall), and wrestlers loved him; in a 1988 promo, Hulk Hogan declared the businessman a "Hulkamaniac."
Trump's involvement turned out to be a gift for the WWE writing staff. "The team didn't find it too difficult to write stuff for Donald," said Chris DeJoseph, another writer for WWE. "[He's] a tough, over-the-top businessman who doesn't hold anything back or pull any punches." Trump was put to good use. Where the Days of Our Lives version of Trump made a "generous donation" to the Horton Foundation, the WWE incarnation of Trump made it literally rain money in the arena. (Fake or $1 bank notes are used for such moments, Bauer informed me, around $3,000 to $5,000 per stunt.)
The breakthrough for the writers was the realization that Trump was a natural adversary and foil for McMahon, whose own onscreen WWE persona -- the loathsome billionaire -- was already distinctly Trump-like. "There [are] a few different types of villains in wrestling," said Bauer. "The bully, the chicken-shit villain, the cheater, the schemer" -- and then there's Trump: the disruptor. "In the WWE, he came in and disrupted the status quo, disrupted the management, coming in saying he was a better boss. He came in and did that straight talk, that blue-collar stuff."
In marked contrast to, per Bill Pruitt, the abhorrent behavior Trump displayed while shooting The Apprentice, the mogul was a willing and agreeable presence behind the scenes of the WWE. "He played right along," said wrestler Bobby "The Dominator" Lashley. "He said, 'I can play whatever guys you want me to play to the best of my ability.' And that's what he did."
Bauer agreed. "He didn't have any issues with anything we wrote for him. He would actually recommend taking things a step farther sometimes." Not that his patience was unlimited; after submitting to a few filmed takes of a dressing-room skit, Trump decided he'd had enough. "You got what you got," he said, and left. "That was an example of something that wouldn't fly with anyone else," said DeJoseph.
On a January 2007 episode of Raw, wrestler Ace Steel donned a crude Donald Trump costume and wig and tussled with a Rosie O'Donnell look-alike, a tasteless spectacle greeted with unanimous, scornful boos from the audience. (Bauer himself said he had "scrubbed that from my brain for nearly a decade.") When, later in the month, Donald Trump showed up on Raw again to kick off the feud with McMahon, the reception was quite different. The moment he began speaking, there could be no doubt he was the real deal.
"Let me put it very simply, Vince. I'm taller than you. I'm better-looking than you. I think I'm stronger than you. And I'm here to challenge you to a match in WrestleMania … That's right."
"Wait a minute. I know you had an ego, but I didn't know it was that big. Come on. You want to challenge me to a match in WrestleMania?"
"Absolutely right. One hundred percent. I will kick your ass."
Cheers erupted from the audience.
WWE standoffs such as this one are scripted in detail and rehearsed in the arena a few hours before the doors open to the public. Performers are also allowed free rein to improvise according to established parameters -- Trump included.
"He was exceptional in that capacity," said Bauer. "Being able to read and manipulate the crowd -- that's the key to pro wrestling. When he enters the room, he reads it, and you can sense that he's adjusting: what kind of a climate am I entering into? What do I have to do here? He knows how to charm and he knows how to instigate. He has a lot of tools on his belt as a carpenter of sorts within show business." The writer paints Trump as an improvisational alchemist. He could "whip a crowd into a frenzy and convert that energy into support."
Trump was remarkably unfazed even when, in another episode of Raw, "Texas Rattlesnake" Stone Cold Steve Austin got up in his face. ("I don't give a rat's ass if you're worth 1 billion dollars," Austin said. "You piss me off, I'll open up an 8-billion-dollar can of whoop-ass and serve it to you.") But by then, the Apprentice host had taunted, trash-talked, and traded prurient remarks with the best of them, telling McMahon: "Your grapefruits are no match for my Trump Towers." (McMahon came up with the line.)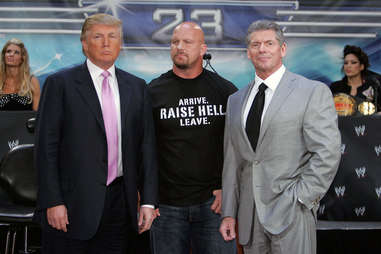 In the WrestleMania 23 storyline, McMahon and Trump agreed to each select a surrogate to wrestle on their behalf. It would be, as WWE commentator Jerry Lawler shrieked, "the Battle of the Billionaires." Trump raised the stakes further, declaring it a "Luchas de Apuestas," or "gambling fight": whichever man whose wrestler lost would have his head shaved bald. "All right!" said Lawler. "How many of you people want to see a hair match between McMahon and Trump?!"
Everyone did. What's more, they wanted Trump to best the WWE honcho, as evidenced by the chants of "Donald! Donald!" that heralded the magnate as he made his entrance to the Apprentice theme song with a beautiful woman on either arm. With McMahon applying himself wholeheartedly to the role of the heel, Trump was carefully arranged to be the audience favorite.
The "Battle of the Billionaires" led to one of the more surreal scenes in the history of WWE: Donald Trump in the ring with Vince McMahon, Bobby Lashley, and the "Samoan Bulldozer" Umaga (signature move: high-speed thumb-thrust to his opponent's throat), and Stone Cold Steve Austin energizing the audience with a follicular-themed rant:
"Someone's gonna get a haircut! I'm not talking about a flat top. I'm not talking about a buzz cut. I'm not not talking about a crew cut. No one's getting 'a little off the top,' and no one's getting their damn ears lowered. Someone's gonna get their head shaved bald at WrestleMania -- and that's the bottom line, 'cause Stone Cold said so."
Each time things took a turn for the violent, it happened the same way: Trump would seethe and stew, then suddenly ignite. To the astonishment of audiences and the glee of the WWE crew, Trump wasn't shy about getting physical for the role. On Raw, he shoved McMahon in the chest, sending all 248lbs of the guy towards the canvas in an Olympic backwards somersault. At a WrestleMania 23 press conference at Trump Tower in New York, Trump abruptly walloped McMahon in the face, halting the proceedings.
These outbursts were tame compared to what unfolded ringside in Detroit for WrestleMania 23. Incensed by how the Umaga and Lashley match was progressing, and cheered on by his personal posse of Miss USA, Miss Teen USA, and Miss Universe, Trump snapped, crash-tackling a flabbergasted McMahon to the ground.
The crowd lost it. Smoothing out his marshmallow-colored tie -- his hair still perfectly in place -- Trump strode away, leaving McMahon clutching his face. Of all his time in the WWE spotlight, he had never looked more in his element. Lawler howled into his commentator's mic: "The hostile takeover! Of Donald Trump! On Vince McMahon! Has happened! At WrestleMania! Twenty-three!"
Kenny McIntosh, a 31-year-old pro-wrestling fan who was in attendance, described the feeling in Ford Field at that moment as one of "sheer awe." This was Trump the disruptor. "I genuinely thought there was a 0% chance of Trump getting physically involved," he said.
As with everything else in the storyline, of course, this conclusion was predestined. "It was decided day one that someone was going to lose their hair, and it was never going to be Donald," said Bauer. "I don't think there was even a discussion. It was an idea that had been on Vince McMahon's mind for years, and he finally said, 'If I'm going to do it, this is the time to do it.'"
DeJoseph told me that Trump had been nervous about the possibility of getting double-crossed at WrestleMania -- worrying that it was his scalp destined for the razor. "He had to be assured it wouldn't be a Montreal Screwjob situation." (Bauer refuted that version of events, assuring me that, actually, Trump never showed any signs of unease: "A lot of people in wrestling like to color up a story and make it sound outrageous," he said.)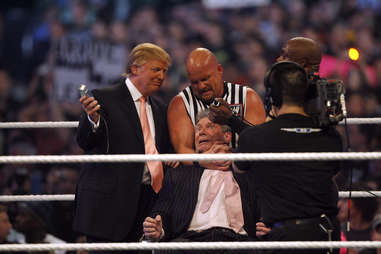 Trump personally took to the bewildered McMahon's scalp with electric clippers, relishing his part in the grotesque kabuki as the crowd cheered on. But the WWE's guest wasn't let entirely off the hook. Those left standing felt the wrath of Steve Austin's signature finishing move: the Stone Cold Stunner, a maneuver with which he has ceremoniously dispatched everyone from The Rock to Santa Claus. This included Trump, whom Austin dealt a swift kick in the vicinity of his groin, clutched in a jaw-breaking face-lock, then hauled headlong toward the ground. As Austin toldMen's Journal, that coup de théâtre had only been dreamed up that day. With no rehearsal, Austin had "literally five seconds" to advise Trump on how to sell the choreography.
Asked to assess Trump's handling of the Stunner, Lashley just laughed. "Well, it's hard. It takes years to be a professional wrestler. You bring someone up to the ring and show them some moves, they're not going to take it like I take it. But it went over really well." No longer part of the WWE, Lashley only has fond memories of WrestleMania 23 -- not only because Trump tried to set him up with Miss America. "That particular match and everything that was going on with that match was an incredible experience."
Taking the hit earned Trump the lasting respect of the Texas Rattlesnake, too. "[It] wasn't the greatest Stunner in the world, but I give Donald Trump a lot of credit and respect for doing something like that that he didn't have to do," Austin said. "I had no idea back then that he would be a candidate to be president of the United States."
The WWE elite are no strangers to Washington. Before Trump entered the political fray, Jesse "The Body" Ventura served as the governor of Minnesota from 1999 to 2003 (and gave Trump a stamp of approval earlier this year), while Linda McMahon, CEO of WWE and Vince McMahon's wife, ran for the US Senate in 2010 and 2012. The WWE's ties to Trump's presidential run are tenuous, but existent: the McMahons donated $7 million in 2007 to the Trump Foundation, a fund fueling the mogul's campaign, and Linda McMahon is set to appear at the GOP convention in Cleveland as a Connecticut delegate. Meanwhile, Hulk Hogan remains a Trump supporter, as does his recent benefactor in his lawsuit against Gawker, Silicon Valley entrepreneur Peter Thiel.
Trump doesn't have every WWE notable in his corner. Earlier this year, John Cena, another star of WrestleMania 23 (and the pro wrestler who compared the WWE to the 2016 presidential race), responded to Trump's Muslim travel ban during an appearance on the Today show. "The last time we did anything like this was in World War II, and that was one of the more reprehensible acts by the United States of America," Cena said. "'We are the melting pot -- except for you' -- that does not go along with our DNA. Trump is being Trump. There's no other way to say it."
Over the July Fourth weekend, Cena appeared in a new PSA video produced for the Ad Council's "We Are America" campaign, voicing ideals of inclusion and tolerance that could hardly be less Trump-like. "This year, patriotism shouldn't just be about pride of country," he says in the video. "It should be about love. Love beyond age, disability, sexuality, race, religion, and any other labels. Because the second any of us judge people based on those labels, we're not really being patriotic, are we?"
The WWE is a key partner in Cena's campaign, to which it has pledged its full support across its array of global platforms. Nearly a decade after giving Trump a stage and superhuman ego boost, it feels like reparation. (The WWE did not respond to requests to participate officially in this story.)
Apart from the other records broken that night, WrestleMania 23 became, at the time, the largest and most boisterous gathering of Donald Trump supporters ever. McIntosh and his friends departed Ford Field late that night having been thoroughly entertained, the arena-filling chants of "Don-ald! Don-ald!" a fading, happy memory. "You have to hand it to him," said McIntosh. "When he signed up, he went all in. As a spectator, you can't ask for much more than that."
Sign up here for our daily Thrillist email, and get your fix of the best in food/drink/fun.
Darryn King is a writer and prog-rock apologist based in New York. His work appears on TheNewYorker.com, VanityFair.com, TheGuardian.com, and the Wall Street Journal.