Drake's Biggest 2015 Moments, Graded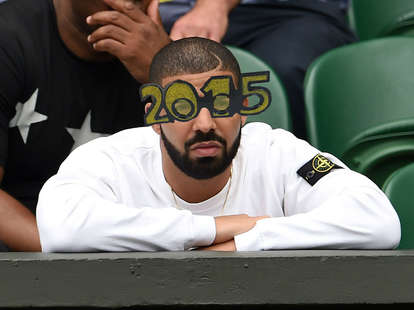 Wire Image/Getty Images/Party City (Edited)
Wire Image/Getty Images/Party City (Edited)
Just like 2013 and 2014, 2015 was the year of Drake. This is the universe we now live in. With each new world-conquering song, meme-able video, and facepalm-inducing Instagram caption, it becomes more and more clear that this decade has been defined by the Degrassi: The Next Generation star-turned-Canadian pop icon named Aubrey Drake Graham. Not since the Willennium has a period of time been so effortlessly controlled by a single artist awkwardly dancing his way across the zeitgeist, moving between the worlds of music, comedy, and sports with a shit-eating grin.
For Drake, 2015 was mostly defined by what he didn't do. For starters, he didn't release an official album, instead dropping two "mixtapes" -- the defiant If You're Reading This It's Too Late and his collaboration with Future, What a Time to Be Alive, which went on to sell more copies than most artists' actual albums. And while he didn't release an official single this year, he allowed "Hotline Bling" to fly up the Billboard charts after casually tossing it out on SoundCloud. Success came easy to Drake in 2015. Maybe too easy.
Back in September, The FADER titled its excellent profile of the increasingly press-shy artist "Peak Drake," and the Internet has often seemed to be overflowing with Drake-related goods and services, as the rapper turned up in previously unexplored crevices of the culture. But how "Drake" does a single event have to be for it to truly reach peak Drake? In the interest of fairness we've charted the significant Drake moments of 2015 and given each a scientifically precise score -- on a 0-to-100 scale of turtleneck sweaters -- of just how definitively Drake-ian each Drake moment was.
January 6th: Drake is announced as a Coachella headliner
As the dust settles on 2014, it is entirely unclear what 2015 is going to hold for Drake. Is this the year that Drake goes Hollywood? Will he pull a Timberlake and score a role in the next David Fincher movie? Will he take improv classes at UCB and launch his own podcast network? Nope, he's going to headline a music festival. Not the most auspicious start.
Sweater rating: 37 turtlenecks
February 12th: Drake drops the short film Jungle
Does anyone remember this nearly 15-minute short film? Shortly after its release it becomes a footnote to the more surprising If You're Reading This It's Too Late, but, viewed on its own, the video is nothing more than ponderous self-mythology, an arty portrait of the artist as a young woe. Some of the images of Toronto are pretty striking, but ultimately it's as forgettable as his cameo in Anchorman 2.
Sweater rating: 24 turtlenecks
February 12th: If You're Reading This It's Too Late is released
After a slow start, the year of Drake kicks into high gear with the surprise release of this mixtape, an album-length record almost entirely devoted to petty squabbles, old skirmishes, and pseudo-tough-guy koans for corny bros to put in their Twitter bios. In his review, New York Times critic Jon Caramanica wrote, "Hip-hop success has made Drake more raw, more leathered and more aggrieved," and it was hard not to see If You're Still Reading This as an airing of grievances. Songs like "Energy," "Know Yourself," and "Used To" snapped and snarled with an often unappealing combination of entitlement, self-aggrandizement, and rampant dick-measuring. Of course, because this is Drake, it sold over a million copies.
Sweater rating: 81 turtlenecks
March 11: Drake uses a Flyboard
Now we are flying high -- or at least Drake is, specifically on a Flyboard, one of those water jet-packs presumably invented so rich people could find easier ways to injure themselves on vacation. That's just the type of thing you do while traveling in Dubai if you're Drake. Rise, Drake! Rise above the puny humans! You are lord of the sea!
Sweater rating: 89 turtlenecks
April 13th: Madonna kisses Drake at Coachella
Drake's heavily hyped Coachella performance earns him some of the most negative reviews of his career, a stumbling block that suggested maybe 2015 might be an off-year for rapper. But, in true Drake fashion, he manages to divert the attention from his lackluster performance onto an unsuspecting female -- in this case Madonna, turning her surprise appearance at his show into a chance to discuss his kissing skills.
Sweater rating: 14 turtlenecks

April 24th: Toronto politician feuds with Drake
Drake wants you to think his hometown of Toronto is a fun place with its own complex mythology, language, and customs -- like Westeros with better healthcare. While many of Drake's tourism PR tactics, such as his insistence that everyone call the city "the 6," have been failures, sometimes he'll stumble upon a great viral stunt, like when Toronto politician Norm Kelly tweeted "What the hell is this?" after seeing a photo of Drake playfully greeting Washington Wizards player Paul Pierce during a hotly anticipated playoff game against the Toronto Raptors. Toronto: the city where politicians tweet at rappers!
Sweater rating: 72 turtlenecks

May 28th: Drake is used in a sentence at the National Spelling Bee
Sort of like Drake, spelling bees are lame things that are now somehow considered cool because of the Internet. So it only makes sense that the phrase "Drake's next mixtape" would be used at the National Spelling Bee. Watch this Vine on repeat and weep for our nation's children who may never know a time when spelling bees weren't shown on ESPN and Drake wasn't the future of all media.
Sweater rating: 91 turtlenecks

June 11th: Drake gets his own Sprite can
Despite Sprite's long history of supporting hip-hop, and Drake's own (robotic!) relationship with the company, the printing of Drake lyrics on soda cans is corny. When I'm quenching my thirst with an effervescent lemon-lime beverage, I don't want to be confronted with lines from the guy who popularized the phrase "'bout to call your ass an Uber." Please, don't taint my corporate sugar-water.
Sweater rating: 5 turtlenecks

June 30th: Drake inspires a golf beef
Could any other rapper inspire a beef between two professional golfers? Maybe Scarface. But Drake makes history when golfers Will Wilcox and Brendan Steele argue about the music playing at the driving range. This one would get a higher sweater rating if the beef itself wasn't so painfully lame. The hashtag #whatisthismiddleschool should get your Twitter account suspended.
Sweater rating: 52 turtlenecks
July 10th: Drake mocks celebrities with his "Energy" video
As any student of the Internet knows, people love celebrity memes. Drake understands this fact and carefully exploits it in the the video for "Energy," a clip seemingly designed for maximum SEO search capabilities. You want Drake as Oprah? It's here. Drake as Tom Cruise? He's got you. Drake as Obama? Yes, sir. How about a good video? Uh, sorry, look elsewhere.
Sweater rating: 23 turtlenecks

July 21st: Meek Mill says that Drake doesn't write his own rhymes
We'll probably never know what led Meek Mill to tweet the following: "Stop comparing drake to me too… He don't write his own raps! That's why he ain't tweet my album because we found out!" Was it a frustrated tweet inspired by Drake's romantic history with Meek's girlfriend, Nicki Minaj? A career death wish? A cry for help?
Sweater rating: 84 turtlenecks

July 22: Funk Flex leaks "10 Bands" reference track
The name Quentin Miller becomes tied to Drake forever after legendary New York radio personality Funk Flex plays a reference track for the standout If You're Reading This track "10 Bands," in support of Meek Mill's allegations. Things are getting sweaty out here for Drake. Better lower the collar on that turtleneck. (Side note: do turtlenecks have collars?)
Sweater rating: 91 turtlenecks

July 25th: Drake drops a Meek Mill diss track
As Drake songs go, the Meek Mill response track "Charged Up" isn't particularly thrilling, and, as a diss track, it lacks enough bite to really leave a mark. In fact, the most interesting thing about "Charged Up" is that it was released on the same night as "Hotline Bling," which may well go down as Drake's most enduring hit. In retrospect, that's a pretty odd accomplishment, but it doesn't make "Charged Up" any less of an underwhelming dud.
Sweater rating: 47 turtlenecks

July 29th: Drake shares another Meek Mill diss track
With no significant response from Meek Mill, Drake fires off "Back to Back," in many ways the aggressive, chest-thumping track fans hoped for. In addition to including a pretty solid Lethal Weapon reference, Drake somehow makes the line "trigger fingers turn to Twitter fingers" sound tough and intimidating.
Sweater rating: 78 turtlenecks

July 30th: Meek Mill responds with "Wanna Know"
Meek Mill fires back at Drake with "Wanna Know" and... it does not land. Who knew all those sweaters were bulletproof? Maybe it's the lint roller.
Sweater rating: 80 turtlenecks

August 3rd: Drake mocks Meek Mill at OVO Fest
With Meek Mill already on a metaphorical respirator, Drake takes the stage at his own hometown music festival and childishly rubs Canadian salt in the Philly rapper's open wounds. As broad pop theater, it's intermittently entertaining, but as an act of "war" it's childish, a pop star co-opting memes fit for a Ted parody account. Though fans rushed to coronate him, for others OVO Fest was the point at which Drake revealed himself to be, as Pitchfork's Meaghan Garvey succinctly put it, "a charming huckster playing an infinite shell game." Soon after, Meek Mill releases more freestyles going after Drake, but they barely register. Drake, like the rest of the Internet, moves on, hoping to forget this incident until it gets brought up on VH1's inevitable I Love the '10s special.
Sweater rating: 40 turtlenecks

September 11th: Twitter blames Drake for Serena Williams' US Open loss
The #blamedrake hashtag gains traction following Serena Williams' devastating loss to Roberta Vinci at the US Open. Fans blame him because presumably he distracted Serena during the tournament with his romantic pursuits. But this is also a great hashtag to use in everyday situations. Late for an appointment? Use #blamedrake. Drop an expensive dish at home? #blamedrake. Write a long article about Drake? #blamedrake.
Sweater rating: 88 turtlenecks

September 20th: Drake and Future release What a Time to Be Alive
Hot off an impressive run of acclaimed mixtapes and an incredible album, Atlanta rapper Future teamed up with Drake on this scatter-shot collection packed with moments of brilliance and lapses into tedium. Mostly produced by frequent Future collaborator Metro Boomin, What a Time to Be Alive isn't quite the Watch the Throne-style statement record fans would have liked to hear, but songs like "Big Rings," "Diamonds Dancing," and the exhilarating "Jumpman" are some of the best songs of Drake's career.
Sweater rating: 77 turtlenecks

September 21st: Drake (doesn't) open a restaurant
Because Drake was involved with the opening of chef Susur Lee's Downtown Toronto restaurant Fring's, the Drake-obsessed media thought he was a silent partner of sorts, but it later turned out he only gave the restaurant its name. Either way, if noted sorcerer and future world leader Jaden Smith is dancing there, that is now a restaurant I will go to.
Sweater rating: 84 turtlenecks

October 1st: Salman Rushdie recites Drake lyrics
Never forget: The Satanic Verses had bars. So it only makes sense that acclaimed novelist Salman Rushdie, no stranger to Twitter beef himself, would show respect to the 6 god by reciting his lyrics in a goofy viral video.
Sweater rating: 70 turtlenecks
October 19th: "Hotline Bling" breaks the Internet
Drake has had considerable success throughout his career, but he's been missing one essential thing: a wedding song. With the "Hotline Bling" video, he unlocked the "Hey Ya" level he's been gunning for ever since "Hold On, We're Going Home." Congratulations, Drake. You finally made the "Cha Cha Slide" for sad millennials.
Sweater rating: 99 turtlenecks

October 26th: Drake gets a gold ping-pong paddle
What do you get the man-child who has everything for his birthday? This. Now you know! I'm glad this article could provide an important service to readers wanting to give Drake a birthday present.
Sweater rating: 93 turtlenecks

November 4th: Drake billboard appears in Toronto
One day, my future child will ask, "Father, what was a billboard?" I'll pause, remove the vape pen from my mouth, and say, "Child, billboards were like pop-up ads that companies constructed around highways. Supreme World Leader Jaden Smith's Vice-Supreme World Leader, Aubrey Graham, once used one to promote his upcoming album, and it was good." [Smokes vape pen and stares off into distance.]
Sweater rating: 71 turtlenecks

November 7th: Trump parodies the "Hotline Bling" video
What a time to be alive.
Sweater rating: 31 turtlenecks

November 25th: The Toronto Raptors hold a third Drake night
As the Toronto Raptors fight for respect in the NBA's Eastern Conference, fans get to make their own GIFs in a "Hotline Bling" photo booth that lets them recreate Drake's dance moves. If you wanted to encapsulate 2015 in a single, looped, six-second video, this is your Vine. Nothing says "the future is already here" like seeing Norm Kelly dance with a dinosaur in a colorful box.
Sweater rating: 90 turtlenecks

December 7th: "Back to Back" becomes the first diss track to be nominated for a Grammy
Yes, it's shocking that Grammy voters back in the '90s weren't moved to honor Ice Cube's "No Vaseline" -- times have clearly changed, and now diss tracks are fodder for accolades. After the announcement, Drake kept relatively quiet for December -- besides the occasional lion tattoo. Is he basking in the glory of his Grammy nod? Readying himself for a big win? Preparing for a loss? However this plays out, Drake will have more grievances for the new year.
That's what can be so frustrating, bewildering, and even awe-inspiring about Drake: even when he loses, he wins. And when he wins? As he sings on "Hotline Bling," that can only mean one thing. [Hits vape pen and puts on turtleneck.]
Sweater rating: 72 turtlenecks
Sign up here for our daily Thrillist email, and get your fix of the best in food/drink/fun.
Dan Jackson is a staff writer at Thrillist Entertainment and, like most sane people, he still thinks Take Care is the best Drake album. He's on Twitter: @danielvjackson.