Why Listening to Drake's New Album Is Like Eating at the Cheesecake Factory
 Cash Money Records Inc.
"Why you gotta fight with me at Cheesecake?" asks Drake on the song "Childs Play" off his new record, Views. "You know I love to go there." It's a quintessential Drake moment: highly relatable yet immeasurably corny. His fourth studio album, which debuted last night on Apple Music, is packed with moments like this. So packed, in fact, that listening to the album in its entirety resembles eating a meal at the Cheesecake Factory. Then throwing up.
You know the vibe: tasteful lighting, folded linen napkins on the tables, plants by the windows, and maybe a soothing painting on the ceiling. The service is friendly. Suddenly, out of the corner of your eye, you see your food arriving and think, "Holy shit, that inexpensive grilled chicken tostada salad I ordered is huge." Drake's Views is that grilled chicken tostada salad. It's made fresh. It's impeccably produced. But, with over 20 tracks and a running time over 73 minutes, it shouldn't be consumed in one sitting.
In other words, you'll want to bring a doggie bag. And to prepare you for your weekend binge-listening with your woes, here's the essential info you need to know about this towering stack of croutons Drake calls an album: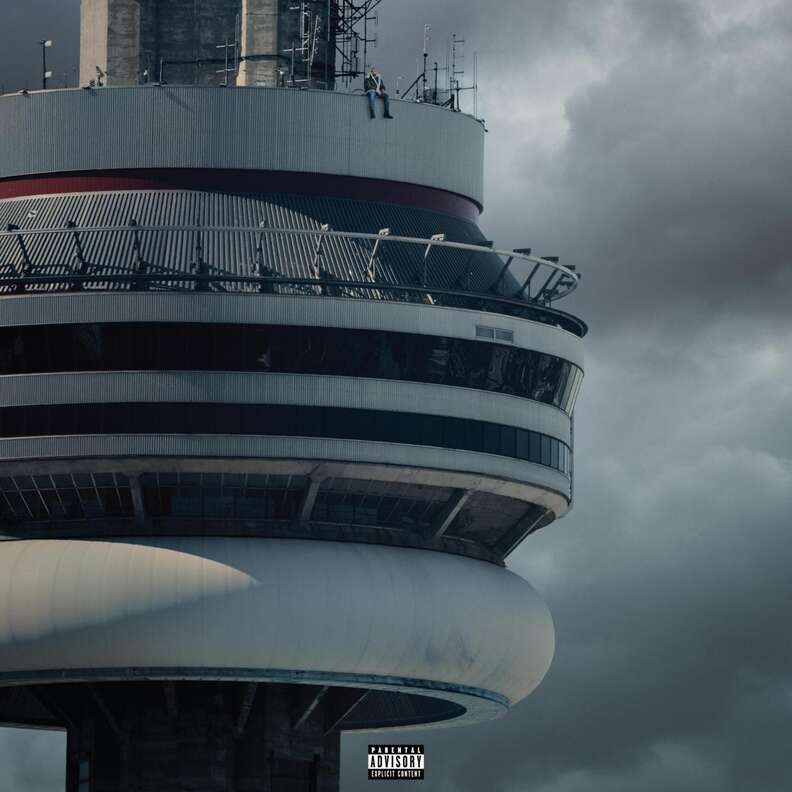 There's so much music on Views
Drake has made long albums before -- Take Care, arguably his best record, demands 80 minutes of your time -- but on first impression, it feels like the Canadian rapper has both overcooked and underwhelmed with Views. Much like that enormous menu the waiter plops on your table at the Cheesecake Factory, the record can't decide what it specializes in. It has an excellent Afro-pop-influenced song ("One Dance"), another tough-talking Future collaboration ("Grammys"), a flirty and potential "song of the summer" Rihanna duet ("Too Good"), a dreamy New Age ballad ("Feel No Ways"), and a decent amount of filler. Groaners like, "I keep it 100 like I'm running a fever," don't help.
There might be business reasons for the girth. According to an article in Forbes yesterday, a recent change to how the Recording Industry Association of America incorporates streaming data to determine gold, platinum, and diamond certifications could give a statistical advantage to albums with large track lists like Views. Given his strong sales, it's hard to imagine Drake being too worried about going platinum quicker, but his partnership with Apple Music -- the album will be an Apple Music and iTunes exclusive for its first week, and Drake was interviewed by Beats 1 DJ Zane Lowe last night -- does suggest he's entered the "I'm a business, man" phase of his career. Like the Cheesecake Factory, he's an efficient money-making machine.
Do you even need a new Drake album right now?
Drake had a very busy 2015. In addition to scoring his biggest hit ever with "Hotline Bling," he released two mixtapes, If You're Reading This It's Too Late and the Future collaboration What a Time to Be Alive, and he feuded with Meek Mill. Between his tours, TV appearances, and very active Instagram, it's felt like Drake has been omnipresent in the culture since Nothing Was the Same dropped in 2013. Unlike other more mercurial artists, Drake rarely recedes from the public imagination enough to make you wish he'd come back. The dude needs a sabbatical.
And come on: if you care about pop music, you're still listening to Beyoncé's Lemonade constantly, anyway. It hasn't even been out a week. We need to spread these things out a little bit, the way the movie industry does. It's like if Batman v Superman and Captain America: Civil War came out on back-to-back weekends. In the era of the streaming wars, event albums are now consumed, debated, and dissected like giant blockbusters, and labels could coordinate better. The DMX samples on "U With Me?" would still be cool in June.

Nothing was the same... not even the memesThe album rollout has felt so perfunctory that even the memes feel reheated. Remember how funny it was when you saw the Nothing Was the Same cover head on that Mario background or discovered the If You're Reading This It's Too Latecover generator? You're in luck, because this album's cover has its own meme, too, and I can point you to countless blog posts rounding up the best ones. They're funny, sure, but when you see Drake posting parody covers on Instagram, you start to feel like you're the one being trolled.
Where does Drake go from here? "I'd love to go back to acting," he told Zane Lowe last night. "I feel like I spent a lot of my life honing that craft." Soon the transformation from "Pop Style" to Big Willie Style will be complete, and Drake will conquer another area of pop culture, just like Will Smith did before him. But it's also the Cheesecake Factory business model: careful expansion. Drake's not going anywhere -- he's going everywhere.
Sign up here for our daily Thrillist email, and get your fix of the best in food/drink/fun.
Dan Jackson is a staff writer at Thrillist Entertainment and, seriously, what happened to the Popcaan part on "Controlla"? He's on Twitter: @danielvjackson.