Drew Barrymore's New Netflix Show Is 'Walking Dead' Meets 'Desperate Housewives'
Saeed Adyani/Netflix
Saeed Adyani/Netflix
Now that January is finally over, it's time to ditch your boring New Year's diet -- including that Netflix austerity plan you committed to after a holiday season spent stuffing your eyes with The OA and other gems served up by the streaming service. Just in time to capture the attention of New Year's resolution breakers, Netflix unveils Santa Clarita Diet, a new gross-out comedy starring Drew Barrymore and Timothy Olyphant.
Barrymore's Sheila is a real-estate agent and busy living her best life... until she dies. Sort of. Without giving away too much, let's break down the complex Diet, as well as what to know before you gorge on this objectively disgusting, subversively funny new series.
Sheila's secret: she's a mombie
The less you know before you sink your teeth into this series, the better. But you ought to know that normal housewife Sheila shakes up Santa Clarita's Stepford-esque community when she starts chowing down on her neighbors. It's much more fun to learn about her condition while you watch, so we'll refrain from saying much more. But if you have any phobias concerning excessive blood or vomit, this is probably not the show for you.
If you can get past the vomit -- trust us, it's a lot of vomit to get past -- you'll find yourself in an idyllic California suburb reminiscent of Desperate Housewives' Wisteria Lane, where perfect-looking families try and fail to hide dark secrets from their nosy neighbors. Showrunner Victor Fresco previously created the short-lived Better Off Ted, so you'll find similarly twisted and cheeky sitcom subversion here. Plus a lot of vomit. Chunky, chartreuse projectile vomit.
Straight outta iZombie
Rest assured, there are dozens of us watching Rob Thomas's stellar series about a brain-eating coroner decrypting a zombie mystery in modern Seattle. And while we're on the subject of the CW's No. 1 undead procedural, Diet followers should look out for two (2!) cameos from iZombie-Veronica Mars crossover actors throughout the Netflix show.
However, where iZombie's ironically named Liv takes great pains to tuck gray matter into sashimi or spicy veggie scrambles so as not to offend network-TV sensibilities, Sheila's messy attempts to curb her carnal hunger definitely scream "unrated."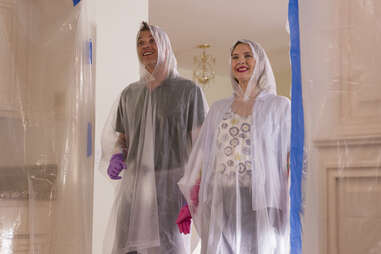 A good man is hard to find
With the help of husband and co-realtor Joel (a tightly wound Olyphant), Sheila has to get her Dexter on and hunt down all her own meat. Unlike characters on Dexter, Hannibal or, hell, even True Detective, Joel and Sheila have no idea what goes into a good kill. But at least Joel is suppportive. He starts off as a square, pot-smoking suburban dad -- and when his wife develops alarming behaviors, he barely hesitates to help her with all the butchering. Maybe that's because, we're told repeatedly, Sheila's condition has made things far friskier in the bedroom.
The kids are surprisingly cool with it
Despite their best efforts, Joel and Sheila's surly teenage daughter, Abby (Liv Hewson), makes for an excellent accomplice. Also in on the zombie fun? Abby's classmate and next-door neighbor, the super-nerdy, voice-cracking, scene-stealing undead expert Eric (Skyler Gisondo), whose stepdad is the gruff policeman starting to catch on to Sheila's after-dark shenanigans. Who ever said diets can't be fun for the whole family?
And take a whiff of the new car smell
For no apparent reason, Santa Clarita Diet really, really wants you to buy a Range Rover. After Abby begs her parents for the top-of-the-line sport-utility vehicle, impulse-buying one is Sheila's first undead splurge. Even though Joel wants to take the new SUV back to the dealership, the family instead spends several episodes joyriding and bragging to their neighbors about the ample cargo space.
Come to think of it, when a diet requires a shiny new car, you really ought to try it.
Sign up here for our daily Thrillist email, and get your fix of the best in food/drink/fun.
Lauren Leibowitz is an editor at Thrillist Entertainment open to collaboration opportunities with Jaguar Land Rover PLC. Find her on Twitter @lleibowitzz.