The Best Drive-In Movie Theaters Near Philadelphia
Add some nostalgia to your summer.
Let's set the scene: There's nothing better than hopping in your car with friends and snacks in tow and heading to a dusty field to catch a movie. It doesn't matter if you stay in the driver seat, pull out some lawn chairs and bug spray, or pull open the hatchback as you settle in to watch a flick on the big screen—you can't help but feel like you're in a throwback movie.
Drive-in movie theaters spiked in popularity during the summer of social distancing, but even as our world opens back up, the theaters remain a warm-weather staple for al fresco entertainment. So explore this run down of all the best drive-in movie theaters near Philadelphia, stock the car with popcorn and candy, and hit the road.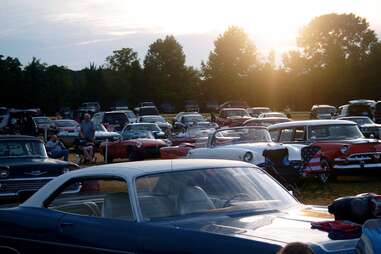 Vineland, New Jersey
A local staple long before the pandemic made drive-ins popular, the Delsea Drive-In has been bringing outdoor movies to the masses on and off since 1949. Film selections include new releases, throwback hits, family-friendly movies, horror classics, and more. Tickets for each double feature must be purchased online ahead of time and cost $12.50 per person. You can bring in your own grub (you'll have to pay for a food permit) or order concessions online to pick up at the counter.
Distance from Philly: About 45 minutes
Orefield, Pennsylvania
Wilson Shankweiler opened this drive-in nearly a century ago in 1934 and you can still catch double features in a wide open Lehigh Valley field—granted, with updated, modern tech. Admission will run you $8-12 and can only be purchased in-person at the box office the night of your visit. During peak season (mid-June through Labor Day), the drive-in is open seven nights a week showing the summer's biggest blockbusters.
Distance from Philly: 1 hour, 10 minutes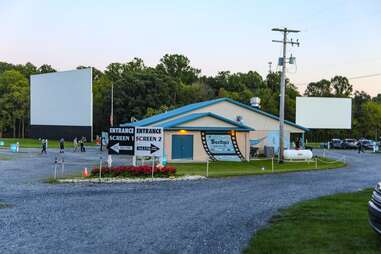 Walnutport, Pennsylvania
Drive up to Becky's for double features on the cheap. Tickets for adults are just $11 and kids get in for $7. This family-run drive-in screens a variety of flicks, from action to family-friendly out in the Lehigh Valley. The concession stand stocks everything from cheeseburgers to candy bars. Just know there's no online ticketing here: You'll have to purchase your tickets at the door.
Distance from Philly: 1 hour, 30 minutes
Lehighton, Pennsylvania
For more than half a century, this drive-in has been screening films reel-to-reel via original 1940s Simplex projectors. Catch expertly curated programing, including a singalong Little Shop of Horrors night and a slasher film weekend. You can even pitch a tent and camp overnight. Tickets will cost you $10 a person and snacks are aplenty at the concession stand.
Distance from Philly: 1 hour, 45 minutes
Dillsburg, Pennsylvania
Family-friendly movies and blockbusters are the name of the game at this central Pennsylvania drive-in, where you can even rent radios to listen to the films so your car battery doesn't die. Cheaper than non-drive in theaters, seeing a flick here costs $10 a person. Heads up: the team prefers cash at the concession stand. Online tickets are preferred, though limited tickets will be available at the box office.
Distance from Philly: 2 hours
Scranton, Pennsylvania
This Scranton drive-in has been hosting movies since the 1950s. Movie selections run the gamut from Hollywood blockbusters to classics—and, of course, snacks are available. In addition to the double features, the theater hosts a flea market every Sunday. Movie tickets are $7-9 per person.
Distance from Philly: 2 hours, 30 minutes
Gratz, Pennsylvania
Built in 1948, the Sky-Vu Drive-In has that authentic throwback feel. Double features kick off after sundown—think recently-released megahits like Nope and Where The Crawdads Sing—plus some pretty impressive looking brownie sundaes from the concession stand. Tickets will run you $4-7 per person.
Distance from Philly: 2 hours, 30 minutes