The 15 Most Inebriated Golden Globe Moments
NBC/YouTube
NBC/YouTube
When it comes to the big Hollywood awards shows, the Oscars may be more prestigious, but the Golden Globes ceremony is definitely the party we'd rather score an invite to. Why? Well, the same reason any party is worth attending: lots and lots of free booze.
Unlike most awards shows, stars and their guests actually eat and drink during the Globes -- mostly liquid dinners, by the looks of things -- leading to a messy evening of gaffes, fumbles, and Inebriated Uncle-style acceptance speeches. In honor of tonight's festivities, here's a look at some of the possibly booziest and booziest-seeming Globe moments to date.
Emma Thompson loses her shoes (2014)
DGAF legend Emma Thompson didn't even try to look sober, showing up to present the award for best screenplay with a martini glass in one hand and her Louboutins in the other. Invite Emma Thompson to all your parties, people.
Jacqueline Bisset loses her chill (2014)
In a notoriously loopy acceptance speech, a zonked-out Jacqueline Bisset can't seem to get the words out -- so she summons her "Scottish background," aka the five glasses of Glenfiddich she downed before coming on stage? -- to get her through her presentation.
Tom Hanks is a heroic waiter (2018)
In movies like Saving Private Ryan, Captain Phillips, and Sully, Tom Hanks has played real life American heroes with grit, dignity, and honor. He won't let you down. It's comforting to know that in a less high-stakes crisis situation -- like one where Steven Spielberg needs another martini, stat! -- he can still come through with the rescue plan. Mr. Hanks, we salute you.
Bette Midler serves up some sexual innuendo (1980)
Accepting her acting award for The Rose, the Divine Miss M treated the prestigious awards ceremony with the pomp and reverence of a sorority rush party, referencing her boobs and then jokingly fellating her statue.
Harrison Ford is like, so chill, bro (2002)
Frankly, Ford seems more stoned than intoxicated here, but he's definitely high on something.
Brendan Fraser can't clap (2010)
The audience cam catches an excited Brendan Fraser "clapping" -- i.e., bashing his fingers together with glee -- and the internet loves it.
Jack Nicholson is high on Valium (2003)
Accepting the Best Actor award for About Schmidt in 2003, a slowed-down-to-half-speed Jack Nicholson jokes about Nicole Kidman's nose, rips on Dermot Mulroney's hair, and then confesses to having popped a Valium before the ceremony. Don't you know you're not supposed to mix benzos and booze, Jack?
Cate Blanchett has had a few (2014)
A giggly Cate Blanchett also decides to be upfront about her consumption when accepting the award for Best Actress in Blue Jasmine, declaring, "Well, that crept up! I had a few vodkas under my belt and here we are."
Sharon Stone bros out with Richard Gere (2003)
Notice the giggle and shrug Sharon Stone delivers right when she steps up to the mic: She's ready for this. After a shouty listing of the nominees, the Basic Instinct star hands a slightly befuddled Richard Gere his award, delivers a triumphant slap on his arm, and says, "You won this, buddy." Iconic.
Renee Zellweger is in the bathroom (2001)
Do we know why exactly Renee Zellweger was in the bathroom when she received her Best Actress award for Nurse Betty? No, but presenter Hugh Grant had some theories at the time. "Where is she?" asked the dapper Englishman from the stage. "Is she under the table? Renee is drunk, ladies and gentlemen."
Liz Taylor has no idea what is happening (2001)
Teaching sloshed Elizabeth Taylor how to present an award is kind of like teaching an elderly relative how to use an iPad. "What? I don't open this? I just read it from up there? I'm new at this. What? Oh hello! I read it from here? What's this for?"
Tarantino's spit-take (2013)
When his name is announced as a best director nominee, Tarantino performs an epic spit-take, proving that the wanton spraying of bodily fluids is a personal proclivity as well as a cinematic one. (To be fair, this was probably staged, but it should tell you something about the Globes that people feel no qualms about projectile-spitting on the venue floor.)
And Tarantino says "Grazie!" (2016)
The motor-mouthed Pulp Fiction director is known for more than his spit-takes. While accepting an award on behalf of Hateful Eight composer Ennio Morricone, the always enthusiastic filmmaker put some extra zest on the "grazie" at the end of his speech. Hopefully he said "grazie" to the bartender as well!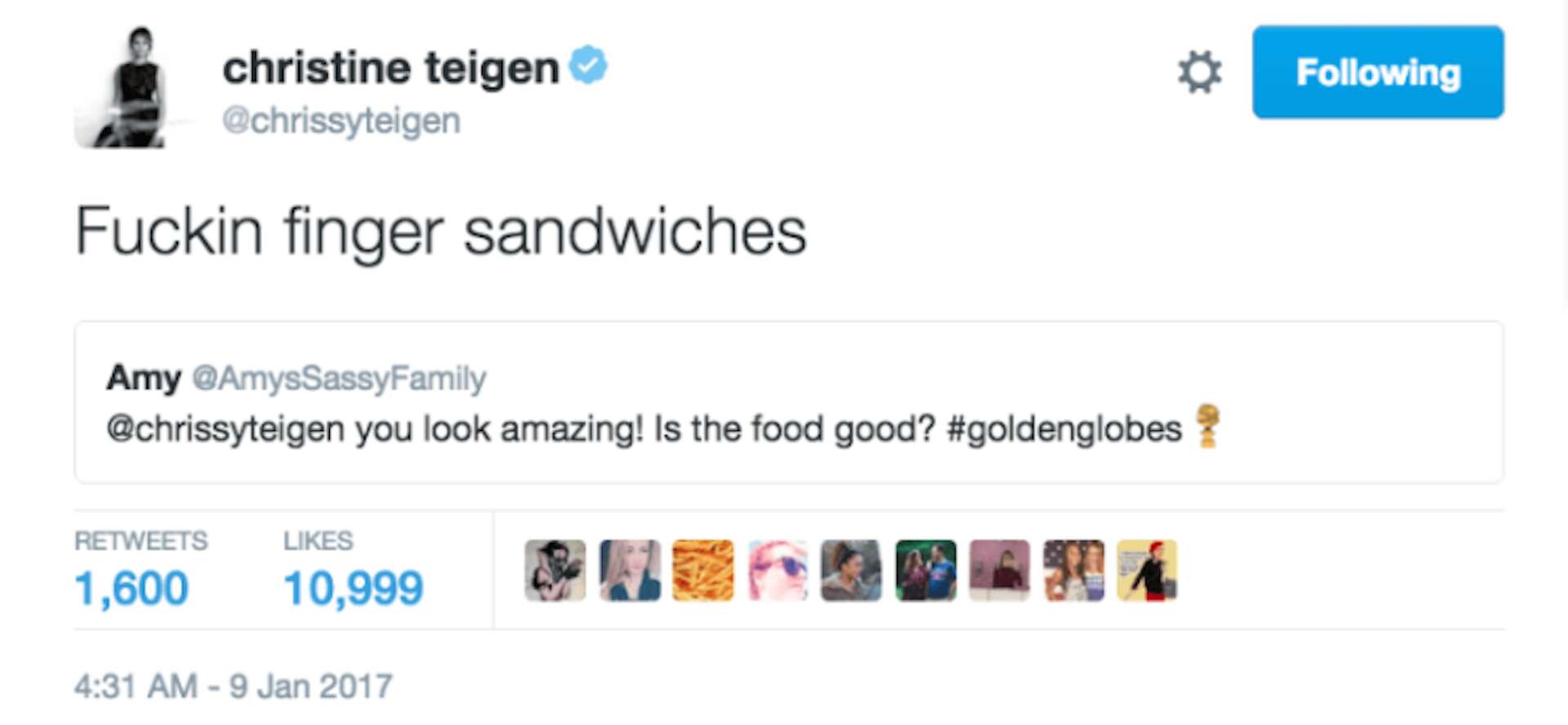 Chrissy Teigen reveals the truth about the food (2017)
Why does everyone drink so much at the Golden Globes? According to Chrissy Teigen, who has used her Twitter account to make us laugh and pull back the curtain on Hollywood's most exclusive events, the party atmosphere can partially be blamed on the food, which apparently is just "fucking finger sandwiches." Honestly, that explains everything.
"Look how drunk Glenn Close is!" (2013)
Glenn Close pretending to be smashed > everyone else actually smashed. Fact.
Need help finding something to watch? Sign up here for our weekly Streamail newsletter to get streaming recommendations delivered straight to your inbox.
Follow the Thrillist Entertainment editors on Twitter @ThrillistEnt.