Netflix's 'Dumplin'' Is a Sweet Ode to Dolly Parton Starring Jennifer Aniston
Even if you're just a passing fan, it's hard not to love Dolly Parton. You don't have to be a Dolly expert to feel the warm embrace of her twang, to be buoyed by her heartening lyrics. Netflix's new movie Dumplin' is best when it's preaching the Gospel of Parton, relishing in her affirmations like, "Just because I'm blonde, don't think I'm dumb, 'cause this dumb blonde ain't nobody's fool." Dolly doesn't appear in the movie -- just on the soundtrack -- but her energy is ever-present.
Dumplin' -- based on the YA novel of the same name -- is a frequently sweet, sometimes low-energy dramedy that revolves around a small town Texas pageant. Reader, I cried. The protagonist is Willowdean Dickson (Danielle Macdonald), a plus-size teen whose mother Rosie (Jennifer Aniston) reigns over the Miss Teen Bluebonnet Pageant with a rhinestone crown and a tiny waist squeezed into a form hugging gown. Willowdean was mostly raised by her aunt Lucy (Hillary Begley), an accepting force who introduced her to the world of Dolly. After Lucy dies, the surly high schooler is pushed back into her uneasy relationship with her mother, who calls her "Dumplin'" with a mix of affection and disdain.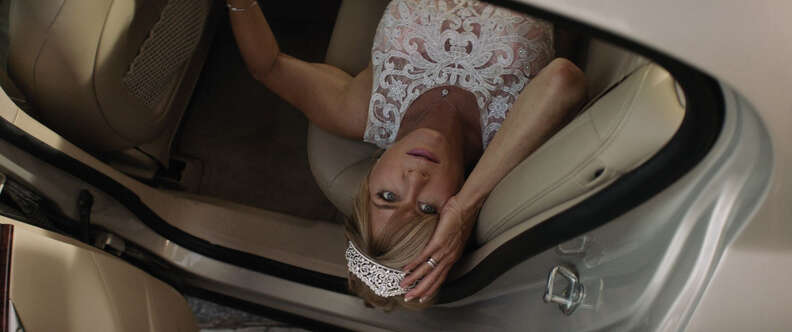 Rosie's uttering of that nickname gets Willowdean bullied at school, which leads her to get suspended for kicking a guy in the balls. She ends up back at home, looking through boxes of Lucy's possessions, and discovers that her beloved aunt was planning to enter the Bluebonnet pageant the same year Rosie won. She never did because, Willowdean assumes, of the sizeist prejudices inherent in that type of contest. So as both a memorial to Lucy and a "fuck you" to her mom, Willowdean decides to stage a protest by participating herself. Her move inspires other misfits -- similarly bullied but totally earnest Millie (Maddie Baillio) and goth patriarchy-buster Hannah (Bex Taylor-Klaus) -- to join in as well.
Pageants, with their focus on typical beauty standards and presentability, are fruitful ground for satire -- or attempted satire. See, for instance, Drop Dead Gorgeous, Miss Congeniality, or even Netflix's Insatiable. (That last one didn't go so well.) Dumplin' is certainly critical of the culture, but there's a certain softness for it as well, the abiding idea that with some movement on both sides of the argument pageants could actually be welcoming places. Rosie needs to learn to accept Willowdean as she is, of course, but Willowdean also has to give into the glamour that Miss Teen Bluebonnet promotes.
Sure, the pageant ways of old are fading a little in real life. Miss America, at least, has done away with its swimsuit category in an effort to make its image more inclusive. Still, the image of the wholesome, Barbie-esque winner persists. Dumplin' doesn't refute that. At the end of the day -- spoiler-phobes beware -- Willowdean is disqualified, but Millie ends up in second place to Bekah (Dove Cameron), the petite perky blonde Rosie always thought was going to triumph. It's a small moment that underscores the fact that Willowdean didn't really enact that much change. And yet part of me continues to wish the movie got a little more anarchist.

Which isn't to say there aren't moments to love here. Macdonald -- who broke out in last year's Patti Cake$ -- gives a deep, honest performance as Willowdean, acknowledging her grief and insecurities without letting them dominate her. And it is fun to see Aniston, the erstwhile Rachel Green, all dolled up and acting tyrannical. And then there's the Dolly of it all. Willowdean's investigation into Lucy's past brings her to a dive bar filled with a wonderful mix of cowboys and drag queens -- specifically drag queens who do Dolly played by Harold Perrineau and Joshua Allan Eads. They eventually take Willowdean, Millie, and Hannah under their wings, teaching them how to perform. There's no makeover scene, exactly, but the girls do get glammed up. It's all charming and heartwarming stuff, comforting like a country tune.
But director Anne Fletcher has trouble keeping the momentum through the entire movie and sections feel oddly limp. Willowdean's fight and reconciliation with her traditionally pretty best friend (Odeya Rush) is hurried, and her romance with a cute cook (Luke Benward) at the restaurant where she works feels disposable even if it is executed well.
Dolly's always been a woman full of contradictions. Her honesty is coated with a thick layer of glam. Dumplin' is sort of a mess of these contradictions too. It's a protest of pageantry that wants us to believe in the glory of it as well.
Sign up here for our daily Thrillist email and subscribe here for our YouTube channel to get your fix of the best in food/drink/fun.