Is Netflix's Sex-Filled Series 'Easy' Worth the Binge?
Malin Akerman and Orlando Bloom

| Netflix
Malin Akerman and Orlando Bloom

| Netflix
When every week seems to bring a new Netflix original series (or three!), it's good to see the streaming service is trying to develop shows for every kind of viewer. Next up: Easy, a sex-positive anthology from mumblecore auteur Joe Swanberg that just arrived today. Will the explicit eight episodes get you in the mood to love it, or leave you scrambling to erase your Netflix history?
Do you want to see all your favorite character actors getting it on?
Much like this summer's sleeper smash Stranger Things, Netflix revealed Easy with very little foreplay. The main appeal of the trailer, which was released just one week before the series' debut, is that scroll of boldface names and familiar faces that will have you scouring IMDb to figure out where else you've seen them.
Have you ever wondered how Orlando Bloom would behave in a threesome (perhaps the only question left about Bloom's bedroom antics)? Thought about what You're the Worst's hard-drinking Gretchen (Aya Cash) would be like as a mom? Wanted Zazie Beetz (Earn's baby-mama on Atlanta) to have a dependable romantic partner? Queue 'em up.
But if you're like the rest of us and have never thought about any of that, that's OK! There are other reasons to watch.
Do you like it when sex scenes resemble real life?
Easy makes a noble effort to portray couples that are "progressive" by glossy network-TV standards, incorporating Spanish-speaking couples, interracial couples, interracial same-sex couples, couples with partners of advanced age, couples with partners who keep their body hair intact, couples with disloyal partners, and throuples who meet on Tinder.
If you're thinking that sounds like a lot of sex, you are right. There is a lot of sex in Easy. Yes, there is some very sexy sex. Yet all that titillation is balanced out with genuine pre- and postcoital conversation. Some of Easy's subjects are more fleshed out than others, but they are all grounded with conflicts, hopes, and dreams that extend outside the bedroom. Hell, one of the episodes doesn't have any sex at all!
Do you want a spiritual sequel to Drinking Buddies?
Prolific writer-director Joe Swanberg helmed and penned all eight episodes, and one of his most popular prior films (also streaming on Netflix) influences one arc heavily, in which Dave Franco and Evan Jonigkeit are brothers attempting to start up an underground brewery while also supporting their respective partners. Aside from the brewery redux, these episodes are tonally similar to Buddies, with characters knocking back brews, getting high, and just talking about life, man.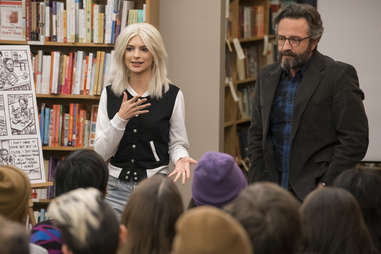 Swanberg doesn't just steam up Chicago's frigid environs with bare skin; viewers familiar with the Windy City will warm at the sight of many familiar Chi-town haunts. Characters attend a book signing at City Lit (pictured above); brunch at Handlebar; roast beans at Dark Matter Coffee (including a cameo from founder Jesse Diaz, who casually explains how he started his business on-camera); and chug Lost Lake Tiki drinks and pints of Half Acre.
Were you hoping for a whole lotta Hannibal?
Sorry, you're outta luck. Granted, an all-star call sheet like this one was bound to have scheduling conflicts; still, it's kind of a bummer that Hannibal Buress, who was advertised as a featured cast member, doesn't show up until the final episode -- and is relegated to a minor part as a Newcity reporter, at that.
Also barely visible: New Girl's Jake Johnson, a longtime collaborator of Swanberg's, who literally Skyped in all two of his scenes.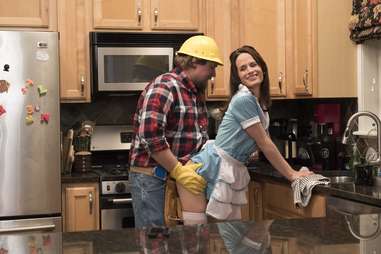 Are you worried about babies getting in the way of your sex life?
If there's any moral to be extracted from these disconnected vignettes, it's that it's hard to have sex when you're a parent. Over the course of eight episodes, couples often need to call a time-out while in flagrante, and pregnancy news is handled with varying degrees of trepidation.
Ultimately, a show this focused on f*cking had to address its inevitable by-product. Without spoiling too much, we'll tell you that Easy hammers home the same message you heard in health class: always be yourself, and use protection.
Sign up here for our daily Thrillist email, and get your fix of the best in food/drink/fun.