8 Amazing Podcasts That Won't Make You Think Too Much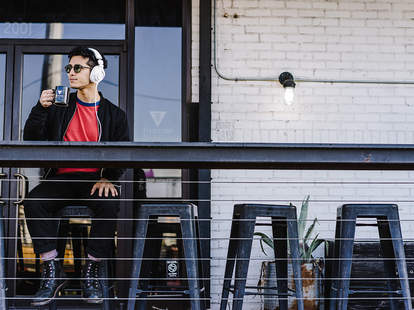 Listen, everyone has podcasts they get deeply involved in (think This American Life, Serial, Heavyweight), the ones that alter the course of their day, and come up in high-minded dinner party conversation that night. Then there are podcasts that let you just enjoy something goofy while you're driving to meet up with your friends, something that lets you focus on the road and, hopefully, laugh your head off. Here are the exact perfect podcasts to get you in the right headspace for a good night out.
Do you love movies? Doug loves movies. What started as a small show where a comedian talked to his friends about movies is now a big show where a comedian talks to his friends (and celebrities) about movies. It's recorded weekly at the Upright Citizens Brigade Theatre in Los Angeles, and pulls in comedian guests like Patton Oswalt, Chris Gethard, and Iliza Shlesinger. There are also people like Dan Harmon, Leonard Maltin, and Ken Jennings. Listen to how Jon Hamm is weirdly good at making Chewbacca noises, creating the sound of a transport vehicle in The Jetsons, and then doing both at the same time.
If you Google "Best comedy podcasts" you'll see this one come up nine times out of 10. Why? Because Scott Aukerman's long-standing 'cast has earned it. There are honestly too many amazing guests to list here, but they include some of the best working comedians, people from Saturday Night Live, and, naturally, Weird Al. It's a variety show of sorts, with conversation, character work, and impressions. It's just plain fun.
In each episode, Adam Scott (Ben Wyatt from Parks and Recreation) and Scott Aukerman (of previously mentioned Comedy Bang! Bang!) discuss the music of the band R.E.M. Does that sound like it couldn't make an entire series? I thought so, too. I don't even especially like R.E.M., but the show is more than that. It's riffs about riffs. It's funny and consistently off-topic. And if you truly can't stand the band, go back to earlier episodes when the show was called U Talkin' U2 To Me? and listen to them discuss the work of Bono and crew.
Yes, it's an improvised musical. Yes, that sounds utterly terrible. But, thankfully, the podcast is hilarious and the music is actually good. How could you not want to listen to episodes with titles like, "X-Moms: Days of Mother's Moms" or "Men in Black 4"?
Hosted by June Diane Raphael (from Grace and Frankie and a million other things), Paul Scheer (from The League), and Jason Mantzoukas (from The League and also a million other things), this show is perfect for the person who misses Mystery Science Theater 3000. In each episode, the comedians discuss one truly awful, terrible, no-good movie. You probably haven't heard of most of them, but you don't have to (and, you'll find, you probably don't want to). Their dissection and mockery of each title, from Eddie Murphy's The Adventures of Pluto Nash to Spider-Man 3 will make you glad there are so many terrible movies. They have a powerhouse list of comedian guests, which includes, again, Weird Al.
Listen to how the master comedian's mind works when the comedy isn't pre-written and fully rehearsed. The show describes itself as "unfiltered observations on sports, sex, wrestling, relationships, philosophy, books, watches, other podcasts, bottled water reviews" and it's absolutely that random. With almost any other host it would be boring, but Hannibal makes it funny as hell. I'd recommend starting with the Chris Rock episode.
Conan O'Brien is the host. John Hodgman is the host. Bobby Moynihan is the host. There are a lot of hosts. In fact, there are new hosts every single episode and Lauren Lapkus (Orange is the New Black, Crashing) is always an in-character, improvised guest whose identity is decided on the spot by the host. This format makes for a constantly different and entertaining show that will surprise you at every turn.
Most of the podcasts on this list consist of real people talking about real -- often absurd -- things. Wooden Overcoats is not that. It's a British sitcom, a britcom, that happens to be a podcast. It's about two competing funeral homes on a small island. There are already three seasons, but this is a podcast you should start from the beginning, because it's so worth it.