'Elf' Showed The Whole World What Will Ferrell Could Do
It's easy to forget that at the beginning of 2003 Will Ferrell wasn't a household name. Enter Elf, the most enduring entry in the Christmas movie canon of the last 20 years. It's now become a holiday staple, something you simply must fire up on Amazon or catch on cable during one of its many airings. If you're looking to catch it this year, Elf airs on Freeform at the following EST times: December 22 at 11:50pm, December 23 at 12:50pm, December 24 at 9:15pm, or December 25 at 6:45pm. But when the movie was first released, it was no one's idea of a surefire hit.
At the time, the curly-haired Ferrell was beloved by Saturday Night Live fans for his keenly aloof portrayal of President George W. Bush and his brazenly absurd impressions of celebrities like Harry Caray, Robert Goulet, and Neil Diamond, but he wasn't a movie star yet. In February of 2003, Ferrell co-starred in the frat-comedy Old School, which grossed over $80 million and introduced Ferrell's man-baby antics, gift for improv, and doughy bare ass to unsuspecting audiences. But he was still coming off the bench, stealing scenes as the beer-chugging Frank "The Tank" Ricard from actors like Luke Wilson and Vince Vaughn. He hadn't carried a movie on his own yet.
While it's a modern classic now, and has been adapted into a Broadway musical and holiday TV special, Elf was a strange property for Ferrell to jump on. The script by David Berenbaum had been kicking around Hollywood since 1993, with Jim Carrey attached to star at one point, and it didn't exactly mesh with Ferrell's emerging wild-guy image. A Christmas movie? About a giant elf? In yellow tights? As tempting as starring in a holiday classic is for famous actors -- who doesn't want to have their movie get played on cable for an eternity? -- you're way more likely to star in Christmas with the Kranks than A Christmas Story. The odds are not in your favor.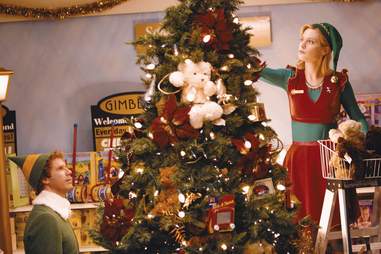 New Line Cinema
But Elf had a secret weapon: the funniest person on the planet right before everyone figured out he was the funniest person on the planet. It's hard to describe Ferrell's combination of cult appeal and mainstream awareness during the early '00s. His best SNL sketches, like the "More Cowbell" sketch with Christopher Walken or the "Dissing Your Dog" dog infomercial, skirted an often surreal line between "smart" and "dumb" that made him a favorite of both self-styled comedy aficionados and casual viewers. He left SNL in 2002 after a seven year run that rivals any other marquee cast member in the show's history. If you liked to laugh, the guy was clearly on your radar. But his film work prior to Old School had mostly come in supporting roles like the villainous Mugatu in Zoolander or as the star of ill-fated SNL vehicles like Night at the Roxbury Movie. 
Anchorman, which was released in the summer of 2004, may have turned Will Ferrell into a cult comedy hero, but Elf made him a movie star. In a way, Ferrell's performance as Buddy the Elf predicted most of the modes you'd see him in over the next 10 years: He wears a goofy costume (like in Blades of Glory), behaves like a man-child (like in Step Brothers), yells at kids (like in Kicking and Screaming), and even pulls at your heart strings with his take on wounded masculinity (like in Stranger Than Fiction). It's a blueprint for the rest of his career. 
Ferrell wasn't the only part of the Elf creative that was about to become a bigger deal. The movie was directed by actor Jon Favreau, who had only previously directed the Vince Vaughn mobster comedy Made, and the considerable box office success of Elf -- it grossed over $200 million on a $33 million budget -- catapulted him into a different filmmaking stratosphere. After helming this and the kiddie action adventure Zathura, Favreau was given the responsibility of delivering Iron Man and its blockbuster sequel Iron Man 2 to mainstream audiences. Not to get all It's A Wonderful Life alternate timeline about it, but it's likely the Marvel Cinematic Universe wouldn't exist in its current form if Elf wasn't a hit. In a way, Buddy the Elf was the real first Avenger. 
New Line Cinema
At the same time, the movie also features a charming, low-key turn from Zooey Deschanel, who was then mostly known for her small role in Almost Famous and parts in indies like All the Real Girls and The Good Girl. (It's odd, or maybe just fate, that she'd go onto star in a FOX sitcom called The New Girl.) But Elf was also the first time most people realized she could sing as well. Years before she would form the band She & Him with singer-songwriter M. Ward, Deschanel showed off her smoky vocals by singing "Baby It's Cold Outside" in the shower. She ended up recording another version of it on A Very She & Him Christmas in 2011. (The band followed it up with another Christmas album in 2016 -- they clearly love Christmas!)
But in addition to Ferrell, Favreau, and Deschanel, the movie also featured a handful of older actors who give the film a connection to the past. In addition to James Caan as Buddy's grumpy biological father, the movie also features a droll Bob Newhart as the Papa Elf who raised Buddy and a twinkly-eyed Ed Asner as Santa himself. Also keep an eye out for scenes with Andy Richter, Matt Walsh, Amy Sedaris, and a pre-Game of Thrones Peter Dinklage. Dinklage's delivery of "Hey, jackweed, I get more action in a week than you've had in your entire life" makes this one worthy of a re-watch all by itself.
In a way, the movie's blend of TV and movie stars from the past and the future gives it a frozen in time quality. And, unlike The Santa Clause, which also helped turn a TV comedian into a box office force, the movie hasn't been diminished by a series of lackluster sequels. Instead, Elf remains a joyful snow globe of a film, capturing that moment right before Will Ferrell ran completely free, played the jazz flute for Veronica Corningstone, and refashioned the mainstream Hollywood comedy in his own giddy, candy-loving image.
Sign up here for our daily Thrillist email and subscribe here for our YouTube channel to get your fix of the best in food/drink/fun.