Tattoos can be a meaningful or just badass way to decorate your body. But in the hands of teenagers or adults who become very enthusiastic after too many Midori shots, they become permanent sources of shame. Nine brave souls (who either work for Thrillist, or have friends who do) spilled their embarrassing tattoo stories to us below. There's not a single misinterpreted Chinese symbol in the bunch, but there are an alarming number of barnyard animals.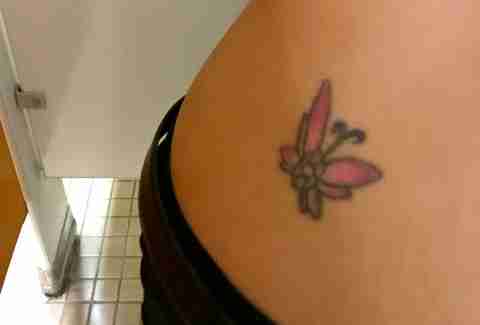 The Flower Dragonfly
"This was the summer of 2010, I was working and living in Wildwood. I had a roommate, it was us two girls in this one-bedroom, I'm not even kidding, like, log cabin. We woke up one morning, and we had been drinking the night before, so I guess we blacked out. I had an itch on my back, and I kept scratching at it. But I had to get to work so I just left. I went home early because it was bothering me and realized I had a tattoo. I was panicking, thinking, 'Do I have anything else on my body?!' Then my roommate called me freaking out because she also had one on her arm.
"We found the receipt and Googled the place -- it was a rickety shack in the middle of the interstate. We don't know how we got there. We definitely didn't drive and there was no extra money charged on our cards for a cab. I do remember being in the tattoo shop, bending over so this guy could tattoo my back, and I was drinking out of my red Solo cup as he did it.
"It was supposed to be a dragonfly but it's like a bunch of flowers in the shape of a dragonfly. I love dragonflies, and I love flowers, separately. I was always debating getting a dragonfly tattoo before that. But now that I have it, I don't know what I was thinking." -- Ang B., 25, social worker
 
The Ex-Boyfriend Tattoo
"I have my ex-boyfriend's name on the inside of my ring finger. We went and got tattoos together, except he got a fairly large one on his back. We had plans of getting married and were obviously too young to know any better. We are still great friends. We joke about going together to get them removed. I look at it like this: a tattoo is way cheaper than a marriage or divorce!" -- Julia J., 23, office coordinator
The Pink Elephant and Purple Cow
"Shortly after college, I took a trip to Vegas with my friend. I managed to spend $1,100 on a tattoo of a drunk pink elephant with exed-out eyes that said, 'Take Care' on my ass cheek at Hard Rock Cafe.
"I had a few Chardonnays before I did it -- you know in Dumbo how when he gets tipsy, he sees pink elephants? Somehow in drunk logic, that made sense to me. Take care? I don't know, I say that when I get off the phone, but I don't really know. It was probably more, 'Take care of yourself, you're a mess.'
"A couple years later, I decided to get the other cheek done. It's a purple cow -- but he's like Rodin's The Thinker. I was completely sober. I found a visiting tattoo artist and I blindsided him with this request. I gave him two pictures, one of a purple cow, and one of the statue. Now here I am, 34 years old, degree from Columbia, my own company, with two brightly colored animals on my ass.
"I actually turned the elephant into a logo -- by literally sitting on a scanner, Xeroxing my ass, and then having a friend trace it into [the image above]." -- Ryan Z., 34, tech entrepreneur
"No Boundies"
"I was with my friend, we were out drinking on a Wednesday night. We were saying how we were bored of doing the same thing over and over. You know, this is New York, so we were just being brats. But we were thinking, 'What can we do to spice up the evening? Let's get tattoos!' We were sitting at a bar thinking about what we'd get and laughing. I said, 'It's like we have no boundaries.' And then I thought, 'That's what I'm going to get!'
"So we went looking for a tattoo shop that was still open, because it was late. We get to St. Mark's Place and of course they're open. We go in, and this guy was, I think, also intoxicated. I'm telling him that I want 'no boundaries' from like my boob down to my hip, and he can put some stars on it, too. The next day, I had to wake up and go to work, but I left early because I was so sick. Later on, I was texting my friend about how I got this embarrassing tattoo that says 'no boundaries' and sent a picture. They go, 'You know that doesn't say no boundaries, right?' The guy had forgotten the 'a' and the 'r.' So it said 'No Boundies.'
"I was mortified. I sent an email to everyone I knew asking what I could do to fix it. One of my friends told me to get it covered. I got it fixed by the same tattoo artist, which was a mistake. It's pretty hideous, but no one really knows what it says." -- Danielle Z., 31, event planner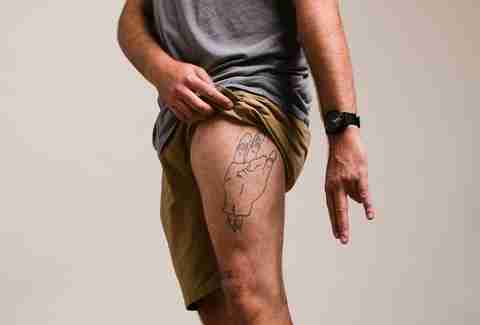 The Zombie Shocker
"The tattoo I regret the most is a zombie hand making the 'shocker' motion with some... fluid on both his pointer and middle finger, as well as on his pinky.
"I was at my buddy's shop getting both sides of my bottom lip pierced. When we were done, he said, 'Hey I have a free tattoo if you'd like. But it's only free if you agree without seeing it first. I have three options, you have to chose one if you agree now.' So I say, let's ride!
"First option he shows me, it's Tony Danza's portrait with 'I'm The Boss' above his head. Funny, but not my thing. Second option is Mr. T's portrait with 'I Pity The Fool' above his head. Again, funny, but whatever. Last option is a zombie hand giving the shocker with blood and feces on it. I was a 19-year-old metal head, so that was it.
"This guy was no stranger to weird shit. He was an ex-porn producer, so it was hard to shock him. But my eager decision somehow took him aback. He had dreamed of putting this on someone, but never found a recipient until that moment. 
"So I sat down, took my pants off, and disgraced my left thigh with a 10in x 3.5in zombie hand shocker. It's there forever. And it's gloriously disgusting and VERY regrettable." -- Rob G., 28, associate merchant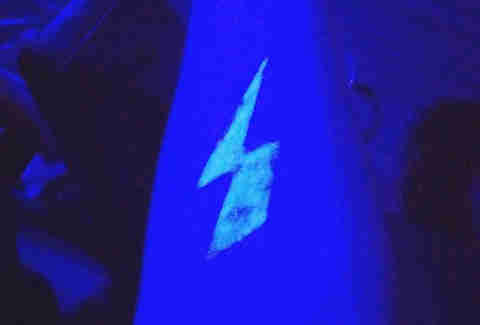 The Glow-in-the-Dark Lightning Bolt
"My friend Rob is a tattoo artist. I was getting one of mine touched up and he mentioned he'd just gotten UV ink approved by the FDA. So I was trying to think of funny ideas. 'What if I get an Apple symbol so I look turned on?' He talked me out of it. So then I was like, 'What if I get a lightning bolt so I look charged?' And he did that one.
"But the thing is I scar really easily, and when you get a tattoo, it's breaking the skin, so you do have some scarring for a few weeks. It looked like I cut a lightning bolt into my forearm for like half a year. The sun charges it, because it's UV, so if I'm in the sun all day, my arm will be highlighted yellow. I work in events, so there's usually some kind of uplighting, and if it's the right one, it'll show up. My boss thinks it's so stupid. And I don't even think you can get it removed! It needs to be touched up at this point, but I won't do it." -- Kira D., 26, event producer
 
The Four-Leaf Clover
"It's just a really generic four-leaf clover on my upper right butt cheek. I got it when I graduated high school. When I went to start the removal process, they said, 'We call this the 18-year-old tattoo. Not because you've had this for 18 years, but because everyone gets this when they're 18.'
"I went with three of my girlfriends. We decided this was a moment. We're graduating, we're claiming ourselves and our future. No one's going to stop us! There are four leaves on a clover and there were four of us, so I thought that was perfect. Now I'm an adult woman, I have two children. I really don't have any communication with these girls anymore. But one of them ended up murdering her husband. I got the tattoo like 50% removed and then life just got busy. But now every time I see it, I'm reminded of my very sweet high school friend who murdered her husband and is now in jail. So that's the moment when my very generic experience hits me in the face. The fact that it's no longer bright green is at least a consolation." -- Beth T., 37, educator
The Blah Blah Blah UFO
"It's a line drawing of a UFO with a tractor beam coming out of it. On the tractor beam are the words 'blah, blah, blah, blah, blah.' And then in the tractor beam, there's a cow. 
"What really sucks, too, is that it hurt so badly -- because the tattoo artist's needle was too long or something. I don't know, maybe I'm just a wuss. But I couldn't get it finished, because it hurt too much. So it's not done and it's the worst tattoo. It caused me so many problems when I used to date, before my girlfriend and I got together. Like they would look at this tattoo and go, 'What is that?' And it would just ruin everything.
"My friend drew it, and he's great, but it looks terrible on me. And the worst thing is there's no meaning. I told [my friend] roughly what I wanted. I think I said I wanted something meaningful in the tractor beam, but I went, 'Just put whatever. Blah, blah, blah.' And then he literally did. But at the time I was like, 'Oh cool, that's really funny.' I don't think I was even drunk. It was during a time in my life when I was especially reckless. I was probably 23, so I was old enough to know it was a bad tattoo. But it was done consciously. God, what a mess." -- Jeremy G., 28, writer
The Pegasus
"It's a Pegasus, but my family has a tendency to call it a unicorn or My Little Pony. It's not gray or black, it's got some light blues in it, so it's not the most masculine. My wife hates it. Most people react with shock and awe. 'What were you thinking?' I mean, as my wife puts it, it's a mythical flying horse. There have been campaigns in the family to change it into something else. My brother-in-law drew an Ed Hardy-esque version with a snake wrapped around its neck. We've had a lot of fun with the Sharpie." -- Michael B., 48, food and beverage management
Sign up here for our daily Thrillist email, and get your fix of the best in food/drink/fun.
Kristin Hunt is a staff writer for Thrillist, and is way too terrified of needles to get a tattoo of any kind. Follow her to temporary ink at @kristin_hunt.